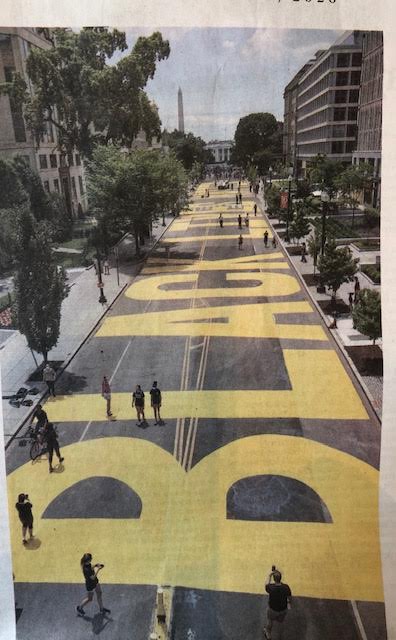 I have watched the coverage over the past several weeks with fury and outrage. I don't take to the streets for many reasons; arthritic toes, virus in the air, tendinitis in a hip flexor. Those sorts of long walks and demonstrations do not suit me. But I read and watch everything closely and think deeply about how things can and must change, how it relates to and affects me, our people and our country. What can I do to help the effort to bring about change, both in attitude and functionally, across every institution, large and small. I know that babies are not born with prejudice, it is not in their DNA. It is learned, from family, from peers. It takes a lot to unlearn those feelings and fears, but that work must be done now!
We have already donated to many Black organizations, both historical and new, that are making a difference, beyond just educating ourselves, as we struggle for the soul of America, for who we are and who we want to be. No one is above the law, not the president, not the police, whose motto is "to serve and protect". Qualified immunity must go! This regime must go. Vote these people out in November.
In ways small and large, I personalize some of what has happened. No, I have never been stopped by authority figures, merely for how I look, much less been assaulted in front of video cameras, while the officer smirked, thinking that he was justified! Those feelings I can never know. But I have a huge capacity for empathy. I believe in trying to "walk a mile" in the shoes of others.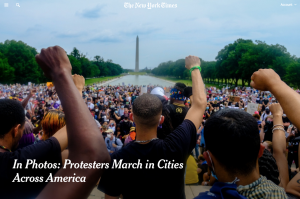 Yet I have known prejudice, as a Jew in a Christian society. Unlike in this current moment, I cannot be easily identified by skin color or other identifying features, but if any reader knows the story of Father Charles Coughlin, the "radio priest" of the '30s, I went to school a few miles from his church, Shrine of the Little Flower. Royal Oak was his parish. He was an early and effective demagogue (think the Rush Limbaugh of his day, but much better looking and smoother) who thought that Hitler had the right answer. Actually, his thinking was more nuanced, and evolved, but it got to the point of support for Hitler and extreme anti-Semitism. Eventually, he was censured by the Church and removed from his post, but I'm sure some of my classmates' parents listened to his broadcasts and were devoted to him, probably took communion from him.
Early in 9th grade, I missed two days of school for the High Holidays. It startled me when, the day after Yom Kippur, the boy seated next to me in Homeroom asked where my nose was…a not so obvious reference to my Jewishness (no, I don't have the stereotypic look he thought all Jews should have). Later that year, backstage during a play rehearsal, out of nowhere, an 11th grade boy called me a kike. I'd never heard the term before. I thought he said, "kite", but didn't know why. I had to go home and ask my mother what the word meant before I could get angry with him. I was the only Jew in Girl's Choir in 10th grade. I was accustomed to singing Christmas songs. I blended in. I could "pass".
I remember writing papers on social justice and the need for common cause between the Jewish and Black communities in high school. Certainly during the Civil Rights movement, that coming together was evident. I always loved singing Spirituals, without thinking, or even knowing about their roots. Over the years, I learned much more about the meaning behind those songs I sang; many were coded instructions for slaves heading north on the Underground Railroad: to "follow the drinking gourd" (the Big Dipper) as a way to navigate toward freedom. Some were meant to uplift the downtrodden heart and strengthen their faith.
I learned of Julius Rosenwald, Chairman of Sears, Roebuck. Child of German Jewish immigrants, born in Illinois in the 1860s, he was upset by the news of the pogroms in Russia and linked that to the mistreatment of Blacks in the South. He befriended Booker T. Washington and donated money to his Tuskegee Institute in Alabama. Shortly after Washington's death, Rosenwald set up the Rosenwald Foundation and began funding the building of schools for Blacks in the rural south. But it was a joint project. He provided seed money, the community had to raise the remainder, taking pride in their own accomplishments, and maintaining, funding, and providing good teachers. Between 1917 and the time of Rosenwald's death in 1932, 5,357 schools were built across the rural south; an incredible feat. A documentary by Aviva Kempner recounts this story and finds a few remaining students who were so proud to have attended a Rosenwald School. Education is often the key to success.
Three years ago, my chorus sang a song-cycle concert, rather than one large masterwork. It was the night I returned from the Venice Biennale; my Rose Art Museum represented the US Pavilion. It was an incredible five days, but I traveled for 24 hours to return, so did not plan to sing in the concert, even if I did return home in time. I just hoped to be there.
I did get back and was able to have the different perspective of being an audience member. The concert was entitled; "Songs of Love, Faith, Hope and Freedom". I had learned all the music for the concert, so could really enjoy it. One song was "Precious Lord", a favorite of Mahalia Jackson (she performed it at MLK, Jr's funeral) and Aretha Franklin. Even Beyoncé has done a version. The lyrics in the current version date to the 1800s. "Precious Lord, take my hand, Bring me home, through the night, Through the dark, through the storm, to thy light. I have been to the mount, I have seen the Promised Land: Precious Lord, precious Lord, take my hand".
I read those words, I sing those words. I say with humility, perhaps I have a tiny inkling of what those who gathered at Mother Emanuel Church prayed for. Music is powerful. It always speaks to me and I learn from it. It helps me internalize the message.
I learned more that night. Our Director invited Sheldon Reid, formerly a music teacher in Newton, but now a choral director of the Kuumunity Collaboration at Harvard, to bring his group and perform for and with us. Sheldon had come to our rehearsal once to teach us a call and response, typical in the African-American community. He ended his group's set with that song: "One More Time"; "One more time, one more time, He allowed us to come/sing/ pray together, one more time". We all participated, including the audience, with a wonderful soloist leading the response, verse by verse. They entered our concert hall, drumming their way in, marching down the aisle, singing in Swahili, then sang spirituals, including a powerful, "Ain't Gonna Let Nobody Turn Me Around". I remember Joan Baez singing that, years earlier.
Each segment of the concert began with a chorus member reading an appropriate poem of introduction. The "Freedom" section began with a friend from the tenor section reading an edited version of Langston Hughes' "Let America Be America Again" from 1936. Aaron's voice broke as he dedicated the poem to his children. I sobbed as he read it. I share his edited version here:
Let America be America again.
Let it be the dream it used to be.
Let it be that great strong land of love
Where never kings connive nor tyrants scheme
That any man be crushed by one above.
O, let my land be a land where Liberty
Is crowned with no false patriotic wreath,
But opportunity is real, and life is free,
Equality is in the air we breathe.
I am the people, humble, hungry, mean–
Hungry yet today despite the dream.
I am the man who never got ahead,
The poorest worker bartered through the years.
Yes I'm the one who dreamt our basic dream
In the Old World while still a serf of kings,
Who dreamt a dream so strong, so brave, so true,
That even yet its mighty daring sings
In every brick and stone, in every furrow turned
That's made America the land it has become.
O, let America be America again-
The land that never has been yet-
And yet must be–the land where every man is free.
The land that's mine-the poor man's, Indian's, Negro's, ME-
Who made America,
Out of the rack and ruin of our gangster death,
The rape and rot of graft, and stealth, and lies,
We, the people, must redeem
The land, the mines, the plants, the rivers.
The mountains, and the endless plain-
All, all the stretch of these great green states-
And make America again!
These words, written as Hughes rode in a train and gazed out at the passing landscape, in the midst of the Great Depression, couldn't be more relevant today. Even three years ago, when I first encountered them, struck me like a lightning bolt. Recently, one of the news anchors had a young girl read a section of the poem at the end of the 6:30pm news broadcast. They implore us to learn, take action. They contain lessons for the ages. But will we ever listen?
Finally, a meditation, from my sister-in-law, Anne Arenstein's last Rosh Hashanah (Jewish New Year) letter, September, 2019:
If we must face sorrow, help us to learn sympathy.
If we must face pain, help us to learn strength.
If we must face danger, help us to learn courage.
If we must face failure, help us to learn endurance.
If we achieve success, help us to learn gratitude.
If we attain prosperity, help us to learn generosity.
If we win praise, help us to learn humility.
If we are blessed with joy, help us to learn by sharing.
If we are blessed with health, help us to learn caring.
Whatever the new year may bring, may we confront it honorably and faithfully.
Can I get an AMEN!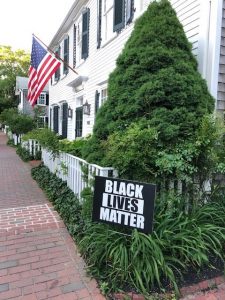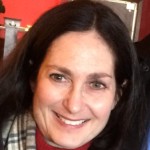 Betsy Pfau
Retired from software sales long ago, two grown children. Theater major in college. Singer still, arts lover, involved in art museums locally (Greater Boston area). Originally from Detroit area.
Tags: Black Lives Matter, George Floyd, Langston Hughes, spirituals, Father Coughlin
Characterizations: moving, well written