This poem is about how my parents met in 1957 and about my memories of eating dinner as a small child in the 1960s. It's "just" a first draft, but one I like enough to share.
My father appreciated every meal my mother prepared for him as if it were the best meal he'd ever eaten.
Liver and Onions
In 1957 if you lived in Boston
if you wanted to marry
your beliefs about the Virgin Mary
mattered more than love.
At the faculty club
she watched him bussing
tables, while she waited
tables, she was waiting
until Friday.
On Friday the club served fish
for Catholic faculty
and liver, fried with onions
for economy.
She hated liver
but she ate it, her sacrificial
signal to the tall busboy
that she wasn't one
who wouldn't eat meat.
He ate fish for his dinner
in the kitchen, with the dishwashers.
In Boston, the fish
is always fresh.
Later, after they were married,
she would laugh
that she had worried,
and he would eat every meal
she placed in front of him
as if it were his last.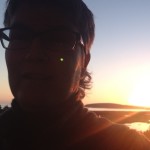 Jennifer Swanton Brown
Poet. Nurse. Teacher. Mom. Daughter. Sister. Knitter. Swimmer. Contemplative in training. Follow "A Twirly Life" (twirlyword.wordpress.com).
Tags: poetry, poem, Boston, liver, onions, fish
Characterizations: funny, moving, well written