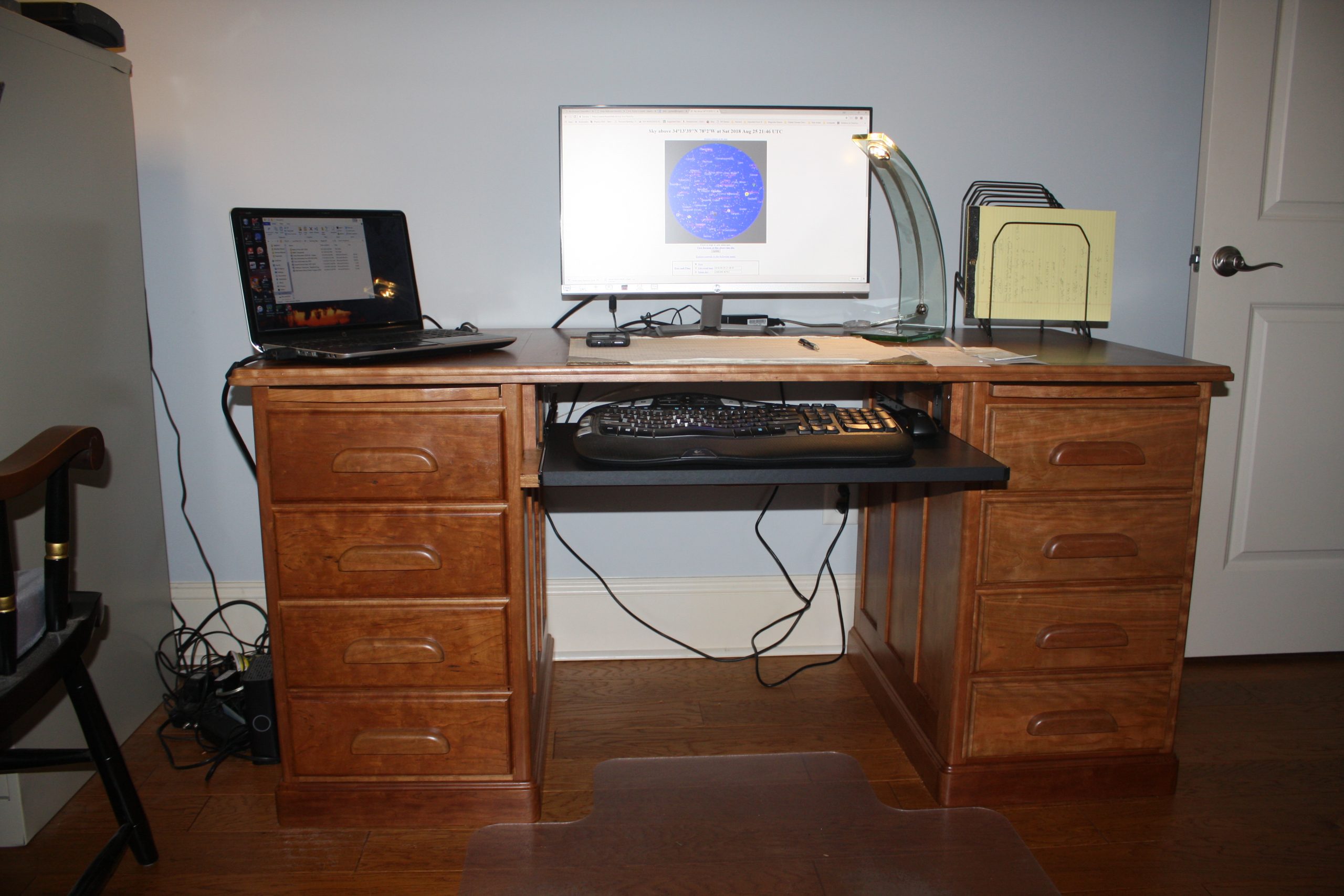 I'm an engineer.  I love putting stuff together, and sometimes taking things apart, to see how they work.  I still remember running downstairs on Christmas morning when I was five years old and tearing open the package under the tree that I knew was mine – an Erector Set!  I immediately started putting things together, and that Erector Set kept my brothers and me engaged for many years.
Of course, like all woodworkers, I could show you every place where I made a mistake, where the final project is not perfect - but I won't.
Fast forward to about 2013.  June and I had moved to North Carolina, and we finally had a dedicated office room with enough space for me to put a large desk, one which I was determined to build myself.  (The move had also provided a space in the garage where I could put my new woodshop tools, replacements for the sorry collection of tools that had been stuffed into a corner of the garage in our house in central Ohio.  I bought the best tools I could afford, a step below industrial grade pieces, but top-end for weekend warrior purposes.)
I had researched various woodworking magazines for the best plans for my desk, and finally decided on a plan from Woodsmith magazine.  I then set about buying the wood that I would need and carefully planning how to implement the plan.  The Woodsmith plan called for using a lot of oak plywood, but June and I had decided that we liked cherry much more than oak, and I had decided that i was going to use solid cherry rather than cherry plywood.  That forced a modification of the plan, because a wide expanse of solid cherry would have the potential to crack with changes in humidity, unlike plywood.  So I decided that the sides of the desk which would be open to view would be raised panel construction.
Now, I had never done anything with raised panels.  I knew that I had to build rails and stiles to hold the panels, and that I would need to leave space around the panels and put in little rubber balls to held the panels in place, so that the panels would "float" as changes in humidity caused the panels to expand and contract.  Then I had to learn how to use a raised panel router bit, a somewhat scary operation with a bit about three inches in diameter spinning at several thousand revolutions per minute.  Because I didn't want to ruin very expensive cherry boards, I practiced most of the cuts on pine boards first, until I was confident I could make the pieces accurately.
The plans also called for  drawers that just fit into the rectangular openings in the desk, but I wanted more elegant false fronts on the drawers, and I wanted them to slide on manufactured drawer slides rather than just running on top of the bottoms of the openings.  So that involved a good bit of re-design, especially on the one large drawer for holding files, the front of which looks like two separate drawers.
And I considered putting brass drawer pulls on the desk, but June convinced me to go with the solid wood pulls called for in the plans.  Those had to be carefully crafted on my router table using a jig built from a plan within the plans.
Finally, I wanted the desk to include a slide-out tray for my keyboard, which required making the center opening several inches wider than had been called for in the plans.  The desk as built is now 30 inches deep by 63-1/4 inches wide by 30-1/4 inches high.
Five years after the start of the project, I finished the desk.  I'm pretty happy with the result.  Of course, like all woodworkers, I could show you every place where I made a mistake, where the final project is not perfect – but I won't.  I will say that if I were to do it all over again, I would not go with the manufactured drawer slides – they work, but slides like that have to be "dead nuts on" to work right, and mine, while they work, do not work as well as I would like.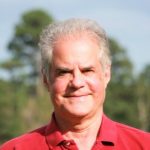 Jeff Gerken
Characterizations: been there, funny, right on!, well written