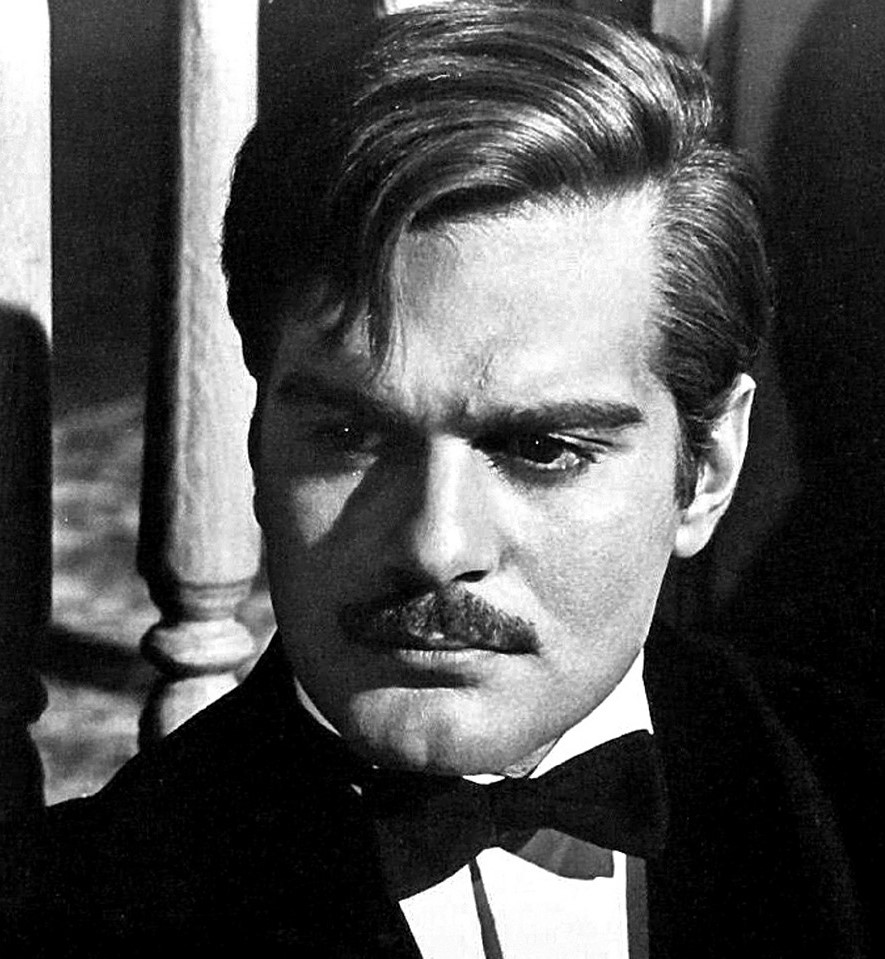 Having been single for long periods of my adult life, I had a lot of first dates, most of which were entirely unremarkable. I didn't even date until I was 18, and then it was all of two dates in my senior year of high school. My parents, whose immigrant background made them culturally more like other people's grandparents, didn't see the necessity of dating and were very strict. When I got to Brandeis, I found that people really didn't "date." The nice guy I met there eventually followed me to California, where I finished college and we were a couple until I graduated.
He said, "I look like Omar Sharif." I thought, "...yeah, and I look like Michelle Pfeiffer."
In graduate school, when I literally was a starving student, my focus was on getting a dinner date so that I could eat a full meal. During this time and for a few years after, I had an episode of boy-craziness, probably to make up for my lack of dating in high school.
The funniest experience I had at this time started when I met Fred at a graduate student group and really hoped he would call. A few evenings later I went to bed early and fell into a sound sleep. The phone rang, it was Fred, and he asked me out to dinner for the following evening. The next morning I couldn't figure out whether the date was real or I had wishfully dreamed the phone call. So I got dressed nicely and waited, and couldn't help laughing when Fred did show up (I explained why to him).
Fast forward to some more interesting dates when I was divorced and in my early 40s. This was still before online matchmaking. However, the weekly newspaper in Palo Alto, California, had a telephone personals section. You had the option of recording a short blurb about yourself and what you were looking for in a relationship, and/or listening to other people's blurbs and then recording a telephone reply, and could connect "live" by phone if the other person liked what they heard. I liked this system because I could learn a lot by listening to someone's voice.
One of the most hilarious dates I had using the telephone personals was with Steve. His profile was a bit different that what typically attracted me, but he rode horses, which was intriguing. He called me and said he'd be riding Saturday morning in Woodside, and it would be great if we could meet for lunch at Buck's Roadhouse. (Note to those outside northern California–while it sounds rustic, Buck's Roadhouse is one of the places where venture capitalists congregate to do deals). I asked Steve how I'd know him, and he said, "I look like Omar Sharif." I thought, "Not resemble Omar Sharif, but look like Omar Sharif? Yeah, and I look like Michelle Pfeiffer."
That Saturday I got to Buck's Roadhouse on time and sat down to wait. Thirty minutes went by. The hostess and various waitresses began talking with me, and I explained that I was waiting for a man who supposedly looked like Omar Sharif. They rolled their eyes and said "Typical." Finally, fifteen minutes later, a dark-haired man walked in and began to apologize for being late. The hostess, waitresses, and I all stared open-mouthed. Steve didn't resemble Omar Sharif; he could have been Omar Sharif. The lunch went OK, but we really didn't have that much in common. But boy was it fun looking at Omar Sharif across the table.
Marian
I have recently retired from a marketing and technical writing and editing career and am thoroughly enjoying writing for myself and others.
Characterizations: funny, well written