There are three fragrances I remember from my youth, one from home, one from family trips and the one that started in my college days
     Ever since I was young, I remember Thanksgiving morning with the aroma of the turkey roasting.  It's aroma filled the house and wetted my appetite for a delicious dinner that would soon appear.  Of course, I stayed out of the kitchen since it was not my place to be Thanksgiving.  I was out at play, or in the den watching some football games.  After all, I always thought that Thanksgiving day football was invented to keep the amateur cooks out of the kitchen.
     I also remember our trips to Wyoming where my father's parents lived.  Frequently, it involved a side trip to Yellowstone Park.  The mud pots, with their sulfur smell could not be missed.  Ugh!
     The final smells were in college.  As a chemistry major, smells were everywhere in the labs, especially then since lab safety was not a big concern by colleges.  Some were nice, but most were smelly or dangerous.  The most dangerous were those we could not smell like carbon monoxide.  These olfactory skills served me well in my career as a chemist.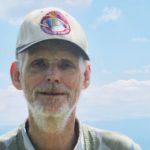 Joe Lowry
I was a child that moved so often, (8 elementary/middle schools) and finally went to to high school in Arroyo Grande California. I ended up at San Jose State University graduating in Chemistry, minor in Biology. Got married, and had two sons. Unfortunately, my wife passed 35 years later. I worked initially in the pharmaceutical industry. After being down-sized, I ended up in the aerospace field, working on satellites. I still live in the San Francisco Bay Area.
Characterizations: been there, funny, well written