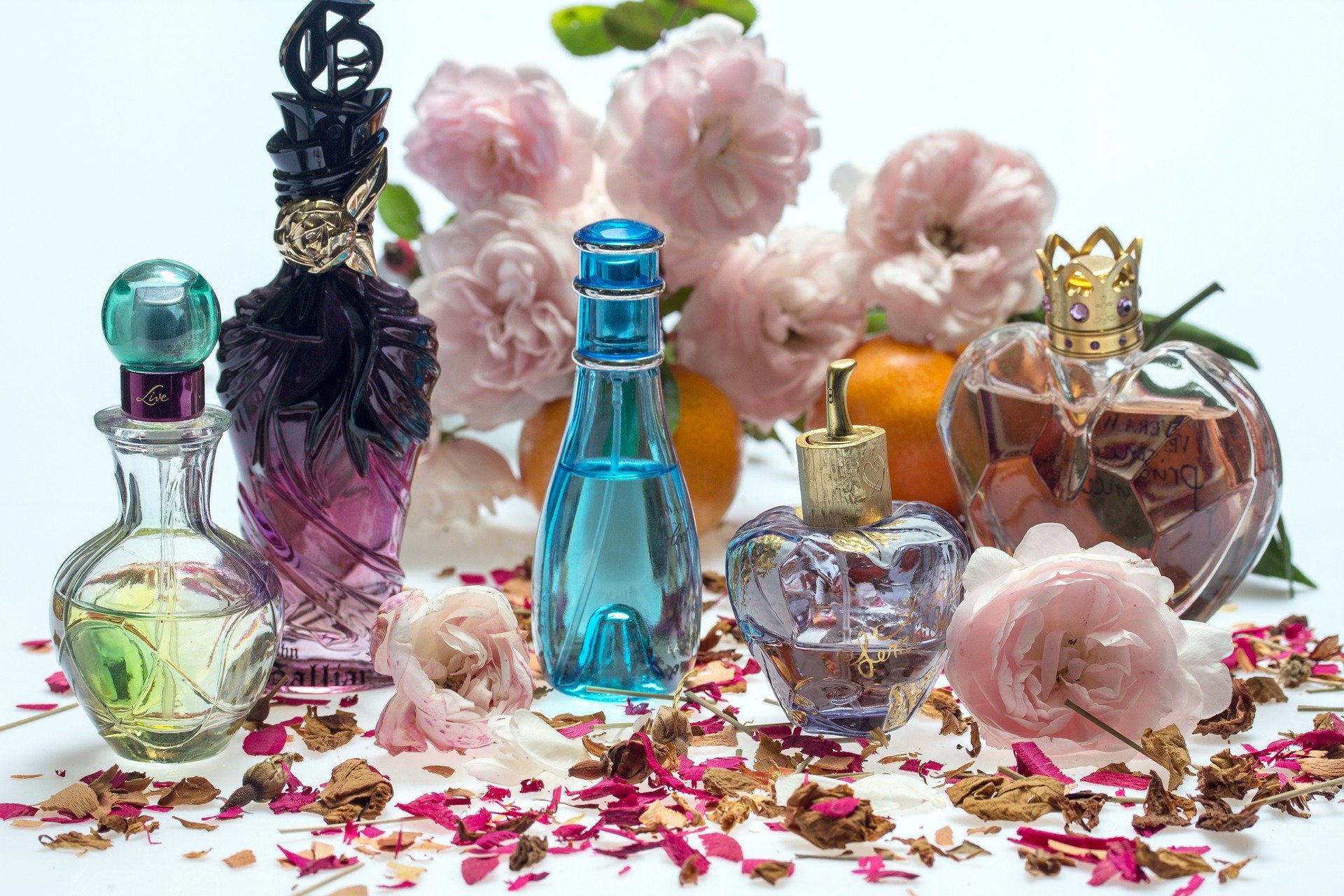 I've always loved the scent of perfumes and colognes, but they haven't always loved me. Even as a child, many flowers gave me the allergy sniffles. As a teenager, I wanted to wear cologne, and that's when I discovered that the same fragrance could smell different on different people. My skin chemistry tended to turn everything sickly sweet, so I did best wearing very light, citrus-based colognes. I did like Muguet de Bois, the lily of the valley fragrance from Coty. (You can still buy this and the other fragrances in this story online, labeled "vintage" or original.) I loved its color and its pretty scent.
He was wearing Brut, perhaps in retrospect not the most subtle of scents. But I'll never forget the scent of Brut, forever associated with the amazing excitement of that first kiss.
My favorite memory from my teenage years was one great night at a gathering of teens, all children of a group of friends of my parents. I was 14. We were in the basement of a home in Levittown, Pennsylvania, listening to the Beach Boys and slow dancing. A boy named Rob and I went outside on this warm night and kissed. He was wearing Brut, perhaps in retrospect not the most subtle of scents. But I'll never forget the scent of Brut, forever associated with the amazing excitement of that first kiss.
College years tended to be ones of jeans, backpacks, and no makeup, and no fragrances that come to mind. When I started working, I experimented with various fragrances, mostly put off by the cloying sweetness that my skin chemistry added. Someone suggested trying men's cologne, and I found Canoe, which I loved. My skin added just enough sweetness so the cologne smelled "feminine" on me, a contrast to the hilarious commercials for the product you can see on YouTube.
A few years later I came by a bottle of Cinnabar. I don't remember how. Its dark color and sultry image made me hesitate to try it. By then I was a marketing communications manager in a company, and for some reason one morning I just decided to try the new fragrance. That day I had a one-on-one meeting with one of the company's sales guys, in a closed conference room. The scent almost drove him mad, but fortunately he restrained himself and gave me the feedback on how sexy it was. From then on, I saved Cinnabar for only the most romantic occasions.
In 1990, the world of fragrances changed for me. My then husband and I had already spent a couple of years renovating a 100-year-old Victorian house, and we were finally making good progress. Because he was color blind, we hired a designer to come up with a beautiful indoor color paint scheme for the walls and trim, and through my husband's business connections hired one of the best painters in the area. As the one with good color vision, I stayed heavily involved. One afternoon I came to the house while Michael, the painter, was starting the trim painting. The trim had a nice sheen, but something smelled strong and odd. As I talked to Michael about how great everything looked, I started to see double, and the room began to spin.
I dashed out the front door, with Michael behind me. "Are you OK?" he shouted.
"Did you put an organic solvent in the paint?" I asked.
"Yes, to make it shine. It's my secret. How did you know?" he replied. I'd had to write about organic solvents in my work with laboratory reagents. If you mix them with another substance and inhale them, the other substance goes directly into your body. Something in the paint was very toxic to me, and the solvent brought in a walloping dose of it.
Michael felt awful, but I didn't blame him for what happened. I did recover in a day or so, but my allergies got worse from then on, and to this day, I can't be around paint, unless it is no-VOC, without getting very ill. Years later, when the office I worked in, with its windows that wouldn't open, was repainted, I had to move to a far-away part of the building for a week until I could safely go back to my usual spot.
And, I could no longer comfortably wear cologne. Thus began my use of fragrance-free (not merely unscented, they have masking fragrances) products. Fortunately they are more easily available today than in 1990. My home has perfume-free laundry detergent, dryer sheets, deodorant, hand lotion, body lotion, body wash, along with many more I am forgetting at the moment. When I traveled, I needed to take an entire cosmetic case with me because I couldn't risk using what I'd find in hotels. In the early 2000s, my allergist thought that perhaps I could take shots and be able to tolerate some fragrances, but the skin prick test showed I was sensitive to 38 out of the 40 challenges, so I gave up on that idea.
My allergist reminded me that there was one exception to the no-fragrance regimen: going to Hawaii, where there were flowers that I didn't encounter at home. I did go several times, and enjoyed putting ginger flowers in my hair, wearing a pikake lei, and even putting a dab of essential oil on my wrist and thoroughly enjoying the scent. If I kept using the oil when I got back, I'd eventually develop the allergy, so I gave that up. But, I have lovely memories of those Hawaiian flowers and scents from my younger days.
Marian
I have recently retired from a marketing and technical writing and editing career and am thoroughly enjoying writing for myself and others.
Characterizations: well written