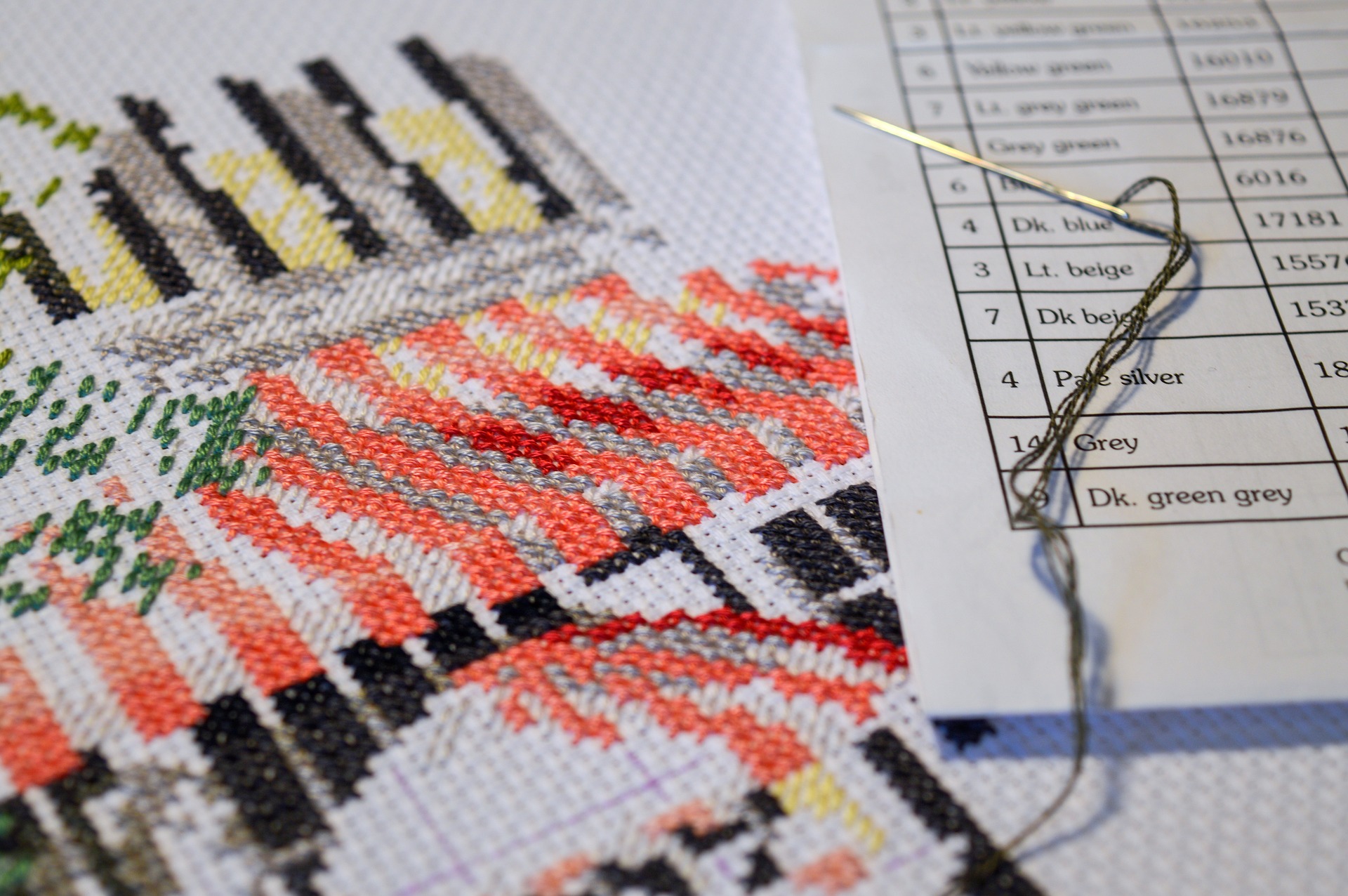 I've never been any good at "hands-on" hobbies–those that involve coordination or spatial abilities. As I child I liked coloring books and Colorforms (remember them?) because I didn't have to draw anything. I couldn't learn to knit despite repeated tries. With a grandmother and mother who were professional seamstresses, sewing was out of the question, except for repairing buttons and taking up hems. I stuck to reading, drama, and a few individual sports all the way through high school.
I looked at the beautiful colors of the needlepoint yarn and sighed. "Maybe I could do that," I thought.
In 1972 I moved to California and started at Mills College, living in my family's home in the Oakland suburbs that first year. Mills was on a 4-1-4 system at the time, with two standard semesters surrounding the "1," a January month when we took a single in-depth course. For my January 1973 course, I took a fascinating class on linguistics. Even with the compressed schedule, the course didn't take up a lot of time. That January was extremely wet. It rained nearly every day, making outdoor activities very limited.
My mother, who is excellent at any craft she tries, suggested I accompany her to a yarn shop to buy wool for a sweater she was making. The shop offered classes, and one for needlepoint for beginners was about to start. I looked at the beautiful colors of the needlepoint yarn and sighed, thinking this craft would be impossibly hard for me, until I noticed the canvas grids that formed the base of the projects. They would guide my stitching and keep it consistent. "Maybe I could do that," I thought. My mother encouraged me to sign up for the class, and I took the plunge.
The class turned out to be delightful. We received supplies, canvas, needles, and yarn, plus a stitch book. Turns out there are many more stitching techniques than the ubiquitous cross stitch. I enjoyed learning tapestry stitches and making abstract designs, using the different color yarns, and even blending the strands to make additional colors. Stitching away during my free time, watching the rain come down outside, turned out to be extremely relaxing. I made designs that could be framed, pillow covers, and even a book cover.
By the end of the January class, I had to put away the needlepoint and get back to the more demanding semester of study, and alas, I didn't pick up my needlepoint again. I soon moved on campus, leaving the few remaining needlepoint supplies in a closet at my parents' home. Eventually I gave everything away.
Now that I'm "retired," occasionally I think about taking up needlepoint again, and I'm amazed at so many of the other "distractions" available. I doubt my creaky finger joints and far sightedness would encourage me, either. But I do think with fondness of that one January when there was time to stitch and regard the winter rain.
Marian
I have recently retired from a marketing and technical writing and editing career and am thoroughly enjoying writing for myself and others.
Characterizations: right on!, well written