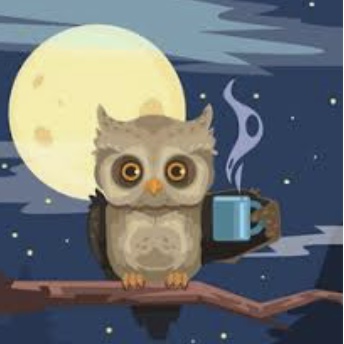 I've always been a night owl,  but once ready for bed I don't remember having trouble falling asleep – until lately.
Blame it on aging,  or Covid concerns,  or worrying about the fate of the planet,  but lately there are nights I toss and turn until the wee hours.
So what do I do?
Well, there's always a book or an unfinished crossword puzzle on the night table,  or something from the LL Bean catalog I need to order,  or a few games of Words with Friends to play.   And at the stroke of midnight EST the new Wordle challenge goes live,  so there's always a lot to keep this night owl busy during those wakeful hours.
And of course there are all those upcoming Retro writing prompts to ponder!
– Dana Susan Lehrman
Dana Susan Lehrman
This retired librarian loves big city bustle and cozy country weekends, friends and family, good books and theatre, movies and jazz, travel, tennis, Yankee baseball, and writing about life as she sees it on her blog World Thru Brown Eyes!
www.WorldThruBrownEyes.com
Tags: Insomnia
Characterizations: been there, funny, well written