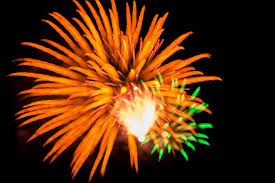 The Washington Post this week published an article about fireworks that opens with this: "It's almost the Fourth of July, the quintessential American holiday, and because nothing says America! quite like exploding things, it is the holiday of fireworks . . .   It's all fine, patriotic fun – unless you're an emergency room doctor, or the parent of an easily awakened, child, or the owner of an anxious dog, or a firefighter, or a bird, or the Consumer Product Safety Commission . . ."*  Okay, but still.
[T]he slack mainsheet clipped the corner of my eyeglasses . . . neatly somersaulting them off my face. And into the lake.
I believe that in their proper place and when handled by experts, fireworks are, well, just great. While fireworks need no special occasion, there is indeed something special about Independence Day fireworks. Especially shows that take place over water.  Maybe it's the magic of the reflection, maybe it's the acoustics, maybe it's the larger crowds that shores and banks can accommodate, but waterside displays can't be beat.  The Boston display seen from the banks of the Charles.  New York City fireworks over the Hudson, seen from a Chelsea rooftop. The impressive small-town display of the Sailfest celebration in New London, Connecticut as seen from the sticky deck of a lobsterman neighbor's boat. And the quirky show in Cold Spring on the eastern bank of the Hudson funded by then-resident Roger Ailes**. All exceptional. But none can compare to a much smaller display forty years ago this week that I fondly recall even now.
Nancy was pregnant with our first-born, due in the fall.  We decided to take an early summer vacation, the first two weeks of July, rather than our customary mid-August slot, but we would do our usual two-week rental of a cottage on Lake Winnipesaukee in New Hampshire.  We were old hands at this by then, but the excitement of two whole weeks in our favorite spot was probably at least as great as it had been in prior years.  Probably a bit greater with our realization that with a child our lives would be changing.
As per our usual luck, the weather was terrific, allowing us to do all the things we enjoyed so much – hiking, sunning, swimming.  And sailing. This was the year after our beloved Sunfish went belly up, so we did not have the luxury of multiple days of sailing, but we decided that we would rent a boat early in our stay.  It was a small boat, not a Sunfish, but it handled well and was just right for the wind conditions on the lake.  We were in our element.  That is, until upon coming about (making a turn upwind) the slack mainsheet clipped the corner of my eyeglasses as the boom passed over my head, neatly somersaulting them off my face.  And into the lake. The only pair I owned. Dang.
We contemplated our situation.  Certainly, there were many things that my uncorrected vision did not preclude – hiking, swimming, etc. – most everything we would being doing.  I wouldn't be able to drive, of course, but Nancy drove and she could handle our around-town driving at the lake.  She did have a concern along the lines of "what if something happens and we have to go to the hospital or something" but, well, there was not much that could be done about that.  Fortunately, before we had left I had been in the process of getting new glasses, and they would be ready before we had to return home.  We simply would have them mailed to us, General Delivery, at the lake.  No problem.
Independence Day was a day or two after my glasses went for their swim, and well before my new glasses arrived.  We decided that we would watch the local fireworks display at Center Harbor.  Center Harbor was just a village at the northern end of the lake but it had a terrific setup for fireworks.  There was indeed a small harbor and a town dock from which to launch the display over the water.  Just across the road running alongside the harbor was a sloping grassy area that formed a perfect amphitheater.  Plenty of room and good viewing.  We went early to get a prime location and waited for the last daylight to depart.  Meantime the harbor filled up with a dozen or so small motor boats arriving from the various inhabited islands in the lake.  Finally, the show started.  The village budget could scarcely accommodate the type of extravaganzas seen in much larger communities but the local authorities did right by all of us. Impressive displays of aerial bombs and other pyrotechnics were greeted by the customary oohs and aahs of those of us on shore, but also by the muted tooting of boat horns in the harbor.  But no one, I think, enjoyed the show as much as I. Without my glasses, of course, the display was quite fuzzy and indistinct.  But it was high art.  Think abstract paintings.  With sound accompaniment. Myopic and astigmatic, nonetheless I can say that I have never enjoyed a show more.  Guess I should say I have never seen a better show.
– – – – – – – –
* By Caitlin Gibson, July 1.
**  With a prevailing south to southwest wind the shells arced upward and to the right.  Of course.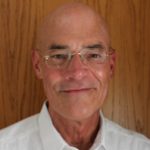 Tom Steenburg
Retired attorney and investment management executive. I believe in life, liberty with accountability and the relentless pursuit of whimsy.