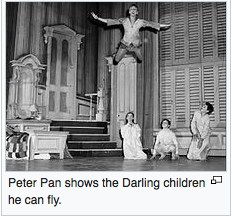 My older brother and I were both artsy kids. We both still sing and I was a Theatre major in college. As children in Detroit, we loved to listen to classical music and I followed him around like his shadow. We both loved the same movies and shows on TV.
We looked forward to the annual live performance of "Peter Pan", starring Mary Martin on our black and white TV. We marveled as she soared above the children and sang and "crowed" with gusto. Rick got the recording and we learned all the songs.
We had a wonderful swing set in our back yard and soon we recruited the neighbor kids (and there many, all living in a two block radius) to act out the show on the swing set. My brother was always Peter and I was Wendy. We flew from the trapeze; higher and higher, leaping off to a safe landing below, ("I'm flying, flying, flying…look at me, way up high, suddenly here am I, I'm flying"). The recruits were never as into it as Rick and I were. There was no script. Rick was the auteur. He directed as well as acted. Maybe he was a bit bossy, but it was his vision.
There were no real costumes and no record of these early summer activities. No adults came to see our performance. I am not sure we ever got our act together to get through a whole show, as the others would lose interest and stop showing up for rehearsal. But we sure had a lot of fun.
When NBC put on their live production starring Alison Williams, of "Girls" fame, a few years ago, it had been decades since I had heard any of the music, or thought about the show. During an opening scene, Mrs. Darling sings the lullaby "Tender Shepherd" to her children. From the depths of my memory, I knew every word and began to cry as I sang along. The power of that memory was so pungent and sweet for me, it overwhelmed me. For a brief moment, I was that little girl, living in Detroit, watching a wondrous production with her family, when everything was safe and less complicated. And we tried to reproduce that feeling in our own backyard.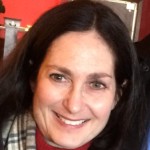 Betsy Pfau
Retired from software sales long ago, two grown children. Theater major in college. Singer still, arts lover, involved in art museums locally (Greater Boston area). Originally from Detroit area.
Tags: swing set, Rick Sarason, brother in charge, neighborhood, Peter Pan
Characterizations: been there, moving, well written