… I really liked watching
No one asked me but I liked I like Raymond Burr in Perry Mason so much and later Rock Hudson in McMillan & Wife that I just accepted their chosen lifestyles with no judgements whatsoever.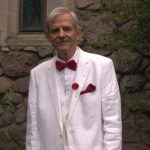 Kevin Driscoll
(Mostly) Vegetarian, Politically Progressive, Daily Runner, Spiritual, Helpful, Friendly, Kind, Warm Hearted and Forgiving. Resident of Braintree MA.
Characterizations: funny