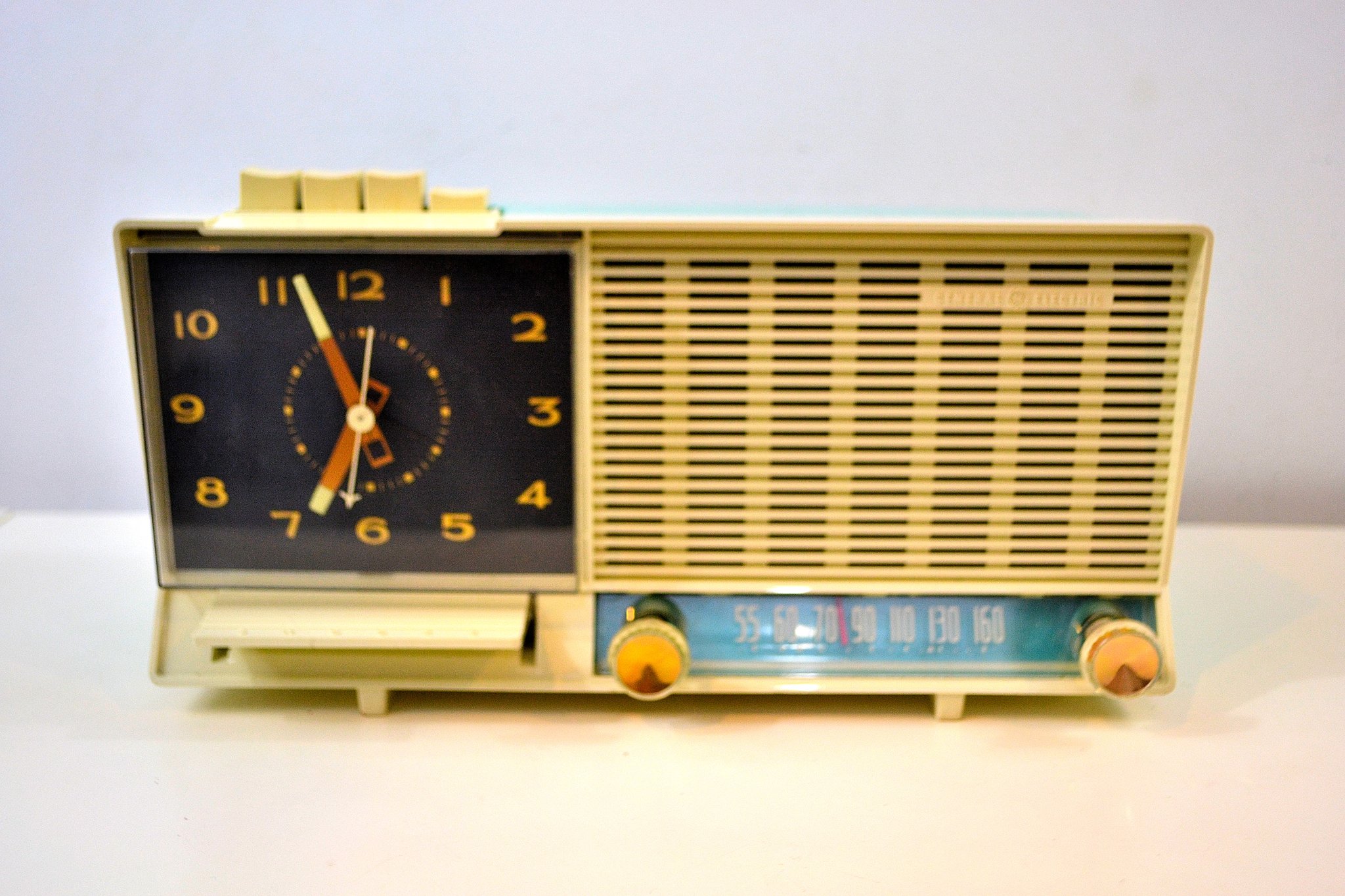 It all began in the fall of 1962. I had just turned eleven in August. When I started seventh grade, I got my first clock-radio – maybe it was even a birthday present. It looked sort of like the featured image, although not exactly. It was beige rather than yellow, and the speaker grill on the front was covered with a tweedy material. (I was sure I would be able to find a picture of it online, but no such luck.) It had an analog clock, of course, since there wasn't any other kind, it played only AM stations, and it had a snooz-alarm button, which I hit at least once every morning.
Clock-radio, transistor, car radio, boom box, record player-radio combo. All great for listening to my beloved rock 'n' roll.
There were only three stations that I listened to: WMCA at 57 on the dial, WABC at 77, and WINS 1010. I was adept at twirling the knob to get from one station to the next quickly, because every time a commercial came on, I moved to another station. The radio in the featured image looks like it's tuned to WABC.
That fall I started listening to rock 'n' roll music all the time – waking up to it on my clock-radio, in the car on the half-hour drive to and from school, while doing homework, before falling asleep at night – and I learned all the lyrics to all the songs I heard, most of which I can still remember now. My favorite deejay was Murray the K and his Swingin' Soiree on WINS 1010. I also liked Cousin Brucie on WABC, and B. Mitchell Reed on WMCA. Amazingly, more than 50 years later, Cousin Brucie can still be heard on Sirius Radio playing the hits from the '60s. He is 85 years old!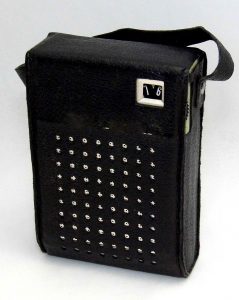 At some point I also got a very small transistor radio that looked like this. I don't have any specific memories of when I listened to it. When we went to clear out my mother's New Jersey house in 2016 before selling it (because she was living full-time in Florida by then), I discovered the radio, which had a Dymo label with my name on it, so obviously it was mine. We brought it back to California for sentimental reasons, but since we could never get it to work, my husband eventually got rid of it. I was so disappointed not to have it to photograph for this story. Just one more reason why we pack-rats never like to throw anything away!
For my dorm room at college, my parents bought me a record player/radio combination that looked sort of like this.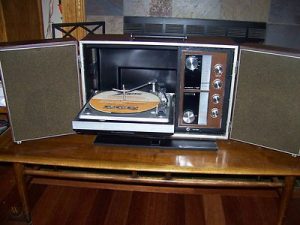 The speakers folded in across the front after you flipped the turntable up, making it a pretty compact box when not in use. It was stereo, which was exciting, and you could take the speakers off the cabinet and put them on opposite sides of the room. Of course all my records were Mono at that point, because I had never had a stereo before, but I think by that time the radio stations were playing records that were in stereo. The other innovative thing about it was that the radio had FM as well as AM. I still had my clock-radio to wake up to, but now I could listen to FM stations for music that was more sophisticated than top 40.
I can't remember if I packed that stereo into my car when I moved to California, or whether I left it behind along with most of my furniture. I do know that at some point either during or immediately after law school, I bought separate components, like all the serious music aficionados had – different brands of turntable, tuner/receiver, and speakers. I think the speakers were KLH, but I have no memory of what the other components were. As a result, I could get great separation on the music I listened to, whether on the radio or on my continually growing collection of records.
Through the years I have always listened to the radio when I was in the car, generally at pretty high volume, at least if I was alone. My Valiant just had an AM radio (pretty standard, I imagine, on a 1966 car), but it did have push buttons, so that was a big advantage over the clock-radio because it was so easy to jump from station to station. I did this constantly, either as soon as a song ended, or if a song that I didn't like came on. When I bought my Alfa Romeo in 1977 off the lot at the dealership, it didn't have a radio already in it, and I didn't want to pay what they charged to install a factory radio. But with the $500 I got from selling the Valiant, I was able to put in a dynamite sound system, with a radio and a cassette player, and great speakers. That was fun, driving around with the top down and the radio blasting!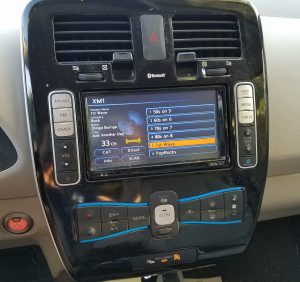 Fast forward to my current car, a Nissan Leaf, which has a radio and CD player, but we have actually never used the CD player. We always play the radio, because we sprang for a subscription to SiriusXM. They cleverly gave us a free subscription for six months or a year when we first bought the car. We didn't think we would subscribe, but by the end of the trial period we were hooked! My favorite stations are '60s on 6, '70s on 7, Classic Vinyl, and The Bridge ("mellow classic rock"). There are eighteen presets (wow!), so some are still set to the stations that play Molly's music, and I sometimes listen to those too. There are a few set to NPR and classical stations, because that's what Ed likes, but I generally eschew those. I can't stand to listen to talking on the radio, I only want music, preferably music I can sing along with.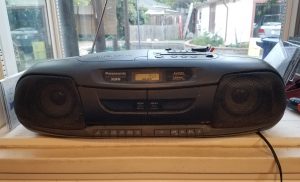 In the house we have an enormous boom box in the kitchen, which I'm pretty sure we picked up at a garage sale many years ago. It is a combination radio, CD player, and cassette player, and is almost two feet in width. It has a handle, but it's way too heavy to carry around, at least for me. So it just sits in the window box as a permanent fixture. We sometimes listen to NPR, especially the Sunday Puzzle with Will Shortz, but mostly I still like to find the rock and roll stations to play when I'm cooking. It has some preset buttons, but I don't know how to set them, and since they are mostly set on stations that nobody in the family likes, I suspect they are still there from the previous owner!
Over the course of fifty years, clock-radios, transistors, car radios, boom boxes, and record player-radio combos have all been great for listening to the rock and roll that I love. I don't know what I would do without radios!
---
For an earlier story about the music I listened to on the various radios I have described, see Rock and Roll Never Forgets on the "What We Listened To" prompt (2016). For other music I sang in addition to rock and roll, see Sing, Sing A Song on the "Songs We Sang" prompt (2018).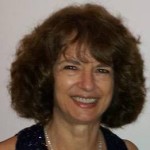 Suzy
Characterizations: , been there, right on!, well written