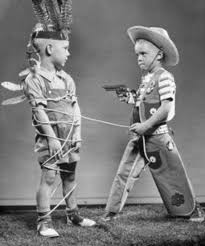 It is probably age-appropriate (both as to my then early one and my now significantly advanced one) that I really have only two distinct memories of kindergarten: recess and snack.
I really have only two distinct memories of kindergarten: recess and snack.
As to the former, most of the time we were just unleashed to burn up calories and give the poor teachers a break.  Anything short of mayhem was acceptable.  And, as others may recall, playing cowboys and Indians — or maybe it was just cowboys and more cowboys — was huge then.  Of course, we boys all had toys guns and cowboy hats, and no one gave the former a second thought.  (Can you imagine….?).  Plus, our playground had some sort of miniature structure — I can't recall whether it was a ranch or a fort — that nicely contributed to the motif.
And what I particularly recall is that I was one of the few kids who preferred  getting "killed" to doing the "killing."  I had watched enough Westerns to appreciate just how much a scene-stealer it was to writhe in agonizing pain and yet still muster enough strength to gasp out some noble last words of love, loyalty, revenge  — whatever —  before, tragically, closing one's eyes for a last time as the violins swelled in the background.  Indeed, I usually found a way to draw out my death right until the end of recess.  I probably had an audience of one by then.
In retrospect (isn't that the whole point of this site?), I do wonder if this recess play was not just a symptom of being an early-onset drama queen, but also a harbinger of a life of empathy with victims more than perpetrators. Conversely, it is not surprising to me that Trump fantasizes about shooting someone on Fifth Avenue. I can just imagine him blasting his Mattel Fanner Six Shooter at every other kid in the playground back in Queens.
As to snack, really just one particular memory: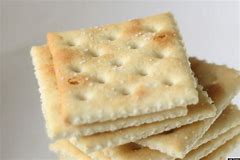 John Shutkin
Characterizations: funny