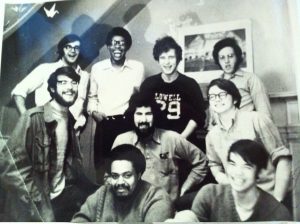 Roomies -- sometimes it just works out right...
I had the same two roomies all four years in college, Bobby and Wylie.  We would joke that we were the standard Harvard triple: one East Coast Jew (moi), one West Coast Jew (Bobby) and one Inner City Black (Wylie).  Formulaic or not, we always got along just fine, though Bobby was a huge, huggy extrovert and Wylie a cool, laid back introvert.  Once Bobby realized that Wylie didn't really want to talk to anyone, not even his bestest roomies, until the afternoon, and stopped taking it personally, it was just fine in Roommateville.  I was Mr. Adaptable through it all.
Our senior year, we teamed up with four of our closest buddies and got the suite of all suites: really three interconnected suites with seven bedrooms, three living rooms and  three bathrooms (en suite, la-di-dah).  And most of us had fairly steady girlfriends who were frequently there. Also, there was Carl.  He was one of my roomie's old friends — though at some point we couldn't remember which roomie, and I cannot to this day be sure — who was taking a semester, and then the whole year, off from Swarthmore and crashed in one of the living rooms. A brilliant guy, but highly nocturnal, fairly crazy and not to everyone's taste (especially on the distaff side).  More than one female visitor was frightened nearly to death when, somehow forgetting about Carl, she headed to the bathroom in the middle of the night and found him in the living room, smoking (something), practicing card tricks by candlelight and grinning from ear to ear at the sight of some comely, partially dressed young lady frozen in terror in front of him.  A real Cheshire Cat scenario, though it usually ended up with one fairly pissed off girlfriend storming back to bed in not the friendliest of moods.
Mr. Adaptable here considered this senior year set up to be the perfect mix of community and privacy.  Or so I thought I thought.  In retrospect (so to speak), my decision to get a studio apartment by myself off campus the next year in law school might well have been informed by some inner misgivings about the previous arrangements.
The picture here — a forerunner of a selfie; remember those 10-second timers on SLR's? and tripods? — was orchestrated by Camp Counselor Carl on an evening when we were all in the suite and feeling no pain. I am the blithering idiot in the top row with no eyes and wearing a Lowell House football jersey (I was a placekicker; another story).  Wylie is to my immediate right and Bobby is right below me. Carl is standing to my left, catching his breath after setting up the shoot.  The rest are our other roomies and other dear pals.  I cherish this picture, and this moment, as much as it horrifies my daughters, as well as my first wife.
John Shutkin
Characterizations: been there, funny, well written