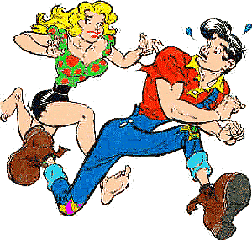 A freshman girl is daring enough to ask a senior boy to the Sadie Hawkins Dance.
My daughter, who is in college, is taking a course called Modern Family. She had an assignment to interview someone "older" about their first date. Naturally she asked me. This is what I wrote:
My first date occurred when I was a freshman in high school. In those days (the 1960s), there were very strict rules that boys had to be the ones to call girls on the phone, and the ones to do all the asking out, except for one day a year which was called Sadie Hawkins Day. Sadie Hawkins Day was made up by a man named Al Capp who drew a popular comic strip called Li'l Abner, and in the comic strip it was the day when young women literally chased men in a foot race, and if a woman caught a man, he had to marry her. Based on this comic, a lot of schools instituted Sadie Hawkins Dances once a year, where the girls asked the boys to the dance. That was the only time that a girl could ever ask a boy to go on a date.
So I had a crush on this boy named Karl, who was a senior at my high school, and I asked him to the Sadie Hawkins Dance. He was required to accept. I paid for the tickets to the dance, which I think cost either 50 cents or a dollar each. I also made him a corsage, because there was a corsage contest. I remember that I made it out of a stalk of celery that was decorated somehow, but I don't remember the details. My corsage won a prize in the contest, and I got the brand new Rolling Stones record, 12 x 5, which had just been released. (I still have it.)
Transportation to the dance was that he picked me up in his car — since he was a senior, he had his driver's license and his own car, which was a VW Beetle. If he hadn't been able to drive, my mother would have had to take us, which would have been pretty embarrassing. The central activity of the date was dancing, since it was a school dance that we were going to. It was held in the gym at our high school, and the music was provided by records.
I was attracted to this boy because he was a senior, and very good looking, and I had talked to him a few times in the hallways at school and thought he was cool. Still, it was pretty daring of me to ask him out, since I was only a lowly freshman. We had a good time at the dance, but he never asked me out after that, which I was pretty disappointed about. Still, I had my memories and my Rolling Stones record to remind me of that night.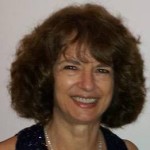 Suzy
Characterizations: moving