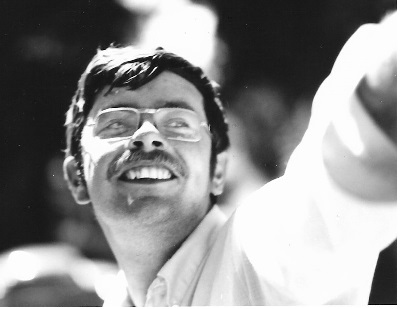 The last time I saw Kelly, he'd been dead for over a year. In yet another dream, he was sitting next to me on a bus.  "You have to let me go," he said.
When I met him, in 1966, Kelly was a junior in high school. He was outrageous, audacious, charismatic, and sexy as hell.  I studied chemistry that year, my sophomore year, but I really learned about chemistry from him: a heart-stopping attraction that made my stomach flutter.
One night, Kelly and I and a group of kids went to a concert to see Cream and some other loud bands I forget. I made sure we sat next to each other. With the music and my heart pounding, I turned to look at him, my eyes begging for a kiss. He leaned in. We moved up a few rows, past the dope smokers in the balcony, and spent the rest of the concert engaging in the advance and retreat of passionate exploration.
Kelly pretended to be asleep on the way home. He didn't acknowledge my presence the next time I saw him, or the time after that.
But then I saw him at a party and the electric-blue bellbottom outfit I was wearing caught his eye. He drove me home. We kissed in the car, and then he took off. I waited for the phone call that never came. Still, I was drawn to him, helpless. His exuberant laugh, his twinkly blue eyes, those strong hands, that husky voice. I looked for him everywhere, hoping for more of him. Didn't get it. I moved on.
The next summer, after I'd broken up with a bad boyfriend, I wrote Kelly a plaintive letter in the form of a short story. It recalled a magic evening in the upper balcony during a Cream concert. A few days later, I got a reply—a poem illustrated in his unique style. He had a way of drawing letters that made them appear to ooze and flow into one another. A work of art, just for me.
We began seeing each other after that. We saw all there was to see, actually, spending sweet hours tangled up together. He told me that the graceful curves of the rolling hills where we lived reminded him of me. Then, one night, I went to his house, down to his room, and by the light of a candle blinking wax down a wine bottle, we ended up in his bed.  I wouldn't call it making love, exactly—it was more frantic than romantic.
After that, we spent most of our time horizontal. I smoked his cigarettes and I thought we were a couple. But things changed. There were lies. Some awkward moments. I heard he was seeing another girl. And there was his drinking. So one night, over the phone, I told him it was over. I cried for an hour.
After he graduated, Kelly joined the Coast Guard and shipped out to Alaska. Since he wasn't going to college, it was the best way to avoid getting drafted. In the meantime, I had started dating someone else—a guy who deftly caught me on the bounce and gave me a shoulder to cry on. He was a much more attentive boyfriend, and patiently waited for my heart to heal.
Kelly wrote me from aboard ship and his letters were wistful, beautiful, and poetic. I kept them all in a special box.
It was inevitable that we'd see each other when he came back to town. One night at a party he grabbed me by the arm (away from my boyfriend) and pulled me outside. "Tell me what I did wrong!" he howled. "Please—just kiss me one more time!" He was roaring drunk, but I did kiss him. And then I told him how he'd lost me. He turned around to pee and I just left him there.
A few years went by. I married the boy who rescued me and adored me. We heard Kelly had gotten particularly drunk on our wedding day.
I saw him at the local market a couple of years later. He saw me too, and ducked down another aisle. The Beatles' "Norwegian Wood" wafted through the store, adding to the awkwardness of the situation.
Kelly died in a car accident in the spring of 1977. Seeing our old friends at the church, gazing at his flag-draped coffin, I got knocked over by a huge wave of grief.
The dreams started then, and they were pretty much the same every time until I had the dream where we were on the bus. Just like at the concert so many years ago, I turned to him–feeling the heat of longing–only this time it was me saying, "What did I do wrong? Kiss me one more time!"
That's when he looked at me with sorrow and said, "You have to let me go."
My time with Kelly was just a few short months, decades ago. I have only one picture of him: that dimpled smile, those lively blue eyes—basking in the sunshine of my love.
RIP RJMK
Risa Nye
Characterizations: moving, well written