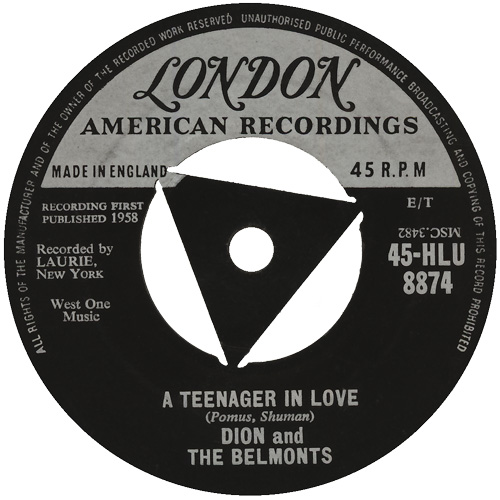 Every time I have seen the phrase "teenager in love" – starting with the first time this prompt appeared in Retrospect two years ago – I have read it as teen-A-ger, with the accent on the second syllable, rather than TEEN-ager, the usual pronunciation, with the accent on the first syllable. In contrast, if the word "teenager" appears and is not followed by "in love," I of course accent the first syllable. The reason for this deviation in pronunciation is the unforgettable song by Dion and the Belmonts.
Wikipedia tells me the song was released in March 1959, which is very surprising to me. I was seven-and-a-half years old at that time, not even close to being a teenager and certainly not in love. I suppose I first heard it because my older sisters listened to popular music on the radio and sometimes bought 45s that they played at home. But this song must have had great staying power, because I'm sure I was still hearing it on the radio when I was in my teens.
As a teenager I was always in love with someone. First it was Karl, whom I wrote about in Sadie Hawkins Dance. The next year there was a boy with red hair named Steve. He was a senior when I was a sophomore, and we played bridge together but that was all, except in my fantasies. There were others whose names I can't even remember any more. I would walk past the locker of the love object du jour, hoping to bump into him. I would doodle his name in the margins of my notebooks. Sometimes (oh horror of horrors) I would write Mrs. with his name, or even worse, Suzy with his last name. Seems crazy now, but I think that was commonplace back then.
As the lyrics of the song say, one day I felt happy and the next day I felt sad. It all depended on whether I managed to bump into him when I walked past his locker, and whether he smiled at me. Even in college, where there weren't lockers any more, there was still the fine art of figuring out how to bump into the love object, in the dining hall, or outside a class, or just walking through the Yard. Or better yet, getting invited to the same parties, and hoping he would notice me there. And while suffering through all of this, I was indeed always asking the stars up above "why must I be-e a teen-A-ger in love?"
So glad those days are long past!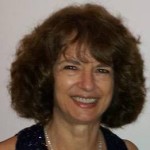 Suzy
Characterizations: been there