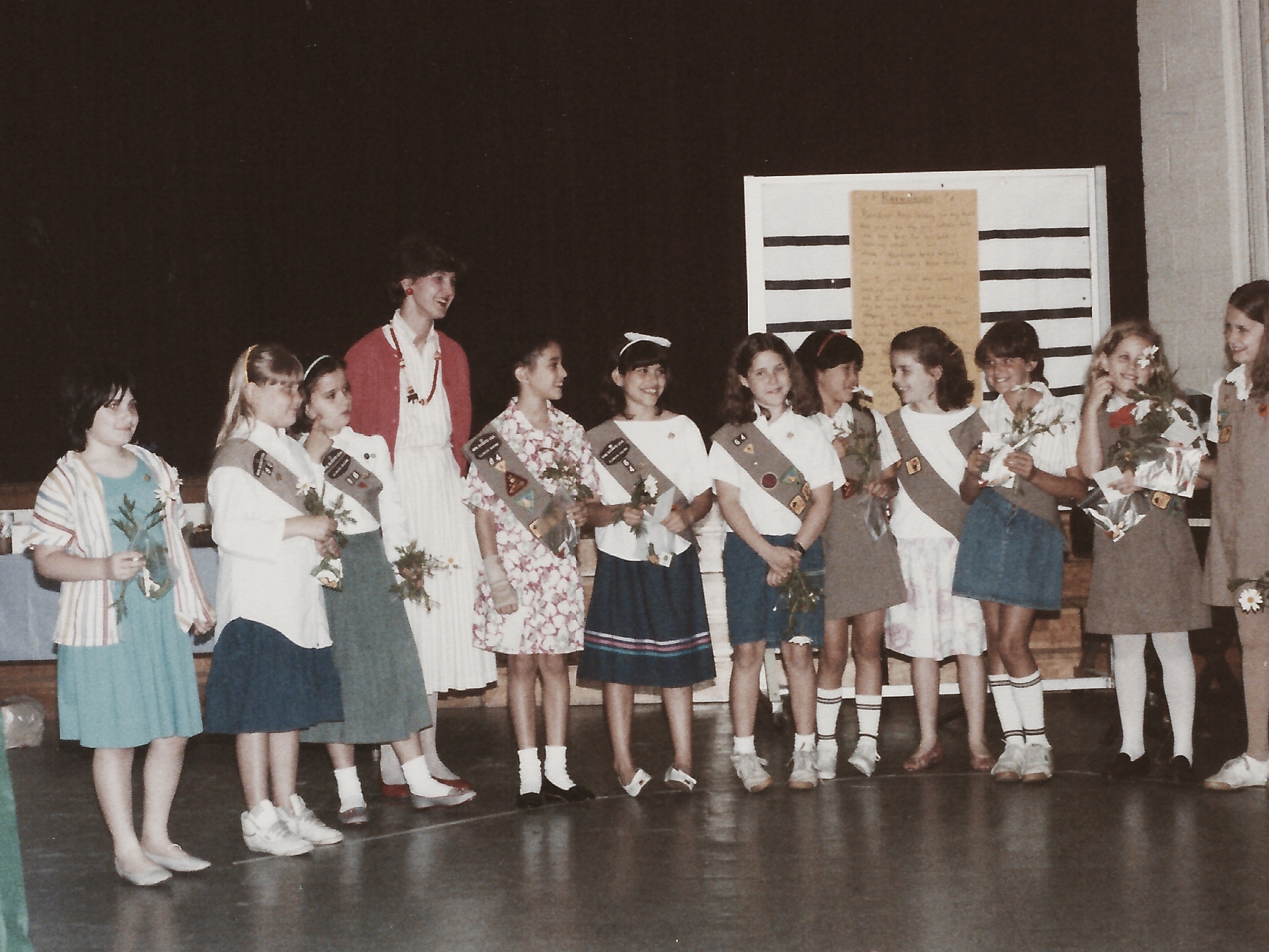 I must have been a Brownie and then "flew up" to be a Girl Scout, but I have no memory of anything other than a field trip to see Bozo the Clown and the photo below in which my troop babysat for moms so they could go to the polls to vote. I must have earned a badge for that, but I doubt we had many customers who preferred having a stranger babysit rather than just taking their child with them to vote. I probably would not even remember doing this except that my mother clipped the photo below from the local paper and labeled it "12 years old."
What I do remember from my early teen years is being the Den Mother for my youngest brother's Cub Scout pack.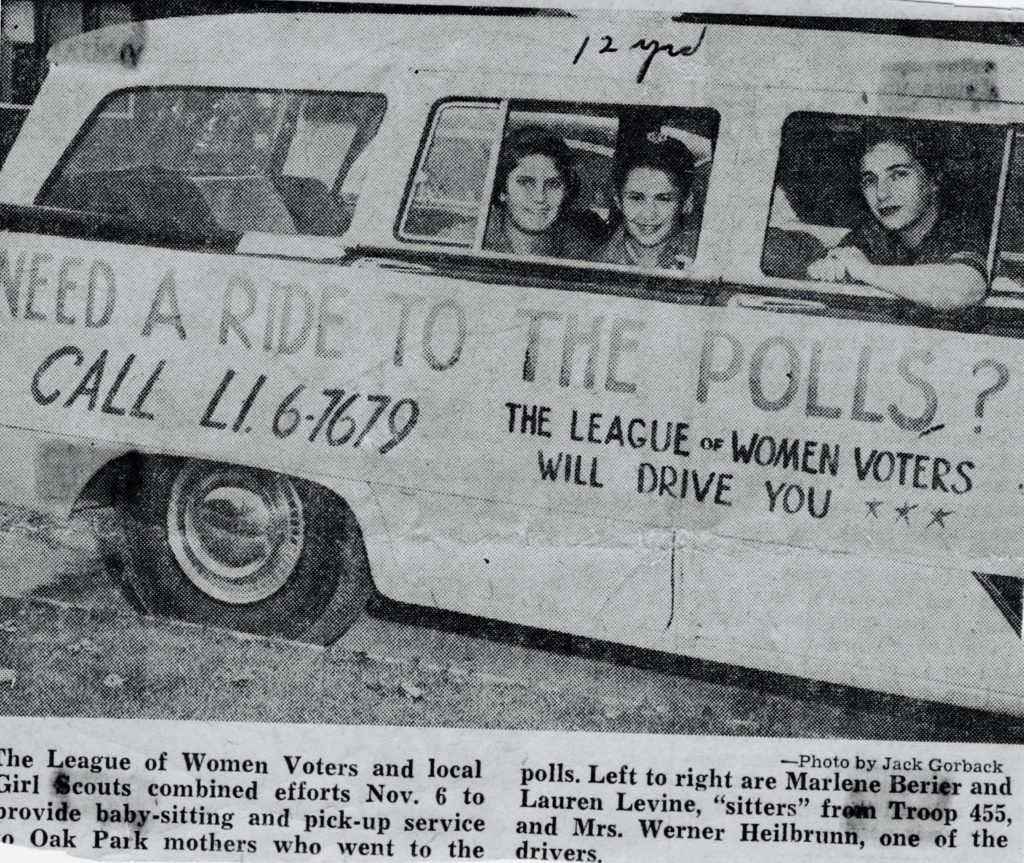 What I do remember from my early teen years is being the Den Mother for my youngest brother's Cub Scout pack. My mother had no interest in coming up with activities for a rowdy group of young boys. I, on the other hand, enjoyed leading craft activities and various projects that would result in badges. After a couple of years, both my brother and I lost interest in Cub Scouts, and my involvement passed to my own kids, all of whom were eventually turned off by the regimentation and rules of Cub Scouts and Brownies.
Our son's den was an unruly bunch. I don't remember them earning any badges, and I don't have a single photo because they would never pose for one. But they did like playing sports, which in the 1970s involved their fathers. My husband tried to coach them in football, but they ignored his suggestions and basically ran wild, tackling anyone near them on either team. My son's only achievement in Cub Scouts was winning the Pine Wood Derby, a contest in which every boy was given a block of wood and some wheels from which he and his father had to build a model car. This was a real challenge for my husband, who was minimally handy. Their car was very basic and ugly, but the true humiliation was that it would only move if placed backwards on the ramp. Then, it whizzed past the other cars that actually looked like race cars, unlike theirs that looked like a painted block of wood. Our son, who was a quiet and sensitive soul, was clearly not cut out for scouting, and quit after that victory.
Our older daughter's Brownie experience ended up being too regimented for her. The leader of her Brownie troop was SERIOUS about scouting. She welcomed no help from the other mothers and drove the girls to earn so many badges that my hands hurt sewing them onto her sash. The cookie sale was also a highly competitive event. If a girl's parents worked in a place where they could pressure their co-workers into buying, she was rewarded with tons of praise. Lacking a built-in market, we did our best with relatives and neighbors, but that was never good enough. When it was time to "fly up" to Girl Scouts, my daughter flew away.
When it was my youngest daughter's turn to be a Brownie, the leadership issue loomed large in the opposite direction. No mother (in those days, those were the rules) wanted to be leader or even co-leader. So, we became a shared leadership troop. Every mother was supposed to take a turn and share responsibilities equally. Right. My most vivid memory of this disaster was taking the girls to a cabin somewhere for the weekend. There were probably six mothers sharing the responsibility, but for four of them, that consisted of driving the girls to and from the site and spending the rest of the time lounging in the sun and reading. That left Tess and me preparing meals, doing dishes, getting the girls to go to bed, and thinking of things for them to do other than run wild. This was truly a busman's holiday for us. Apparently, there was no badge for washing dishes or cleaning, so our darling Brownies weren't interested. They also passed on the cooking and bed-making badges. After that experience and producing a play that was a take-off on Cinderella, which involved many tears over the casting, I stepped away from scouting forever.
Thankfully, none of my grandkids had any interest in scouting. But if they did, they knew better than to knock on my door.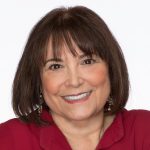 Laurie Levy
Boomer. Educator. Advocate. Eclectic topics: grandkids, special needs, values, aging, loss, & whatever. Author: Terribly Strange and Wonderfully Real.
Characterizations: funny, well written