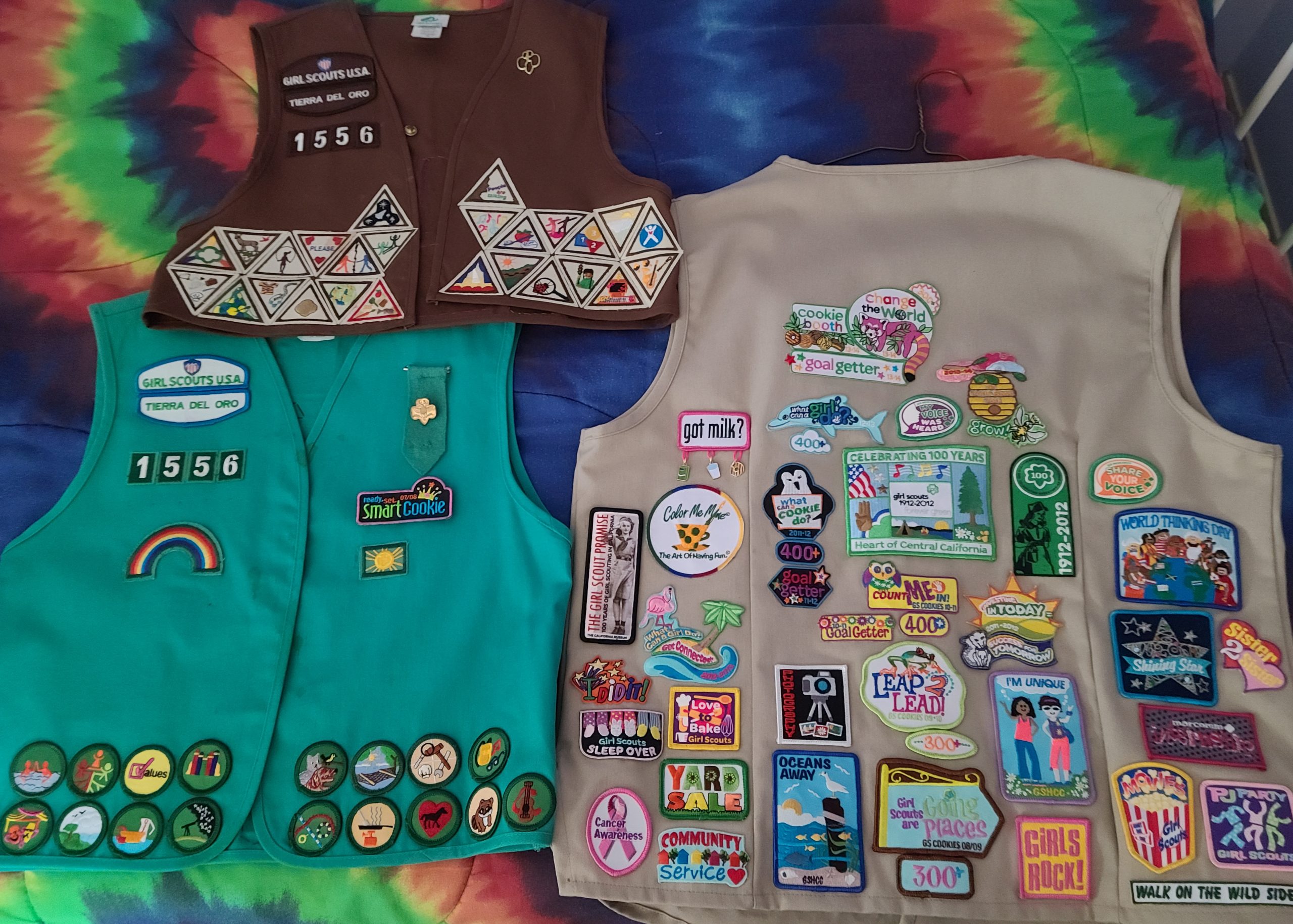 There are many Girl Scout songs, but this one is my favorite, sung to the tune of "Let Me Call You Sweetheart."
I loved being a Girl Scout, and I appreciated Girl Scouts even more when I became a troop leader.
Let me call you sister, I'm a Girl Scout too
Let me hear you whisper all the Scout laws through
Keep the Girl Scout promise in your heart so true
Let me call you sister, I'm a Girl Scout too.
I was a Girl Scout in fifth, sixth, and the beginning of seventh grade. Both of my sisters had been Girl Scouts before me, and I had the hand-me-down uniform of one of them. It was a long-sleeved green dress with the badges sewn on the sleeve. My mother must have removed all of my sister's badges from the dress, and only put them back on, along with new ones, when I had earned them myself. I don't know what happened to that dress, I suppose it was given away with so many other things when my parents moved out of the house I grew up in.
Our meetings were held at an Episcopal church that was two blocks from my house. The minister at the church was the father of one of the girls in the troop. We met in a big room in the basement, which must have been the church social hall. There were eight or ten girls in the troop, all of whom were in my class at Number Three School. The troop leader's name was Mrs. Cxypolski, and I can't believe I just came up with that name, but I'm sure it's right. I assume her daughter was in the troop. I have only vague memories of working on badges in that big basement room, and I don't recall any camping trips or other excursions, although there must have been some.
The two things I remember vividly are making sit-upons (a GS tradition, it's a homemade padded seat cushion for sitting on the floor or when you are camping), and selling (and eating) Girl Scout cookies. The rest is just a blur, unfortunately.
In seventh grade I was at a new school in a different town. After the first few meetings that year, I was feeling alienated from the other girls, who would talk about goings-on at Number Three School that I couldn't share. I decided to quit the troop. In retrospect, I think it would have been good to maintain that connection with my Belleville friends, but at the time I felt that I had moved on and didn't want to hang out with them any more. Sad to say, after I quit the troop, I never saw any of them again.
The Next Generation
My older daughter, Sabrina, went to an introductory Brownie/Girl Scout meeting at her elementary school. She was interested until she found out that the girls didn't get to keep the money they collected selling cookies. That was the end of it for her.
My son Ben went with my husband and me to an introductory Cub Scout/Boy Scout meeting for all the elementary schools in the area, which was held at the local middle school. My husband had been a Boy Scout and initially thought it would be a good thing for Ben to do. But all three of us were turned off by how militaristic it seemed. The Boy Scouts marched into the auditorium while the leader barked commands. The speakers stressed discipline and rigorous training. That was the end of it for him.
Molly's Scouting Experience
Molly had a very different experience from her siblings. It began when she was in first grade at a new school. She was slowly getting acquainted with the other kids, who had all formed their friendships in kindergarten.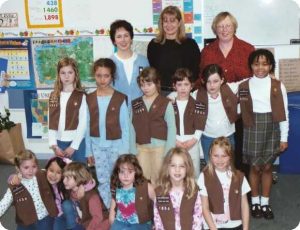 We heard that a new Brownie troop was being formed at the school that would consist of both first and second graders, so we signed her up. It was wonderful! It ended up being six first-graders and six second-graders. There were three leaders, all second-grade mothers, who were sweet, nurturing women. This picture of the troop is at their investiture ceremony, all wearing their brand new Brownie vests. The first-graders are in front (Molly is second from the right), second-graders behind them, and the leaders in the back.
I could go on at length about Molly's seven years in that troop, two as a Brownie, four as a Junior Girl Scout, and one as a Cadette, but that's her story, not mine. However, I will say that after her sixth grade year, I got to be one of the chaperones who took the troop to Disneyland for four days, and all the costs of transportation, food, lodging, and park passes were paid for with the profits from cookie sales. Pretty impressive! And a very fun trip.
A year later the troop disbanded when the leader moved to D.C. and most of the girls lost interest in scouting. Molly wanted to continue though, so we tried to find another troop for her to join in eighth grade. By November of that year, it was apparent that the few troops that still existed for middle school and high school girls did not want to take new members. However, it turned out there were three other eighth grade girls who were looking for a troop to join. So I started my own troop.
We met once a week at my house, sitting around the dining room table. Three of the girls were at the same middle school, so I picked them up after school and brought them to my house. The fourth girl either came by bike or her mother brought her. Of course the first order of business was having a snack, so I started stocking up on the foods they liked. The girls got along well, and worked together planning the badges they would earn and activities they would do.
The only hiccup came during that first cookie season, when one of the girls (I'll call her Shari) impressed us all with an order for a huge number of boxes, but then, after delivering them to her customers, never turned in the payment. We knew her family didn't have much money, they lived in the housing projects, and the troop had paid for her sash and the insignia that went on it. But still, she was supposed to collect money from the people who bought cookies and turn it in. I guess she or her parents just kept it. Then she quit the troop. I had to fill out a bunch of forms about the theft, but the good news was that the Girl Scout organization absorbed the loss, it didn't come out of our troop funds. They may have gone after Shari's family to try to recoup the money, but at least it wasn't my problem. That spring, one of the girls recruited a new fourth girl to replace Shari, and she stayed through all of high school.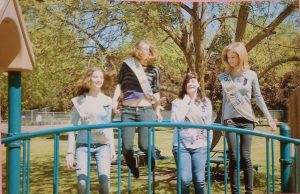 Whenever Girl Scouts move from one level to the next, it is called "bridging" and there is always a ceremony involving walking over some kind of bridge. Many troops from around here actually go down to San Francisco and walk across the Golden Gate Bridge for their bridging ceremony. However, that bridge is 1.7 miles long, and none of my girls wanted to make the trek. So instead we found some kind of bridge in a park or playground each time. Here's a picture of the girls jumping up in the air on a local playground bridge after they had finished their bridging walk. I'm not sure if it was when they bridged from Cadette to Senior or Senior to Ambassador. We used different bridges each time.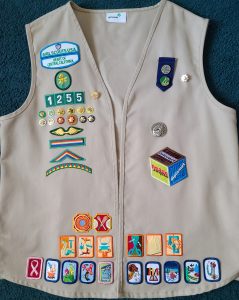 Here is the front of Molly's last vest (the back of it, with all her "fun patches," is shown in the featured image, along with the front of her Brownie and Junior vests). The khaki vest was used for the last three levels, Cadette, Senior, and Ambassador. (The Ambassador level had just been created in 2011.) The twelve stars underneath the troop number signify the twelve years she was a Girl Scout. The wings underneath that represent "flying up" from Brownies to Girl Scouts. At the bottom of the vest, the badges in the bottom row were the ones she earned as a Cadette, the middle row were the ones she earned as a Senior, and the top row (okay, there were only two of them) were the ones she earned as an Ambassador.
The whole troop aged out of Scouting when they graduated from high school in 2014. We had been trying for several years to earn the money to pay for a trip to Europe, which, when it was clear we wouldn't have enough, was scaled back to a trip to Savannah, Georgia (the birthplace of Girl Scouts), and ultimately became just a long weekend in San Francisco. Consequently, we had a lot of money left over, which we either had to spend on troop activities or turn in to the Girl Scout Council. Of course we decided to spend it. We went out to dinner at a really expensive restaurant that the girls would never have gone to otherwise, got old-time photos taken, and came up with some other fun things to do to use up the money.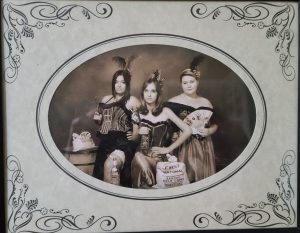 Here is one of the old-time photos they took, which I love. These are very popular to do in Old Sacramento, which has a gold rush vibe to the whole place. Note that there are two bags of gold from the First National Bank in the picture. The girl on the left is brandishing a gun, and Molly has a bottle of Jack Daniels. The girl on the right chose a fan for her prop, so she may have been unclear on the bank robber/saloon girl concept they were trying to convey. The fourth girl was away, unfortunately, so she missed out on the photo session.
After the troop disbanded, I really missed it! Maybe more than the girls did. But reflecting for this story, I realize that they got so much out of their Scouting experience, whether they realized it or not. Having a supportive place to go every week during high school, where we talked about everything from bullying to wedding dresses, was so important. Cookie sales taught them marketing skills, money management, customer service, and so much more. I showed Molly how to make an Excel spreadsheet of her customers and their orders, and then rearrange it by street address when it was time to deliver the cookies. Since she sold more than 400 boxes most years, that was an important skill! Also, she and one of the other girls were on the staff of the Girl Scout magazine, "Hear and Now." Spending the money they had worked for five years to earn, even though it didn't add up to enough for a trip to Europe, was a memorable ending to the journey.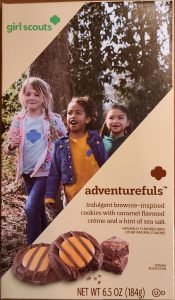 The four girls have gotten together periodically in the years since then, and while they have taken different paths, they are always happy to see each other. And every year I buy several boxes of cookies from the current Girl Scouts who live on my block. This year's new cookie is called "adventurefuls." I had to take a picture of the box before we tore it open and devoured the cookies. Not sure that any of the cookie varieties are really worth five dollars a box, the current price, but I have to buy them to support the next generation of Girl Scouts in my neighborhood.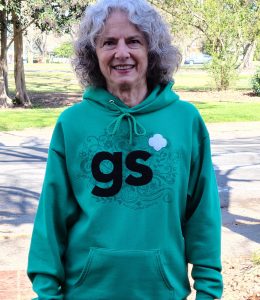 Here is a very small picture of me taken today while writing this story. I had to put on my Girl Scout sweatshirt for inspiration. Needless to say, this is from my time as a leader, not from when I was a Girl Scout back in the '60s. Did they even have hoodies back in the '60s?
* * *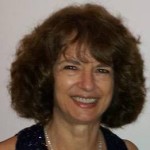 Suzy
Characterizations: funny, moving, right on!, well written