Background:
In 2006, while on a sailboat charter vacation in the BVI, my wife's best friend (since childhood), Bonnie, drowned during a snorkeling expedition. My wife and the friend's boyfriend performed CPR on her friend for 45 minutes before the local medical authority arrived and declared she was dead. This was obviously an extremely traumatic experience. We learned afterward that if she had been wearing a snorkel vest, she might have not drowned.
Fast forward a few years, and we are on another sailboat charter, once again in the Virgin Islands, USVI this time. We were doing a lot of snorkeling, and as you might suspect we were very rigid about always wearing our snorkel vests, purchased after the accident. We anchored in Leinster Bay on the north shore of St. John and were snorkeling in sunny, calm conditions. There were perhaps a dozen other people doing the same. As we neared the end of our "circuit" around the bay, I noticed a man, about twenty feet away, thrashing around in the water.

I swam over to him and asked if he was OK. He was an older man, and sputtered, "No, I'm too tired to swim." I assured him I would help him, and quickly inflated my snorkel vest. Then I went close and told him he could grab on to me and the vest would help us float. He did, thankfully not struggling, and I slowly swam him into shallow water where he could stand and then sit on the beach. By this time, his wife had swum over and took charge of him. Without so much as a thank you, off they went.
It's OK that I didn't get thanked, partially because my wife and daughter were effusive in their praise for perhaps saving the guy's life. I've thought ever since that at least a little good came out of Bonnie's death through that snorkel vest.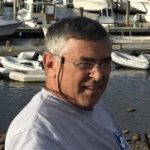 Joe Worth
Characterizations: moving