One guilty pleasure I share with my husband is PBS Masterpiece Theater serials than can tend to be soapy. Prior to the pandemic, we had enjoyed Downton Abbey, Call the Midwife, and Sherlock. But with more time on our hands since March 2020, we find ourselves indulging this guilty pleasure more often. Most recently, we have embarked on a journey in Around the World in 80 Days, solved mysteries with Grantchester, Wallander, and Vienna Blood, and discovered some old treats like Doc Martin, The Indian Doctor, and Endeavour on various streaming channels (although these often disappear after we have been hooked by the first season).
One guilty pleasure I share with my husband is PBS Masterpiece Theater serials
I do feel a bit guilty watching wealthy nouveau riche Americans battle the old monied crowd in 1882 on The Gilded Age when I should be fighting income inequality in today's gilded age. Or hoping James Herriot will finally proposes to Helen Alderson on All Creatures Great and Small when I should be finishing Crossroads by Jonathan Franzen. Miss Scarlet and the Duke was amusing, although as with all stories of this type, I can be sure that opposites will attract and romance will be in the air eventually. I could be doing more writing, but our addiction to these shows distracts me.
Lest you think this is a total waste of time, I did learn a bit of history watching Victoria, Wolf Hall, and The Bletchley Circle. And Last Tango in Halifax, in which a couple reunites and marries after 50 years apart, was a hoot for those of us of a certain age. Anne Reid, born in 1935, and Sir Derek Jacobi, born in 1938, play the romantic couple — rather inspiring.
Just writing about this makes me feel a bit guilty, but these shows also make me happy and take my mind off of The Big Lie, Russia's threat to invade Ukraine, voting rights restrictions, the end of Roe v. Wade, inflation, banned books, and huge trucks barricading access to cities and bridges (which will no doubt be coming to a city near you soon). These are tough times, so I will take my guilty pleasures whenever I can.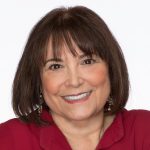 Laurie Levy
Boomer. Educator. Advocate. Eclectic topics: grandkids, special needs, values, aging, loss, & whatever. Author: Terribly Strange and Wonderfully Real.
Characterizations: right on!, well written