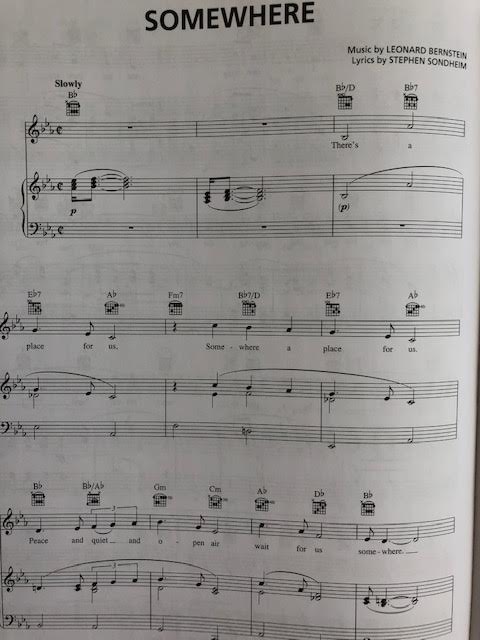 The unusual opening interval is a minor, ascending 7th. It fills one with aching, longing and sets up the dreamy quality of this hauntingly beautiful song. It resolves quickly and those few opening notes are instantly recognizable. Tony has just confessed to accidentally killing Maria's brother in the heat of the rumble, but they are deeply, irrevocably in love. The chaos and hatred around them will not tear them apart. They must find a place of universal peace and harmony. That is what Bernstein and Sondheim tried to convey through melody and lyrics as the lovers seek redemption through each other.
In the original 1957 Broadway show, the song was sung off-stage by a disembodied voice during a ballet sequence, showing the rival gangs coming together, foreshadowing the grouping at the tragic ending.
Here is the entire sequence (including the ballet music) from the original Broadway soundtrack. The actual song starts at 2:35 in the sequence.
In the 1961 Academy Award winning movie, it is sung by the two lovers in her small bedroom as they make love. And in the current Spielberg remake (which I recommend), it is sung by Rita Moreno's (new) character, an ode to her deceased, non-Puetro Rican husband, and for all couples who are trying to overcome prejudice and co-exist. Though, at the age of 89 (when she filmed the movie), she can't sing it as the soaring ballad of the previous versions, I still found it moving.
"We'll find a new way of living, we'll find a way of forgiving. Somewhere."
Though I have never used the song as an audition piece, I have sung it privately for special friends for many years; over 50. I truly love it, it moves me to tears. The haunting melody and universality of the lyrics makes it a piece worthy of all eras. It feels important during this era of divisiveness too. I never tire of it.
Someday…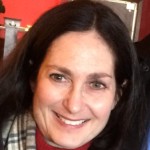 Betsy Pfau
Retired from software sales long ago, two grown children. Theater major in college. Singer still, arts lover, involved in art museums locally (Greater Boston area). Originally from Detroit area.
Characterizations: moving, well written