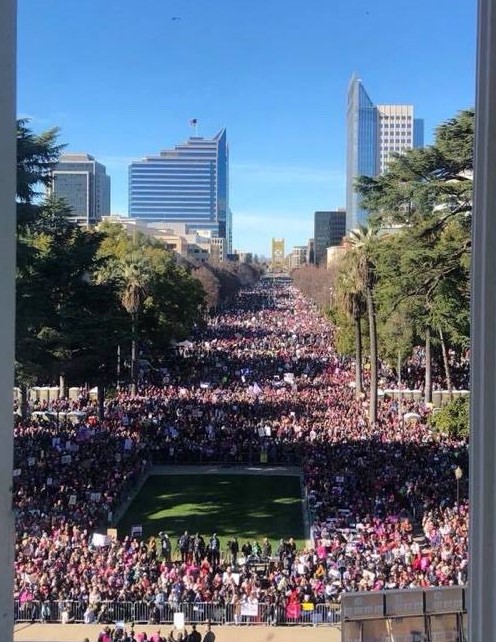 The first section of this story comes from Street Fighting [Wo]man, written in April 2018 for the prompt  Student Activism. Since only 3 of our current authors commented, I assume most of you haven't seen it. Rather than move the old story to this prompt, I reprinted part of it here and added a new section.
Marching with thousands of other people, chanting "This is what democracy looks like!" at the top of our lungs, felt great!
"Hey! The time is right for violent revolution" sang Mick Jagger in August 1968. When I heard it, I had just come back from the Democratic Convention in Chicago, where I was tear gassed by the police. I was seventeen years old and I was ready to learn how to be a revolutionary.
The Rolling Stones replaced the Beatles as my favorite band.
Even in high school I had been immersed in the antiwar movement. Of course it was Vietnam that politicized our generation. I joined the Student Peace Union, and had little peace symbol stickers that I put on everything. I made speeches in my high school classes. I must confess that I don't remember any of these speeches, but reading what classmates wrote in my high school yearbook, almost everyone refers to my impassioned speeches. I wanted to march on the Pentagon in 1967, but my parents wouldn't let me go. (Okay, I understand this now, I was barely 16, and D.C. was a long way from New Jersey.) My class voted me the girl speaker at graduation — had to have one girl and one boy every year — and in that speech I said that our generation was going to change the world, and that by opposing the war we were starting already, even though we were still too young to vote.
That summer, working for Eugene McCarthy's presidential campaign at the national headquarters in Washington, I was introduced to real-world politics, and I loved it. I really believed he could win the election and end the war, and everything would be wonderful. Chicago taught me otherwise.
I went to college in September 1968 to study revolution. I joined SDS. I took a course in Socialism, and another one called Radical Change in America. I decided to major in Government instead of English on the theory of "know your enemy." I marched on Washington in 1969 and 1970. Of course I was part of the SDS takeover of Harvard's University Hall, which I have written about elsewhere. I went to New Haven for a demonstration in support of Black Panthers Bobby Seale and Ericka Huggins. It was an exciting time to be in college and be a revolutionary. We had student strikes that shut down the university two years in a row. I was sure that the revolution was imminent, and I was planning to be on the barricades offing the pigs, ready to give my life for the cause if necessary.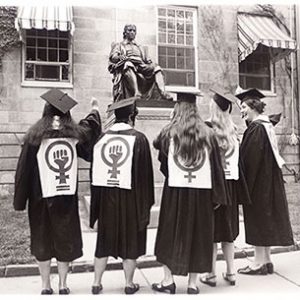 The revolution didn't happen. But student protesters did accomplish some important objectives. We turned the country against the Vietnam War, forcing Nixon to end it. At Harvard-Radcliffe, our protests resulted in co-ed housing (important because the men's accommodations were so much better than ours), and a gradual increase in the number of women, from the 20% it was then to the 50% it became by the 1990s. We got Women's Studies and Black Studies recognized as legitimate disciplines. We got ROTC kicked off campus, with academic credit no longer given for its courses on how to make war.
*  *  *
After college came many years of not protesting, even when there were issues that I cared deeply about. I tried to stay informed and involved, but there was no takin' it to the streets. I was a lawyer, and I was working within the system. Then the so-called election of the con artist currently in the White House turned me into an activist again.
The first Women's March, in January 2017, really brought it all back and made my adrenaline start pumping like it had in the old days. Marching down Capitol Mall to the state capitol with thousands of other people, chanting "This is what democracy looks like!" at the top of our lungs, felt great! (The Featured Image is a picture of that march, taken from the Capitol, showing a crowd that extended a full ten blocks, all the way to the Sacramento River.) My mother had just been diagnosed with pancreatic cancer, and I needed to fly to Florida to be with her, but I waited a couple of days so I could go on the march, and then took a plane at 7:00 the next morning. She understood, and approved.
Of course I also went to the Women's Marches of 2018, 2019, and 2020, although each year the turnout was a little smaller. Fighting every evil thing the Administration was doing was wearing out all of us older folks! But then in March 2018, after the shooting at Marjory Stoneman Douglas High School in Florida, high school students all over the country organized the March For Our Lives, and I was proud to participate in that, with my daughter Molly by my side because she was home on spring break from college. Three months later, on June 30, 2018, it was the Families Belong Together rally protesting the separation of immigrant families at the Mexican border, and Molly was home again and went with me again. We were wearing signs on our backs that said "Yes, I care" in response to the green jacket that Melania had worn, which said "I really don't care, do U?" when she went with her husband to Texas to visit migrant children at the border. The White House said later that there was "no hidden message" in her choice of jacket. Indeed, the message wasn't hidden, it was blatant.
In 2019, which now seems forever ago, there were climate strikes, rallies in support of impeachment, and, in Sacramento, protests over the failure to file criminal charges against the police officers who had shot Stephon Clark in his grandmother's backyard. Also marching again for immigrants rights, and in protest against ICE. It seemed like there were always injustices to protest, and I tried to be out there giving my support.
Until . . . covid-19 stopped me in my tracks. I didn't think there was anything that would keep me at home if there was a political action to be taken, but unlike when I was a student, ready to die for the revolution, I am no longer willing to put my life on the line. So this spring I stayed home from the Black Lives Matter protests, even though I wanted to be out there. It was too risky. I wasn't afraid of violence, I was afraid of a tiny but lethal virus.
Yes, Black Lives Matter. Yes, the police must be criminally prosecuted for all the murders of Black people that have gone on under our noses. The Black Lives Matter movement is not new, it has been around since 2013. It was 2016 when Colin Kaepernick started kneeling during the national anthem at football games to protest police brutality against people of color. Still, nothing seemed to change. I guess the murder of George Floyd was finally the tipping point, perhaps because the whole thing was captured on video, and the cop was so blasé as he killed him. This was not a situation where the cop was fearful, or even angry. He just calmly knelt on the neck of his handcuffed victim until he died. In the aftermath of that death, between 15 million and 26 million people participated in the Black Lives Matter protests in the United States in the last week in May and the first week in June, leading the New York Times to call Black Lives Matter one of the largest movements in U.S. history.
I am sad that I didn't go to the protests to add my presence and my voice to those millions of others. But even with a mask on, I would not have felt safe from covid in the kind of crowds that were there. You can't social distance very well at a demonstration. So I didn't go, and as a result I am still healthy. If I had been forty years younger, maybe even twenty years younger, I would have gone.
I close with a powerful new song and video by The Chicks (formerly The Dixie Chicks) called March March. Please watch and listen.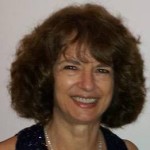 Suzy
Characterizations: moving, right on!, well written