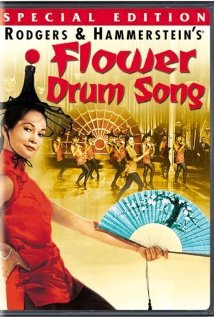 I am from the TV generation of shows popularized in the 1960s and 1970s. I watched the Micky Mouse show, Romper Room, the Walt Disney Show, and Bonanza. My TV fare as a pre-teen included the cute guys from The Monkees and I idolized the harmonies of The Partridge Family. It was rare for me to see Asian actors and actresses and I looked forward to those episodes of shows that had someone like George Takei (Mr. Sulu) of Star Trek, or Victor Young (Hop Sing) on Bonanza (who rarely appeared), or Miyoshi Umeki (Mrs. Livingston) in the Courtship of Eddie's Father.
I am from the TV generation of the 1960s and 1970s. I searched for Asian faces in the actors and actresses of the time period: Hop Sing, Mrs. Livingston, and Mr. Sulu are the characters that first come to my mind.
Asians rarely appeared in television shows during my time and the roles they played were fairly stereotypical. Miyoshi Umeki aka, Mrs. Livingston was an enigma. Always polite, she portrayed a demure Asian woman who managed the domestic life of young Eddie and his widowed father. We never knew why she was "Mrs." Livingston, presumably she was once married to someone who was not Asian and no longer around anymore; I can't remember if she lived-in the household or came everyday to take care of the family's needs. She would provide wise words of wisdom to Mr. Eddie's father and Eddie, but nonetheless remained a person of unknown circumstances.
Victor Sen Young (Hop Sing) played the role of dutiful "houseboy" and cook for the wealthy and powerful white Cartwright family. He did not appear in each episode, so he did not play a central character role in the series. When I looked up information about the Bonanza show on Wikipedia, I found out that the Hop Sing character was only a "semi-regular" cast member and he was only paid for the shows he was in, unlike the other characters who were paid much more for the entire season. Sadly, the Hop Sing character was again yet another stereotype of Asian America, one in which they are typecast into minor roles with little substance. In spite of all this, Bonanza was one of my dad's favorite TV shows–he absolutely loved the show and its characters, almost as much as he loved Star Trek.
Mr. Sulu was a break out role for George Takei and Star Trek was a television show that challenged typical good guy-bad guy roles with a multi-racial and multi-ethnic crew. I saw Mr. Sulu as the competent third officer and senior helmsman for the Starship Enterprise. Although his character was not pivotal to the show, he was necessary for the diverse ensemble cast of the Enterprise crew. Still, he was not the captain and he appeared as a support to Captain James T. Kirk.
Interestingly, George Takei was a friend of my Auntie Toshi. My mother's older sister was active in Democratic politics in the Los Angeles area and George and she became close friends and colleagues in many political campaigns. When I was a teenager I visited with my aunt and uncle and stayed at their house. One day the phone rang and I answered it. "Is Toshiko there?" The voice was deep, words came out practiced and intentional.
"No," I said, "She'll be back in awhile."
"Just tell her George called."
Later, when I told my aunt that George had called, she said, "You know who that was, that was George Takei. You know, the actor from Star Trek."
"Really?" I was immediately star struck, even though it was only a phone call.
I didn't reconnect with George until I went to my aunt's memorial service in 2003 in which he emceed the service filled with political dignitaries of Los Angeles and Asian American community. That was how connected my aunt was. That George Takei was at HER memorial service meant that she was special and that he was not just an actor, but was my aunt's good friend and political ally.
TV has changed, and what I watched growing up connected me to different worlds, worlds of the past, idealized and imagined futures. Even though I did not see myself in the characters, I watched TV grasping for whatever images there were.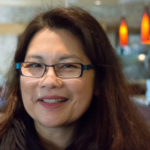 Wendy Ng
Characterizations: right on!, well written