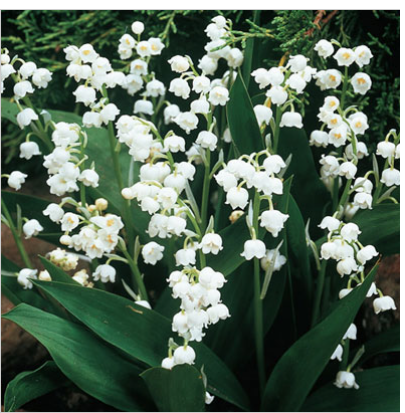 (The title is a nod to a quintent from The Mikado, for all you G&S fans out there. Having been in at least three productions, that song popped into my head as I thought about this prompt; it seemed so appropriate.)
We had a lovely, fragrant garden in my first house in Detroit providing fond memories of specific flowers stemming from that yard and how we would play there as small children. I've told my husband that I wore overalls, looking like Scout in the movie "To Kill a Mockingbird". He always doubted me. Here is the proof.
Along the side of the house was a veritable thicket of grown lilac trees, so full of wonderful fragrance in the spring. A cardinal family made its nest there, returning year after year. I could hear them outside my bedroom window when I sat at my desk. The male would call his mate. I'd pretend he called my brother, "Rick-y, rick, rick". I returned his call. We'd have conversations, as I sat at the open window, breathing in the lovely air.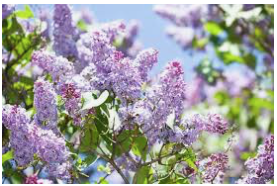 My dad put in a rose garden in a cultivated patch between the lawn and the concrete driveway, leading to the garage. He really tended to it and put in variations of roses that were quite stunning. We had a screened-in porch and this made a lovely vista during summer nights.
On a trellis, at the edge of the garage, a honeysuckle vine grew wild. The scent was heavenly. If I walk past honeysuckle, even today, it takes me right back to my playful childhood; hula-hoop in the driveway. Running around with my best friend Susie, who lived next door. We saw a robin fly up into that trellis one spring day and went to investigate. I got some blocks, or something to stand on and reached up. I found a nest with eggs in it! I gingerly withdrew my hand and made sure never to touch them again, for fear the mother bird would abandon the nest. We couldn't follow along closely enough to know whether the eggs hatched or not. Here I am, maybe at the age of 7, on the driveway in front of the garage, set up for a cook out. My dad loved to barbecue. He was the grill master, so we did that often throughout the spring and summer. Note the stylish "pedal-pushers", even with a matching jacket!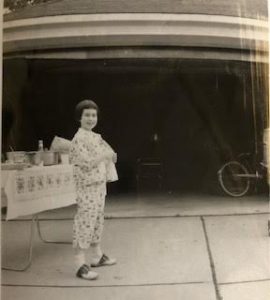 But our favorite thing to do in our backyard was to use our swing set. It had a teeter-totter, a ladder, a trapeze and a swing. The swing was my domain and I used it as much as I possibly could. Right behind it, at the end of our property, was a large patch of lilies of the valley, as you see in the Featured photo and I just LOVE the way they smell, perhaps because I strongly associate the sweet fragrance with swinging on my beloved swing. I'd be out there early in the morning, singing Rogers and Hammerstein songs at the top of my lungs, waking the neighborhood, alerting my friend that I was up and ready to play. I would pump my legs and go higher and higher. As noted in an earlier Retrospect story, my brother and I staged our own version of Peter Pan in our backyard (with the kids in the neighborhood taking various roles), using the swing set to FLY! Here is my brother, at a young age, maybe 7 or 8, on the teeter-totter. At times, as I could see in our home movies, we'd enlist our elderly aunts to join us on the other end to balance us out. We were good kids and they always obliged. Goodness, doesn't he look happy? We had such fun out there.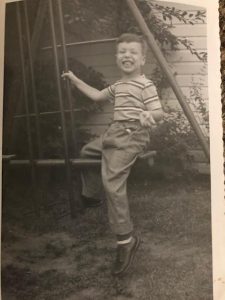 The prize of my father's garden was his four, mature rhododendron bushes in a deep magenta color. They only bloomed for a week or so in the spring but were absolutely glorious when they did. No discernible scent, but truly beautiful, bathing that side of the yard, right next to my swing, in the most gorgeous color! I did have to be on the look-out for bumble bees, but other than that, they just made me go weak in the knees when they were in their glory. In fact, one of the contingencies when we sold that house, was that we took those four bushes with us to Huntington Woods (2 1/2 miles away). They got transplanted along the side of the garage at our new house. My dad took a few of my prom photos in front of those bushes in bloom. The light wasn't perfect, but you'll get an idea of the size  of the rhodies. I see now, they were already past peak in early June.
Dad never planted a garden in our new house (1963), for various reasons. We had a tiny piece of land, and two years after moving in, we got a puppy, who, of course, loved to dig and chew everything up, so it just wasn't practical. Life was coming apart in big and small ways, children growing up and leaving. So the memories of the garden in Detroit are quite pungent for me.
I wanted to have lilies of the valley in my wedding bouquet, but that didn't work out, perhaps they weren't in season. I didn't even get the requested roses, couldn't afford them. I had daisies (with baby's breath) instead. White for me, pink for my bridesmaids. They were fine.
But I have always loved the lilies of the valley fragrance, reminding me as they do of those carefree days, swinging on my swing, romping in the yard, playing with best friends, when anything was possible, even talking to the cardinals in the lilac bushes.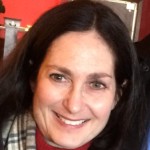 Betsy Pfau
Retired from software sales long ago, two grown children. Theater major in college. Singer still, arts lover, involved in art museums locally (Greater Boston area). Originally from Detroit area.
Tags: lilies of the valley, lilacs, honeysuckle
Characterizations: moving