Being pretty much the academic nerd, I'm reasonably certain that no one in my mid 1960s  high school life looked to me for fashion statements.  Moreover, I wasn't allowed to clothes shop with any frequency, and when I did, I got little guidance from my disinterested mother. But I did know about and covet Villager clothes.  They were popular and preppy.  They were expensive, and well made.  By means I no longer remember, I was able to purchase a  long-sleeved, lined wool Villager dress.  It was heather blue and green, and I wore that dress to school every winter Friday for an entire semester. Did it help me feel secure, knowing I was well-dressed on that one day each week? Didn't it occur to me that it was weird to wear the same thing on the same day each week? Wasn't I a bit old to be adhering to that type of ritual? I loved that Friday dress, and am still warmed by its memory.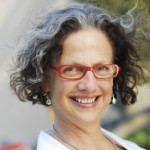 Barbara Stark-Nemon
Barbara Stark-
Nemon (www.barbarastarknemon.com) grew up in Michigan, listening to her family's stories of their former lives in Germany, which became the inspiration for her first novel, Even in Darkness. Barbara holds a Bachelor of Arts degree in English and Art History and a Masters in Speech language Pathology from the University of Michigan. She lives, writes, and does fiber art and photography in Ann Arbor and Northport, Michigan.
Tags: Villager dress, Fridays, high school
Characterizations: moving, right on!