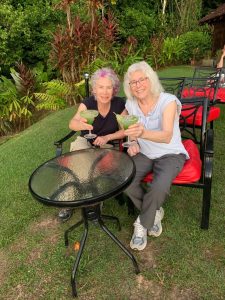 Connection is the lifeblood of civilization, I think. It has become more apparent in the past year when we have been so separated from one another because of the pandemic. Loneliness, grief, depression have made life all but intolerable for so many of us.
I am someone who enjoys her own company, but I do need touch points with others. I live in a high rise building in Oakland, California with beautiful 180 degree views of Lake Merritt and the city. There are 100 or so units in the building. I've lived here for 22 years during which I had pretty much kept to myself except for the neighbors I ran into in the gym. I saw clients during the day in one unit, and came home, across the hall, at the end of the day to enjoy my solitude, sitting on my couch looking out the windows. A pretty sweet commute.
When I retired a couple of years ago, I started to realize that it was pretty odd to live somewhere for this long and to not know the names of more than a handful of my neighbors. I'd say hi to people in the elevator and they to me, but I didn't really know them, or their names. A few months before the pandemic hit, I was moved to start a women's group for women over 60 in my building. I sent an email out and received tremendous response. Over 40 women wanted to connect! They, too, were looking for community. Here we were living so close and yet we were strangers to one another. So we started meeting in person in the Club Room, sharing our stories, many of which were fascinating. I started getting thank you letters daily in my inbox. People felt less alone. When the pandemic hit, we moved our meetings to Zoom. I became known as 'The Convener.' From that group, a book group evolved, and a political action group. We reached out to one another for check-ins. We wrote thousands of postcards last year to get voters out to vote. We raised a nice chunk of money to go to a project that helps previously-incarcerated women with children find housing. The men in the building started making noises about being left out and wanting to start their own group. All in all it's been very satisfying.
Still, the most important connections for me, my lifeblood, are the ones that have lasted over the years. My daughter and grandsons, of course, who are waiting out the pandemic in Israel. My high school friends who I visit every summer for a month in New Hampshire. And my very closest high school friend, Jane, who lives in upstate New York. If we don't talk for an hour every few days we both begin to fade. My mother used to ask me what we could possibly have to talk about after being together all day after school. The other day Jane and I were trying to define our special friendship. She said, "The way I see it, nothing in our lives is ever complete until we have shared it with each other." That is a special connection.
Penny Righthand
Characterizations: been there, well written