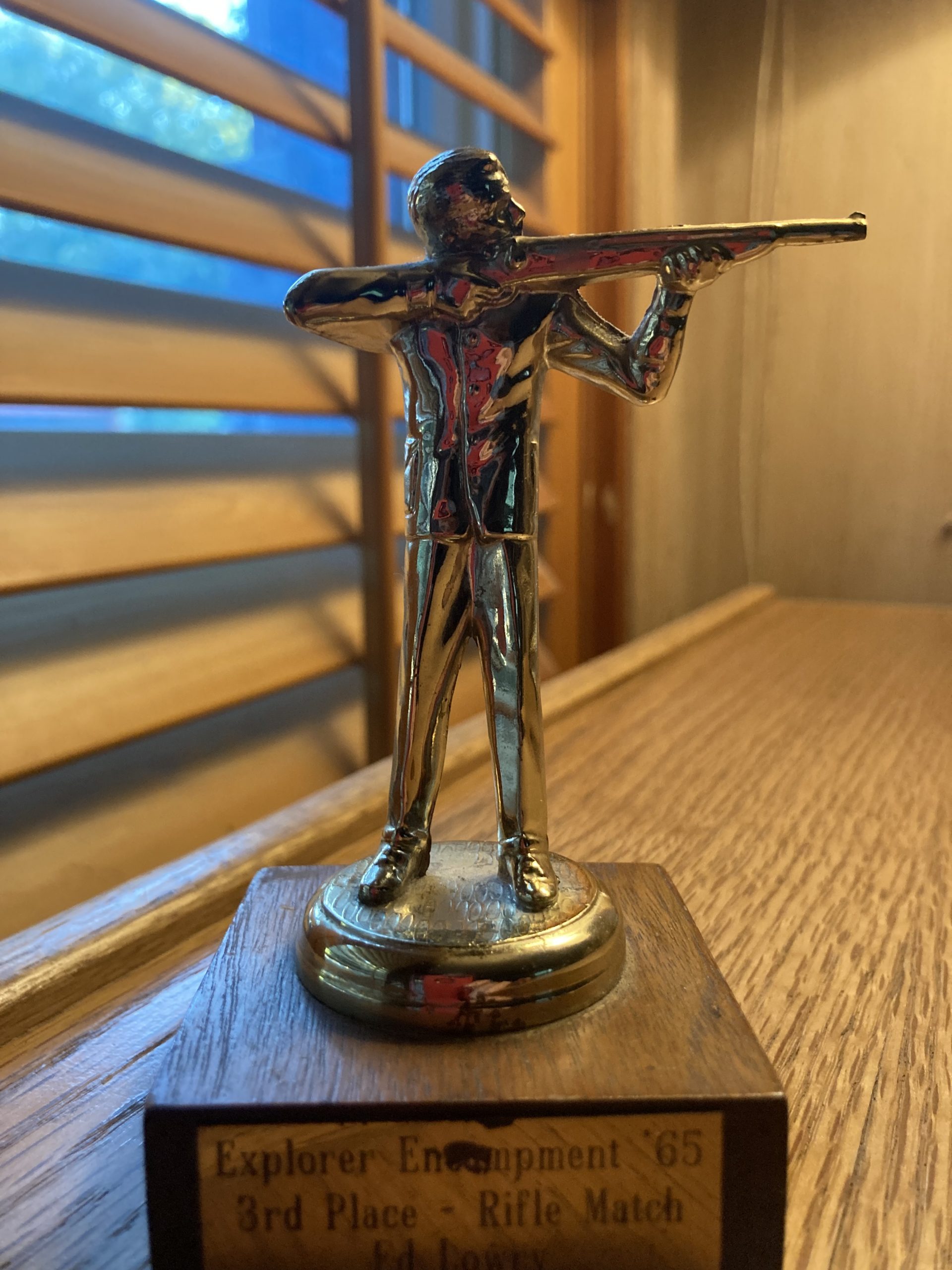 Guns were always around our family while I was growing up. My father, having grown up in Wyoming, would go hunting rabbits and snakes in his youth, and when his father died, several rifles and shotguns came with the estate. My grandfather had a rifle from his service in WW I that he'd outfitted with a nice scope as well. Somehow a German pistol was added to the lot, perhaps from my Grandfather's estate.
My father would take us out shooting in the country a few miles from our small town and we'd go target shooting at balloons and perhaps some Coke bottles. But high on the list was his attempt to instill gun safety in us. The very first thing to do when handed a firearm was to determine whether it was loaded, and remove any ammunition. Then put on the safety, and never, ever, point it at someone. The mantra was always to assume that a gun is always loaded — even if you've just checked it.
I recall only one practical application of our guns. I was about 14 or so, and we were smoking out gophers that had made a mess of our front lawn by burrowing tunnels. The solution was to put a match to a smoke bomb which generated some poisonous gas (cyanide, I always thought, but I'm not sure why) and we'd insert the bombs in one of the open holes, thereby asphyxiating the gophers inside. Whether we killed any gophers, I don't know – we had two cats that were rather adept themselves – but we did manage to smoke out a four foot snake, which, I discovered as I was inspecting it, had six rattles at the end of its tail. The snake just lay there, either sunning itself or dazed from the gases in the tunnel. Nevertheless, in a small tract of homes surrounded by undeveloped land, there were lots of kids to worry about. So my father went inside, came back properly armed, and shot it. I cut off the tail and kept the rattles for years. Someone commented to my father about his accuracy, to which he replied, "Hard to miss with a shotgun."
In those days, the NRA was a useful organization, and sponsored "hunter safety programs" which we, as Boy Scouts, all attended. We probably got a patch or badge to certify completing it. And the YMCA summer camp we attended also had .22 rifles which we were all invited, but probably not required, to shoot. While I was making lanyards and the like, my twin (who I referred to as my "spare parts man") spent his afternoons shooting the .22s. At the end of the week at camp, he came home with a handful of blue ribbons earned with his shooting expertise. I got a fourth place in the three-legged race I ran with my brother.
A few years later, the Explorer Scouts (Boy Scouts who were over 14 and wore dark green, rather than khaki uniforms) had an encampment at the US Army Camp Roberts in northern San Luis Obispo County. Explorers from all over the county attended. Naturally, there was a rifle shooting contest. Our group had the Explorer who won the year before, so I thought it would be wise to be in his shooting group. This turned out to be a good decision as he provided valuable advice, suggesting we all aim slightly higher and to the right of where the gun sight indicated we should. The former champ won hands down. But when the score sheets were tallied, I had tied for third.
So we had a shoot-off, but the initial set-up was that we would not use .22s, but be handed US Army regulation rifles. I probably weighed less than 100 pounds, and the person with whom I was tied was muscular and weighed at least 150. So they revised the rules and we went back to .22s. I doubt I could have picked up the regulation rifle and shot from a standing position. My opponent was not happy, and in retrospect, I suspect he felt, perhaps accurately, that the Scout leaders wanted to remove the advantage that my opponent, a Black Scout, had, because they'd rather the white boy won.
Which I did, handily.
Later that afternoon, when we were looking at the target sheets, it became clear that two of my shots in the first round of shooting entered the bulls-eye in nearly identical spots, creating a circle with an extra bulge at the edge. The conclusion was supported by the fact that without the second hole, there was a mystery as to how I could have missed the target completely, thereby scoring on only 19 of 20 shots that were possible. Had it been accurately counted, I would have received nine more points, leapfrogged the second place winner, and been awarded a slightly larger trophy than the one in the featured image. Thus, there would have been no need for the shoot-off, so I felt a little better at the change in the rules; which, of course, did not eliminate the conscious (or unconscious) racism in the decision.
I only have one firearm now – the others have been sold or are with my older brother. The one I still have is a small chrome-plated five-shot revolver, almost a derringer. The cylinder mechanism does not work properly, and it's not been fired in the last 50+ years. I don't think they make the .25 caliber ammunition for it anymore. My mother said an aunt or great-aunt of hers brought it with her "out West" for protection. I wish I knew more about it, but there's no one left who can add to the story.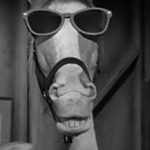 Mister Ed
Characterizations: well written