When I was very young my parents took me to see the original Broadway production of The King and I and I was spellbound.  I listened to the cast album for hours and I dreamed about growing up to be a famous actress.
One of my adored great aunts was a star in the Yiddish theatre.   She was glamorous and stately, and I yearned to be just like her!  (See Aunt Miriam, Diva)
As a kid I acted in school plays and temple youth productions,  and the summer after I graduated from college I landed a dream job as a dramatics counselor at a children's camp.  The gifted music counselor and I – with only two weeks to prepare for each show – mounted The Mikado with the little kids,  Oklahoma with the middle campers,  and Guys and Dolls with the teenagers,  all very successfully I might add.
And I even had to deal with every director's nightmare –  at the dress rehearsal for Guys and Dolls the teen playing Adelaide tripped on the rec hall stage,  badly cut her mouth and chipped both front teeth.  After staunching the blood,  a rushed trip into town to see the dentist,  and a phone call to her parents,  I told the kid that "the show must go on!",  and trooper that she was,  it did!
And back at college I had joined the NYU Heights student theatre group.  We were known as the Hall of Fame players,  named for the colonnade of statues of great Americans on that sweet campus in the Bronx.
I remember some roles I played that were especially fun.  One was a supporting part in Elmer Rice's 1920s expressionistic drama The Adding Machine,  about the disgruntled accountant Mr Zero who learns he will be replaced by a machine and seeks revenge on his boss.
Another was the role of the young widow Elena who is visited by the handsome landowner Smirnov in Anton Chekov's brilliant comedy The Bear.  Smirnov had been her late husband's creditor,  now come to collect the money he claims he is owed.  They argue,  and although Elena is a woman,  Smirnov challenges her to a duel.  Enraged,  Elena accepts the challenge and sends for her late husband's pistols which she says,  " he purchased in Moscow for 90 roubles the pair."
But on the night of the performance the prop guy goofed,  and I was presented with only one pistol.  I had no choice but to go off script.  "My husband made the purchase in Moscow,",  I said ,  "for 45 roubles the one."
Actually the pistols (or pistol) were never fired as Elena and Smirnov realize their mutual attraction,  and as the curtain falls they embrace!
And another fun role was my stint as the jazz singer Helen Morgan belting out the bluesy ballad Stormy Weather in a college revue.
But did I chase my early theatrical dreams?  Alas no,  girl-child of the 50s that I was,  I followed a more traditional path and became a high school librarian.  (See The Diary of a Young Girl, and Library Lesson)
I loved my decades-long library career,  but do I ever have regrets?   Well,  a girl can still dream,  can't she?
Dana Susan Lehrman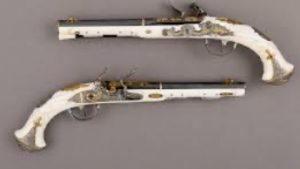 Dana Susan Lehrman
This retired librarian loves big city bustle and cozy country weekends, friends and family, good books and theatre, movies and jazz, travel, tennis, Yankee baseball, and writing about life as she sees it on her blog World Thru Brown Eyes!
www.WorldThruBrownEyes.com
Tags: Theatre, Acting