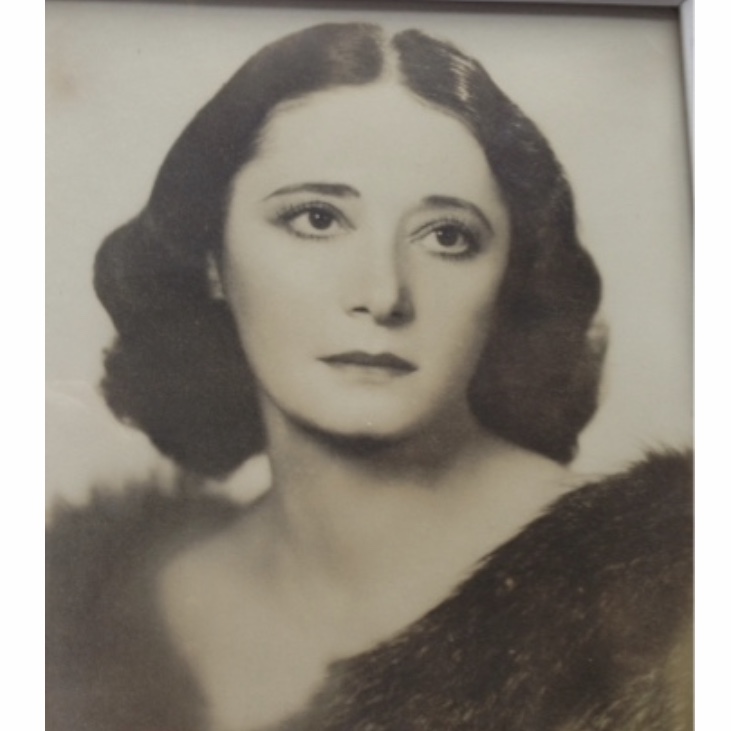 My glamorous and beautiful great-aunt Miriam Elias lived a rather scandalous life,  or so goes the family legend!
Miriam was born in 1897 near Kamenets Podolski, Ukraine in a small village near Odessa.   Her village,  she once told us, was very much like the fictional shtetl Anatevka  immortalized in Fiddler on the Roof.  Her father was the village rabbi and like Tevya, he had five daughters.   Miriam was the adored youngest of those five Elias sisters, and my paternal grandmother Esther was the eldest.
(My grandmother Esther eventually ran a hotel in the Catskills, and to read some of my memories of summers my family and I spent at that hotel see My Game Mother )
When my great-aunt Miriam was quite young her talent for singing and acting was evident and she began performing with a local Yiddish-speaking drama club.  Later she joined a professional Russian troupe, and in 1916 at age 19 went to Moscow to join the Hebrew-language  Habima Theatre where she first performed in the classic drama, The Dybbuk.   Miriam played the title role of Chanan, the poor male student whose spirit, or dybbuk,  possesses the body of his beloved after his death.
Miriam also studied at the Moscow Art Theatre with the famous Russian director Konstantin Stanislavski,  and in Moscow met and married a young artist named Boris  Aronson.
In 1923  the couple moved to the States where Miriam toured with a Yiddish troupe,  and Boris began designing sets for the theatre.  Their young marriage ended in divorce,  but Boris Aronson went on to great success winning 6 Tony awards and many nominations in set design for shows including Fiddler on the Roof, Cabaret, Zorba and Follies.
Throughout the 1930s and 40s Miriam acted regularly in theatre here and abroad,  but by the 50s her career had peaked.   She then settled in Far Rockaway living next door to her sister, my grandmother Esther,  and near two other Elias sisters who had also emigrated.  With no children of her own, she doted on her nieces and nephews, my father Arthur among them.
Miriam lived with uncle Meyer, a kind and rather portly older Russian gentleman who obviously adored her.  Meyer was a candy importer,  and I remember crystal candy dishes full of of halvah and other sweet treats in their living room,  and a large grand piano holding dozens of photos of Miriam in her many stage roles.
Although I called him uncle,  apparently  Miriam and Meyer hadn't been married,  But when he became quite ill,  they realized a marriage would avoid legal and financial complications after his death.  At that time in New York State, blood tests called Wassermanns were required to detect syphilis.
The family story I've heard is that Meyer was too ill to have his blood drawn,  so my physician-father drew Miriam's blood and divided it into two vials.
And here's another marriage story.  Miriam's niece Isabelle was to be married to a young man named Bernie.  An Orthodox rabbi was called in to perform the ceremony in her parents' home with only the family attending.  The rabbi began to recite – in Hebrew – the words that would make the couple man and wife,  when supposedly Miriam cried out in Hebrew for the rabbi to stop!
The family spoke Russian and Yiddish,  but only the Habima-trained Miriam was fluent in Hebrew, and only she realized that the rabbi was about to marry Isabelle not to her intended groom Bernie,  but to her own brother Victor!
Over the years that close-knit Elias family dispersed as marriage and work took my father, his siblings and his cousins their separate ways.  After the deaths of Meyer and eventually her three sisters,  Miriam sold her Rockaway house and moved to Manhattan.
She was living on Central Park West when the big blackout plunged New York City into darkness on November 9, 1965.  By chance that afternoon I was shopping in mid-town with my friend Stephanie.
(I recently wrote about my friend Stephanie,  see Postcards from a Secret Admirer)
Both of us were in graduate school at the time,  and Stephanie was living up in the Bronx, and I up at Columbia.   But the city was in chaos, the trains and buses weren't running,  and we knew that neither of us could get home that night.
The phone lines were out and of course there were no cell phones back then,  but I assumed that my aunt Miriam would be at home,  so Stephanie and I walked to her building.   Once there we found that neither the intercom nor the elevators were working,  and so we climbed the stairs to Miriam's apartment.
Delighted to see us,  Miriam plied us with cake and tea,  and then set several large candles out on her living room floor and regaled her two young visitors with stories of her life and career.  She showed us scrapbooks full of clippings and photographs  of my aunt with Stanislavski,  Albert Einstein, the Indian writer and Nobel Laureate Rabindranath Tagore,  and the great Russian artist Marc Chagall among others.  All these men,  according to family legend,  had been Miriam's lovers.  How much was true, I guess we'll never know!
Over the next few years Miriam did have occasional acting roles in New York's Yiddish theatre.  But when that ceased,  and with age encroaching, she gave up her apartment and moved into the Barbizon Hotel on Lexington @ 60th Street, then an elegant residence for single women.
Busy with my own life – I was a working mom by then – I didn't see Miriam very often although we both now lived in Manhattan.  But I remember once we had plans to see a Broadway show together and I was to call up from the hotel lobby when I arrived to pick her up.
I had some chores to do in midtown beforehand and was done much sooner than I'd expected.  I had a good book with me and rather than go home first, I decided to spend an hour waiting in the comfortable Barbizon lobby before ringing up to tell Miriam I was there.
But when I got to the Barbizon well before the appointed hour,  Miriam was already downstairs waiting for me.  Impeccably groomed as always and dressed in one of her long, dramatic capes,  Miriam told me she had come down early to be sure we wouldn't miss the curtain.
Passionate about theatre,  Miriam certainly didn't want to be late,  but more was at play.  My glamorous aunt, once a grand dame on the international stage, had out-lived sisters, husbands and lovers,  and age had taken it's toll on her beauty.  Behind the carefully made-up face and the elegant clothing was a frail, elderly lady now living a somewhat lonely life.  Our theatre plan,  I realized, may have been her only outing for days.
I vowed to see Miriam more often and to listen more attentively to the stories of her journey from that small Ukrainian village to some of the world's great theatres and concert halls.  That I did,  and after Miriam died I kept one of her beautiful capes.
Rest in peace my beloved diva,  I'll never forget you.
Dana Susan Lehrman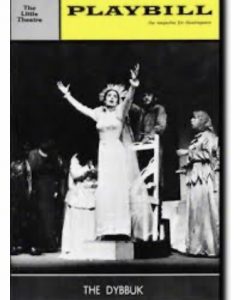 Dana Susan Lehrman
This retired librarian loves big city bustle and cozy country weekends, friends and family, good books and theatre, movies and jazz, travel, tennis, Yankee baseball, and writing about life as she sees it on her blog World Thru Brown Eyes!
www.WorldThruBrownEyes.com
Tags: Acting, Actresses, Yiddish Theatre