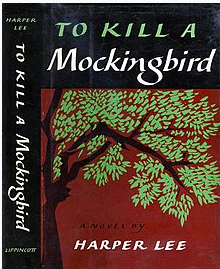 I was a voracious reader in my day and read many books that had been banned at one some point. I read most of them just for fun, or to satisfy a quota to read "so many" books per card-marking period. I read "Huck Finn" in 5th grade. Perhaps I was too young to understand all the nuances. I thought it was a great adventure story, reading it right after "Tom Sawyer".
I read "1984" and "Catcher in the Rye" on my own during periods of high school vacation. The first I found very disturbing (even more so now, as we creep in the direction of totalitarian government and thought police). The second was a coming of age story – a disaffected youth. I didn't relate to it all that well. I had my own stuff to deal with, but not like Holden Caulfield dealt with his stuff.
But the book that I loved best and had the most impact on me was "To Kill a Mockingbird". I read it in 8th grade, not for a class assignment; again I read it on my own. My thoughts about it are probably mostly shaped by the Academy Award winning movie. I thought I looked like Scout, as depicted in the movie.
See what I mean? I had to look up what was so controversial that the book was banned. I gather it was the use of the "n" word. Interesting…that was how prejudiced people in the deep South spoke (the story takes place in rural Alabama from 1934-1936). It is based on Harper Lee's own childhood experiences, whose father was a lawyer and newspaper publisher.
The novel also depicts prejudice, a lynching, poverty, the unjust accusation of a Black man assaulting a white woman. These are difficult subjects to be sure. A white lawyer is chosen to defend the Black man, so he has the hope of getting a fair trail. But there is no justice for Tom Robinson, even though it is clear that he couldn't possibly have done the crime of which he is accused (he doesn't have use of his right hand after a cotton gin accident, so couldn't have struck the girl, as she claimed). The white girl committed the sin of flirting with him, her father beat her for it and falsely accused the Black man, knowing the other townspeople would back him. The jury, of course, sides with the perjured white people, the good lawyer tries to keep Tom Robinson calm, saying they will appeal to a higher court, but Tom is shot by the mob on his way back to jail.
Atticus Finch, the noble lawyer, is a widowed father of two young children, Jem and Scout, who have their own adventures. He tries to teach them morality, but Jem and Scout are attacked on their way home from a school play one autumn evening by the man who has killed Tom Robinson and is out for revenge on the family who defended Tom. Scout is in a costume and can't really see what is happening, hears the scuffle, Jem's arm is broken, she is picked up and carried to safety. A reclusive neighbor, who the children have tried to contact for years, actually rescues them, but wants to remain in the shadows. Scout realizes that her rescuer is none other than "Boo" Radley, her reclusive neighbor. She quietly escorts him home, understanding that exposing him would be as senseless as shooting a mockingbird, a bird who does nothing but bring joy with its song and is defenseless.
That is the basic plot. Published in 1960, the book won a Pulitzer Prize and is considered one of the greatest pieces of American literature ever published. Harper Lee remained reclusive her entire life. At the end of her life, she published a follow up novel (which was actually written first, but set aside for decades), that was not well-received. "Mockingbird" teaches moral lessons on race, prejudice, class and social welfare. I have always found it very moving and more than a few lawyers cite it as the reason they became lawyers. It is a movie I never tire of watching.
Shortly before the pandemic, we were lucky enough to see the Aaron Sorkin-adapted Broadway production of the work in New York. It obviously had to take a different slant, given the time and physical constraints of doing a live production. In it, he emphasized the role of Calpurnia, the housekeeper, who becomes more a moral center, speaking truths to Atticus, pointing out his flaws and weaknesses. He is no longer a perfect individual, but rather, trying to improve. It is a strong piece, even though it is different. We, the audience, are given a different, but equally interesting, perspective, now 60 years after the book was published.
I still don't understand why the book was ever banned. There is much going on around the world, but particularly here in the United States that baffles and horrifies me today. How can children learn if their stereotypes are not challenged, if they are not taught to be critical thinkers, if they are not made to feel just a little uncomfortable and pushed in some ways. They need to leave their comfort zones and walk in another's shoes, experience another's ways, see how others feel and what better way to that than through the safety of reading and using one's own imagination.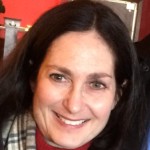 Betsy Pfau
Retired from software sales long ago, two grown children. Theater major in college. Singer still, arts lover, involved in art museums locally (Greater Boston area). Originally from Detroit area.
Characterizations: moving, right on!, well written