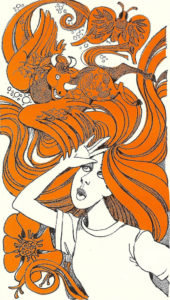 I can't do drugs. Except for the legal ones, alcohol, caffeine, and sugar. I've never smoked pot, am not on any prescription meds, and refused chemo when my oncologist tried to ram it down my veins for a stage one cancer. (I fired him.) Ever since they couldn't wake me (for many hours) following a routine procedure, I've had to be extra vigilant about anesthetics too.
I wouldn't have taken it if I hadn't been sure of its provenance.
It's not that I don't want to, and it wasn't always so. Back in the '80s we hung out with an artsy crowd, so there were drugs everywhere. Still, I had to be very selective. A friend-of-a-friend was a chemist, and he cooked up some MDMA and quaaludes in his basement. Street drugs with cred! I wouldn't have taken it if I hadn't been sure of its provenance.
So there we were one glorious summer afternoon tripping out with a few good friends. It was the third (and last) time I'd taken a half dose(!) of MDMA (or Ecstasy as it is also appropriately known), and instead of thoughts like: "the universe is magical, wow look at that tree, and, I just love everyone," I had just the opposite reaction: "life sucks, your friends don't really care about you, and, why are you clinging to old hurts?" Shit, a bad trip.
Except it was the best drug experience of my life. Something snapped in my head that day, I could almost physically feel it. I had been depressed for over a decade prior to that, but over the course of several hours (and the weeks following) my brain did a complete 180. Depression has been described as anger turned inward; well that day I turned the anger outward. The clarity of thought was liberating, I was able to reframe the problem. People really are assholes and the unfairness of the universe won't be solved by my being miserable. Huh, who knew?
MDMA was not a Schedule I drug at that time, but the second the drug companies realized people were using it—and not paying them for it—it became one. We can't have people self-medicating. A few years ago there was some promising research on its efficacy for depression and other mental illnesses. I wanted to scream at the top of my lungs, "yes, this works!" but who to yell to?
Patricia
Patricia is a co-founder of Retrospect, and generally can be found two standard deviations from the mean on most issues. Lover of chef's tasting menus, cute shoes, and the music of Brahms.
Characterizations: been there, right on!, well written