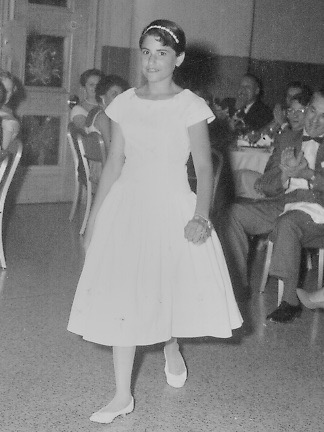 My mother placed great value in dancing. She was good at it, and being a good dancer was one of the three criteria she had for a husband. Unfortunately, my father failed that test, but she married him anyhow. And much to her dismay, her only daughter seemed to have inherited her father's dancing ability. Nevertheless, she persisted.
As I approached Jeffrey, my face crimson, he uttered the word that doomed me – relax.
The summer before I turned thirteen (such a perfect age for embarrassment), she enrolled me in a social dance class held in a strip mall. The teacher promised to make her students proficient in the fox trot box step, cha-cha, and jitter bug. I remember clinging to the wall, hoping I could somehow learn to be a respectable dancer through osmosis. I learned to do a very stiff fox trot, keeping as far away from my partner as possible. The cha-cha (one-two-cha-cha-cha) was doable. Even my father could perform a passable version of this dance after taking lessons in the living room with another couple to humor my mother. But the jitter bug was my undoing.
As the instructor drilled us with, dig step, dig step, rock-rock, I practiced with the rest of the class, maintaining my position of standing close to the wall and far from her, hoping to escape her notice. Then the worst happened. She asked Jeffrey D, the best dancer in the school, to step forward, and commanded me to perform the jitter bug with him. Perhaps she though pairing him with the worst female dancer in the group would illustrate her talent as a dance teacher. I wanted to disappear. As I approached Jeffrey, my face crimson, he uttered the word that doomed me – relax.
Anyone who becomes tense when asked to perform knows it is impossible to relax when commanded to do so. I can't even relax my hands when getting a manicure, so his command caused every muscle in my body to tighten. In retrospect, I have to give him credit for trying. But the more he attempted to help me by telling which way to move my body, the stiffer I became. I'm guessing our demonstration lasted two minutes, but it felt like an eternity. There I was, exposed to my peers as the worst dancer in the class.
Much to my mother's dismay, after this experience I refused to return to the class. I was a social dance drop out, doomed to avoid all fast dance music through junior high and high school. I may have dressed in poodle skirts with crinolines, or in fancy dresses like the one in the featured image, but no way would I ever attempt to jitter bug again.
It wasn't until college that I realized dancing could be fun. I loved the music, especially the Beatles, Stones, and anything Motown. Dances like the twist, frug, and jerk required lots of energy and minimal coordination, and alcohol relaxed me just fine. I didn't even need a partner. Ironically, and luckily for them, my daughters are good dancers, and I even have a granddaughter who is an awesome ballerina and a member of a dance troupe. Thankfully, they didn't inherit my bad dancing gene. But I digress. Back to my embarrassed pre-teen self.
At the end of the school year, we used to pass around autograph books in which friends wrote profound things like, dot-blot, forget me not, or friends-4-ever. Most of my classmates' proclamations of friendship have been long forgotten. But I still remember what Jeffrey D wrote: walk easy in dancing. Reading that, I re-experienced the humiliation of trying to dance the jitterbug with him in front of my peers and performing miserably. As I write about this moment of shame, I can still feel the awkwardness and embarrassment of my moment of profound failure in social dance class.
I invite you to read my book Terribly Strange and Wonderfully Real and join my Facebook community.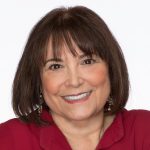 Laurie Levy
Boomer. Educator. Advocate. Eclectic topics: grandkids, special needs, values, aging, loss, & whatever. Author: Terribly Strange and Wonderfully Real.
Characterizations: funny, well written