My first date with Maria was a Van Morrison concert, and his music, particularly "Moondance" and "Tupelo Honey," wove its way throughout our relationship. After it ended, Van became for me both exacerbation and balm. But time moves on. Fortunately.

As the Covid pandemic gripped us in fear and sadness, working from home, I felt a growing need for cheerful, upbeat things.
As the Covid pandemic gripped us in fear and sadness, working from home, I felt a growing need for cheerful, upbeat things. I've always been attracted to sad songs, which anyone who knows depression will understand. But I've learned that often you can kickstart your mind into a better place merely by doing something happy or enjoyable. It can be very difficult to find the energy, but if you manage to, it can work.
And, I'd heard all the usual songs so…many…times.
One day late in the Spring of 2020 I was at home laboring on a large lab organizational project. YouTube was providing background music. In an idle moment I glanced up at the YouTube window and saw that their suggestions algorithm had served up a song accompanied by this picture:
(Picture removed due to copyright paranoia. See/listen to the song on YouTube to see who I am talking about)
I was instantly (ahem) intrigued. So I clicked and heard my first ever Electro Swing tune, a song called "That's Right!" by a band out of Palermo called "Swingrowers." The woman in the picture is their singer, Loredana Grimaudo. The music was happy, upbeat, just what I had been looking for but didn't know it. That's Right! is a great tune, and it showcases the musicality of the band (the descending bass hook is hypnotic) as well as Loredana's lovely and powerful singing. It's a big favorite of mine.
But it isn't the song that moved me.
Electro Swing is essentially dance music infused with elements of jazz, swing, blues and nearly anything else the artist might like. A lot of it is electronic, unsurprisingly, although Swingrowers do play traditional instruments. Being a dance genre, Electro Swing's lyrics are generally not all that deep or meaningful. Most are standard love songs, or novelty tunes, or the usual paeans to partying, drinking or schtupping. There are, of course, exceptions to this rule. One of the exceptions is another Swingrowers tune, "Dreamland."
When Maria suddenly ended our relationship in early 1977, it was the beginning of a nine year decline for me, emotionally, academically, even physically. I became mired in the past, replaying that failure over and over. I was determined to never, at any cost, risk being hurt like that again.
And then, after nearly a decade, suddenly, inexplicably, there was Gina. She was kind, patient and loving. Completely honest. Gina was the one candle in my darkness. Her answer to my fear, my suspicion and my corrosive cynicism, was simply "Trust me."
Follow this link to "Dreamland." Loredana's Sicilian accent can make the words a bit hard to understand in a couple of places, but the lyrics are in the video's description.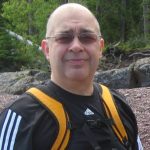 Dave Ventre
A hyper-annuated wannabee scientist with a lovely wife and a mountain biking problem.
Tags: music, electro swing, dance, trust
Characterizations: right on!, well written