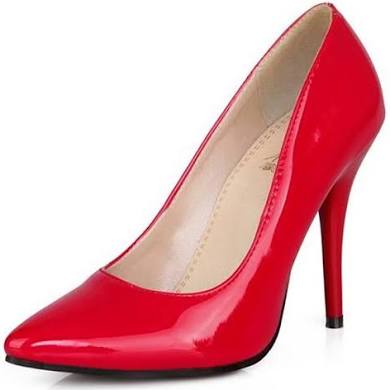 Well, since this is a prompt about shoes, I figured that a pair of stories would be fitting. The first one is an excerpt from my book.
The Red Shoes
They were fire-engine red. Cherries in the snow red, million-dollar red; movie star pouty lips, just like on Mad Men red—an I-mean-business red. They had a high heel with narrow patent and suede strips arched diagonally across the toe. Sexy and fun to wear: my kind of shoe. I had two red dresses and a red straw hat. Red from head to toe.
I loved those shoes. Eventually, because of a few scuffs they acquired at parties and weddings, the shoes needed polishing. I like to polish shoes and probably don't do it often enough. I learned from my dad but may not have been paying really close attention. I bought some red shoe polish, and after scanning the directions on the little jar, I applied the polish and let it dry.
Big mistake.
Nasty-looking streaks of dark red defaced my once glorious shoes.  They looked horrible. I was determined to save them. I had to take action.
My next step was to take my streaky, smeared, no longer fabulous-looking shoes to a repair shop, with the hope that a professional shoe person could restore them to their former flashy glory. "Sure," the guy said. "I can re-dye them and they will look like new. No problem." I left my shoes and awaited their rebirth the following week.
I returned to the repair shop, fished out my ticket, and reclaimed my shoes. What I saw made my jaw drop. The dull, tomato soup-colored shoes he handed me were listless and pathetic, the life and sparkle painted right out of them. My once ruby slippers belonged back in Kansas.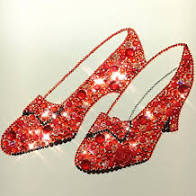 I took them home, like sick kittens huddled in a box.
Now, I am not one of those women who hide price tags and pretend that new clothes are old to fool their husbands. I had spent a fair amount of money on the red shoes, a fact I am sure I mentioned to my husband, but maybe not. What I did next was underhanded, sneaky and motivated by pure vanity: I took money from our savings account, drove to Nordstrom and bought the shoes again. I quietly disposed of the dreadful dyed pair, and never mentioned the switch. Why would I? My shoes and I were back in the swing at parties and dinners and weddings. In between events, they had a place of honor in my closet. Just seeing them every day gave me a lift.
I hadn't counted on losing them again.
***
On October 20, 1991, our house burned to the ground. Nothing survived the firestorm.
The way I remember it, my husband and I were driving through Oakland on the way back to his parents' house when I told him about the shoes. This was a couple of days after we knew the house was gone. While we like to tell stories now about our first reactions, the ones that sound light-hearted and optimistic ("We finally got rid of the junipers out front," or "We'll rebuild and get bigger closets"), and it's true, we said those things to each other—it's also true we said other things you don't say often enough when life is going along just fine: You know how much I love you, I know I can always depend on you, you're being so strong for all of us, we'll make it through this, we hold each other up– we always have.
And as we drove past the blackened hills of what used to be our neighborhood, I confessed through gulping sobs that I had bought a second pair of red shoes with money I had spirited out of our savings account. It hardly mattered at that point, but I told him anyway. I was sorry for my carelessness, sorry for the deception, sorry for such vanity, sorry for all of it.
One of my friends, knowing the extent of our loss from the fire, expressed her sympathy and then cried out, "Your shoes!" I know, I know. I had lots of great shoes. All gone.  I tried to keep things in perspective: we survived, we could start over, it could have been so much worse. Who thinks to grab red shoes when she's running from a firestorm? It didn't even enter my mind.
Those red shoes belong to another lifetime. Even if I could still find them, would I buy them again?  I will admit to being superstitious: what if the third time was not the charm? Would I spend the rest of my life sniffing the air for smoke?
And now, the mate:
Shoes Dyed to Match
When I was growing up, it was the mark of a special outfit if you got shoes dyed to match. You'd go to Leed's, the inexpensive shoe store at the mall, with a swatch of your dress, or the dress itself, and let the man behind the counter find the right color to dye your white satin flats, or—when you got older—your peau de soie heels.
You would come back the following week to pick them up, and there would be your transformed white shoes—reborn in just the right color.
Several years ago, when my younger son got married, I chose a mother-of-the groom dress in an impossible to match shade of green. After striking out trying to find just the right pair in several shoe departments, I went online and ordered a pair of heels in an ivory satin, perfect for a dye job. I called around to shoe repair shops and finally found a place across the Bay in San Francisco that might be able to dye them. I gambled on the outcome and won: the shoes were beautifully dyed a lighter shade of the color of my dress, which was good enough for me.
My first pair of dyed to match shoes were satin flats the same color of the satin trim on the lace dress I wore to my older sister's bat mitzvah. My dress was sky blue with short sleeves and a full skirt; narrow satin bands at the waist were a darker hue, that of my favorite crayon color: cornflower. On this special occasion, I got to wear real stockings—not ankle socks like a little kid. I also wore this outfit on my last day of sixth grade, when my mother let me borrow (without permission) my sister's coveted pair of pantyhose.
The second pair of shoes I got dyed were a bright yellow, to go with another dress—white lace, with a canary yellow lining that showed through. It was a sleeveless A-line that looked like two pieces—skirt and sleeveless top—but was really only one. The good part about this dress was that the top hung away from me a little bit, hiding the fact that I did not (and never would) have a tiny waist. The shoes had what is called a "kitten heel": a short stiletto heel, back in vogue today. (Back then, they were like training wheels for girls deemed by their parents to be too young to wear high heels.)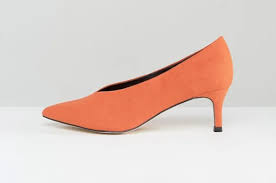 One advantage of getting shoes you can dye is that you can dye them more than once. The canary yellow kitten heels later matched my favorite summertime treat: the bright orange of a Creamsicle. I had made an orange wool A-line dress that cried out for matching shoes, so I took the yellow ones back to Leed's for a do-over.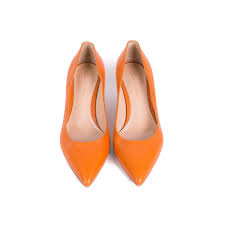 During my junior year of high school, I wore my orange dress and shoes to a dance with a friend named Bill. Even though I had an older boyfriend who lived far away, when Bill called to invite me he sounded so desperate that I said yes. What he invited me to was The Snowball Dance, a winter semi-formal put on by the local chapter of DeMolay, which is the youth group for young men connected with the Masons— an organization Bill hated. But his parents insisted he attend—with a date. He counted on me to be a good sport, I guess.
When Bill showed up at my door in a suit and tie, I panicked. Was this a formal and he had neglected to tell me? Just like a guy, I thought. I was not particularly dressed up, even though my shoes did match my dress. And I had accessorized with my boyfriend's gaudy black and gold high school ring, just to make sure Bill understood the situation. I clearly understood my role in this scenario: the girl is supposed to make the boy feel okay about himself even though she feels like the victim of a bait and switch and was probably his third choice for a date anyway. I mean, I had a boyfriend so this was a favor I could easily do for a friend in need; noblesse oblige, after all. Although, in retrospect, this boyfriend was not so great (he was a frequently morose fellow who lived six hours away), he had somehow managed to sweep me off my feet the previous summer and I was being true.  So following a brief awkward introduction to my parents, Bill and I drove off in his mom's station wagon, both of us gamely determined to make the best of it.
When we arrived at the dance, which was held in a large hall in downtown Oakland, the evening was already in full swing. The room had been decorated with glittering symbols of winter, none of which actually feature in Oakland's mild Decembers: snowflakes, Christmas trees, and snowmen sparkled under twinkling lights. Some girls wore long dresses and had their hair in updos, and some were less dressed up, but all were clearly there to see and be seen. It was unlike any high school dance I had ever been to: fancy, formal, excessively festive. No one else wore orange. Because who wears orange to a Snowball Dance?
We did not stay long. I think we may have danced one dance together just so he could say we did if his parents asked. When the dance was over, he looked at me, I looked back at him…we rolled our eyes and made a beeline for the exit.
After we left, Bill drove us up to the top of the Berkeley hills, where you can see the bridges and the city lights of San Francisco: a classic make-out spot. We ended up in a big parking lot overlooking the city of Berkeley. He turned off the ignition and seemed to collect his thoughts. I wondered if he was planning to make some kind of move. I didn't think he was going to pounce, but I had been fooled before by nice guys who took the first opportunity to lunge and put their hands or tongues where they were not welcome. I twisted the heavy ring on my finger and held my breath. He turned to look at me, and finally asked, "Would you like to drive?"
Relieved that I was not going to have to put up a fight or remind Bill that I was spoken for, I said yes, sure, I would like to. He knew I didn't have my license or even my permit yet, but so what?  We switched places and I took the wheel. He clutched the passenger side door handle as I careened around on the asphalt. I did a few donuts in the parking lot, excited to feel safe, free, and level orange dangerous.
This date turned out to be more fun than I had imagined: a mismatched pair of misfit kids, going in circles and laughing our heads off.
A bonus: if you haven't heard "High Heel Blues," put your feet up and listen!