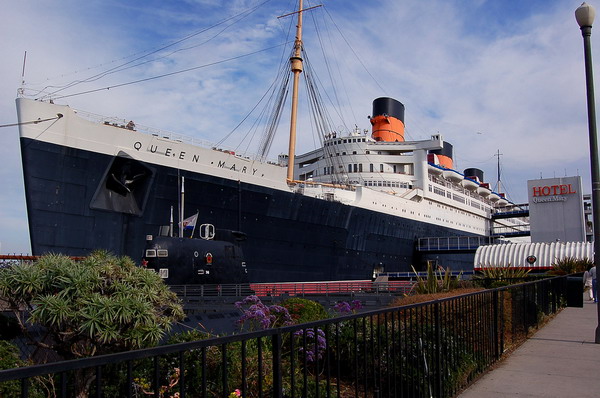 Twenty-six miles across the sea
Santa Catalina is a-waitin' for me,
Santa Catalina, the island of romance,
romance, romance, romance.
We got married in March, and the big honeymoon we planned was a trip to Kenya on a photo safari with an adventure travel company, plus an additional week in the Seychelle Islands, because my husband-to-be was really into islands. But all that was scheduled for the following October, so we needed a mini-honeymoon right after the wedding. We decided to go to Catalina – another island, but one that was just a quick hop from Sacramento.
The wedding was on Sunday morning at "half after eleven," as it said on the invitation, with a luncheon and all-afternoon party afterwards. Sunday evening we flew down to Long Beach and spent our wedding night on the Queen Mary (see Featured Image). The former transatlantic ocean liner had been retired from sea duty in 1967 and turned into a hotel. I would have loved to sail across the ocean on it, but staying in one of the staterooms even for one night was incredible. The whole ship was amazing, and we didn't have nearly enough time to explore it. Afterwards I wished we had planned to spend an entire day on the Queen Mary. But Monday morning after breakfast we checked out and went to catch the ferry to Catalina Island.
It was a glorious Southern California day, and the one-hour ferry ride was exhilerating. First we watched Long Beach receding behind us, then the sea all around us, and finally the coast of Catalina welcoming us as we approached. The ferry docked at the town of Avalon, which is where we were staying, so it was an easy walk to our hotel. I remember it being a charming and rather rustic place called the Bret Harte, but there doesn't seem to be any such place now, so either it went out of business or I'm wrong about the name.
Santa Catalina really is the island of romance, as the song says. While it was the first marriage for both of us, we were definitely not the stereotypical young and starry-eyed honeymooners. I was 31 and he was 34, we had already bought a house together, and had previously traveled together in Spain and Portugal. But somehow being in that place made everything seem new and exciting. We did some hiking, and some beaching, and went to the Casino, a fabulous Art Deco building dating back to 1929, which was not a gambling hall but a place where they had musical performances and movies. I don't remember what we saw there, but I'm sure it was great!
After five days on Catalina, we went back to LA to spend the weekend with some friends. My college roommate Kathy and her then-husband Lee, also a college classmate, had flown out from D.C. to Sacramento for my wedding. Lee's college roommate Rip and his wife Denelle, who lived in LA, had come to the wedding as well. The four of them had then driven down to LA after the wedding and were spending the week together, and Barry and I were joining them for the weekend before flying home. To get from Long Beach to Rip and Denelle's place we were renting a car. I can't quite remember where we got the phone number for Hertz in Long Beach. I have a mental image of it being on a paper placemat or flyer that we picked up somewhere, but it may have been from the Yellow Pages. We called the number weeks in advance and reserved a car. They gave us the address of where to go to pick up the car. We also called again from Avalon to confirm, and they said everything was set.
When we got off the ferry, we took a taxi to the address we had been given. There was nothing there. Literally nothing. The taxi driver, who fortunately hadn't left us there, said he could take us to the airport, since he knew there was a Hertz location there. We were very confused, but we took his advice. What else could we do? When we got to the airport, we went to the Hertz counter and complained about this other location not existing. The clerk smiled knowingly. It seemed the telephone number had been printed incorrectly, with two digits reversed, and some private individual had been barraged with calls for rental cars all year. For a while he had told callers they had the wrong number, but eventually he got so fed up that he started taking "reservations" for cars as if he really were Hertz. We were not the first people this had happened to, and probably not the last either. Since Hertz had obviously learned about it at some point, they should have taken out big ads to try to rectify the problem, but they didn't. However, they did reimburse us for our taxi fare, so that was something.
We called Rip from the airport (the first place where we had access to a phone) to tell him that we would be arriving at his house mu-u-u-ch later than expected. I think they waited to eat dinner til we got there. And, despite the rocky start, we had a wonderful weekend with these four dear friends, which was especially nice because there hadn't been much time to visit with them at the wedding.
Seven months later, we had Wedding and Honeymoon part 2. An East Coast reception at my aunt Daisy's house in Staten Island for the people who hadn't been able to make it out to California for the wedding, then continuing east to the safari in Kenya. The safari was a fabulous adventure, but it didn't feel very honeymoon-ish, since we were traveling with a group of people the whole time. But that's another story.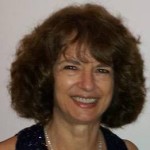 Suzy
Characterizations: been there, well written