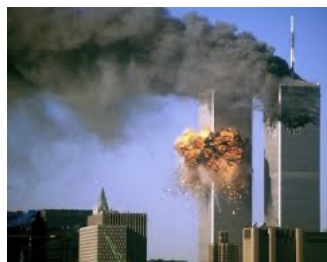 I'll never forget the date my husband's college roommate Joel came from Newton, Mass to spend a few days with us in New York – it was Monday,  September 10, 2001.
On that Monday Joel drove down from Newton to JFK.  His cousin and her three kids were arriving from Israel and Joel picked them up at the airport and took them to their Times Square hotel.
He waited until they had settled in and arranged to come back to meet them the next morning.  Originally a Brooklyn boy,  Joel knew New York well and  planned to show his cousins the city over the next few days.  He had even booked a table at Windows on the World,  the upscale restaurant with the spectacular view atop the North Tower of the World Trade Center.
Then Joel left the hotel and drove uptown to our apartment where he would stay with us while his cousins were in town.   But the next morning,  knowing the previous travel day had been tiring for his cousin and the kids,  Joel called them to suggest they have a leisurely breakfast at their hotel,  relax , and wait for him to come a bit later.
Then Joel,  Danny,  and I sat down for our own leisurely breakfast.  Danny would go in late to his midtown office,  and I luckily was on a late time schedule at the Bronx high school where I worked.
But as we chatted over coffee,   two planes flew into the twin towers and our leisurely morning was not to be.
Joel called his cousins again and told them not to leave the hotel,  and throughout that horrific day thousands and thousands of other calls were made by New Yorkers frantically trying to reach loved ones.
Thinking I could be helpful in comforting the students,  against Danny's protests I drove up to the Bronx.  Of course I found the school in turmoil,  many students had parents who worked downtown and they were desperately trying to reach them,  and many teachers had family or friends who worked or lived downtown as well.  A  colleague of mine had neighbors – a husband  and wife – who both worked in the WTC.  He learned later they both perished,  their young children instantly orphaned.
That day we did what we could to console and calm our students and each other,  those with cause were allowed to leave the building,  and then as I remember,  the principal dismissed us early.
And then I realized I was stuck – all the bridges and tunnels in and out of Manhattan had been closed,  the buses and subways weren't running,  and there was no way I could get from the Bronx back home.  But my friend and colleague Vivian lived in the Bronx and offered to put me up.   I left my car in the faculty parking lot and went home with Vivian.
That night she and I walked a few blocks from her apartment to a restaurant for dinner.  We found the streets eerily empty,  the other diners silent,  and of course the mood somber.
When we got back to the apartment and were watching those haunting images of the attacks on TV,  Vivian's brother called.  He worked downtown near the WTC but Vivian had reached him earlier and knew he was safe.  Now he was calling to ask if we were watching news clips of the jumpers – the men and women who held hands and jumped from windows to escape the inferno,  surely knowing they were jumping to their death.
"Yes,  we're watching it on TV.",   Vivian told him..
"I was on the street,"   he said,  "I saw them jumping with my own eyes."
The next morning Vivian drove us back to school. Some of the bridges had reopened and I got my own car and drove home.  Although I live on 90th Street,  almost ten miles from Ground Zero,  there was a burning smell in the air that lasted for days.
Had Joel's cousins' flight been a day later,  or had he taken them for breakfast at Windows on the World instead of lingering at our place,  or had Vivian's brother worked a few blocks nearer the WTC  …   who knows what their fates may have been.
They were among the lucky,  but on that sunny September morning in New York so many others were not.
Dana Susan Lehrman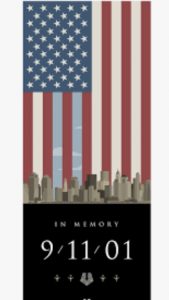 Dana Susan Lehrman
This retired librarian loves big city bustle and cozy country weekends, friends and family, good books and theatre, movies and jazz, travel, tennis, Yankee baseball, and writing about life as she sees it on her blog World Thru Brown Eyes!
www.WorldThruBrownEyes.com
Tags: 9/11, New York City, Terrorism
Characterizations: been there, moving, well written