My first thought when it appeared was chagrin that all of my skepticism and devotion to scientific realism had proven to be wrong after all.
My first thought when it appeared was chagrin
I was driving alone on NJ Rt. 206, somewhere in the hilly northwestern part of the Garden State, some time in the early '80s. It was hot. Very hot. The sun turned the inside of my little Omni 024 into an EZ-Bake oven with wheels, and glared annoyingly off the windshields of oncoming vehicles. The car had no A/C, so all of the windows were fully down and the ventilation was on high. The interior was a noisy, swirling maelstrom of baking, moist, comfortless wind. The radio, blaring loudly to compete, made it worse.
I had a headache.
I saw it first in my peripheral vision. It was distracting, making small bobbing and twisting movements. It was bright green in the sunlight. I wanted to stare, to figure out what it really was, but I was going fast on a crowded, twisty four-lane highway, so all I could do was sneak small glances at it. I decided to pull over.
I slowed the car somewhat and moved over to the right side of the road, scanning ahead for a section with a breakdown lane. At this moment I realized that the small emerald tentacle that had tentatively emerged from one of the dashboard air vents and was slowly, carefully (hungrily?) extending itself toward me, was in fact just a thin, vine-like bit of plant material that had been sucked into the air intake of the car and was now stuck in the louvers, waving about in the slipstream from the overworked ventilation fan.
It seemed that the aliens had not decided to abduct me after all.
I plucked the tendril from the vent, laughing as I tossed it out the window and accelerated my way south on 206. Once again, I was safe from the uncanny and would have to settle for dull old reality.
I was more than a little disappointed.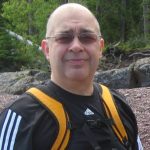 Dave Ventre
A hyper-annuated wannabee scientist with a lovely wife and a mountain biking problem.
Tags: Aliens, science fiction, reality
Characterizations: funny, well written