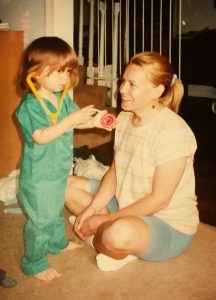 "The Perfect Nanny" is a song from the movie Mary Poppins, in which the children describe the characteristics they want in a nanny.
You must be kind, you must be witty
Very sweet and fairly pretty
Take us on outings, give us treats
Sing songs, bring sweets
We were lucky enough to find our own perfect nanny who totally fit the description in the song. We considered her part of our family . . . until she disappeared.
My third maternity leave ended when Molly was ten months old. Instead of putting her in a daycare center when I went back to work, we decided to hire a nanny, who could also take care of the two older kids, then eight and twelve, picking them up from school and supervising them once they got home.
We filled out a lengthy questionnaire with a nanny placement agency, detailing what we were looking for, and received files on several candidates to consider. I can't remember how many we interviewed, but one young woman stood out well above the others. Not literally – she was only 4'10" tall. But that meant she didn't have to lean over to hold Molly's hands to help her learn to walk. Her references all raved about her, and we could see why. She was bubbly and energetic, and had lots of ideas for things to do with a burgeoning toddler, as well as with older kids. We snapped her up, and felt very lucky to get her.
She was so conscientious, she wrote notes every day in a spiral notebook while Molly was napping, with details about what foods Molly had eaten, what words she had learned, what books they looked at together, and any other noteworthy developments. She took Molly to the zoo regularly, and taught her the names of all the animals. She did craft projects with the older kids and helped them with their homework. We hoped she would stay with us for years, until Molly started kindergarten.
She was married, and her husband worked for an insurance company. When she had only been with us a couple of months, she asked for a week off because her husband had won a trip to Mexico, along with a few of his colleagues, for being one of the top sales people at the company. It would be a hassle to figure out childcare for the week, but of course we said yes. Then, on the day she was supposed to be flying home, she called from Mexico and said there was a problem with their airline tickets and she couldn't come back that day. None of the other people in the group had a problem, it was only her husband's tickets that were somehow invalid. This seemed very odd. It was a couple of days more before she finally made it back. Something was off.
Then she found out that her husband had actually been fired from his job, and had been leaving the house every morning to make her think he was going to work. When he heard that some of his former co-workers had won this trip to Mexico, he pretended that he had won too and paid for it himself to impress her. She also discovered that he was an alcoholic, which may have been why he lost his job. He had lied to her about other things too, and she decided to divorce him. She moved out of their house and needed a place to live. She stayed in our guest room for a week, then went to her aunt and uncle in Elk Grove (a town about thirty minutes south of here). But that was only a temporary solution, she couldn't live with them permanently.
So we bought her a house. We found a cute little house less than two miles away from us that was for sale at a great price. It was the perfect house for our perfect nanny, and she moved in as soon as we closed escrow. We charged her $400/month rent, which even in 1997 was way under market. We just wanted her to be happy.
A year later, she told us she was applying for jobs at daycare centers, because she needed a job with health benefits. We told her we would buy health insurance for her. We talked to our insurance agent and made all the arrangements to get a policy for her. That must not have been the real reason she wanted a new job, however, because she left anyway. We were distraught, but we let her continue to live in the house.
Her new employer had our contact information, because when she started work she had filled out forms that asked for her landlord's name and phone number. One morning we got a call from the employer asking if we could check on her, because she hadn't shown up for work and wasn't answering her phone. My husband went over to her house. When repeated ringing of the bell and knocking on the door didn't get any response, he let himself in with our key. She was in the bedroom, unconscious, an empty bottle of pills on the nightstand. He managed to rouse her, and somebody else came and took her to the hospital. She would never talk about it afterwards.
She recovered, and life went on, but shortly after that she gave notice that she was moving out of our house to live with her new boyfriend. We tried to keep in touch, but pretty soon she stopped answering our letters and phone calls. She just vanished. Over the years, I have looked for her, especially after online sites to locate missing people became available. I have never been able to find any trace of her. It's as if she entered the Twilight Zone.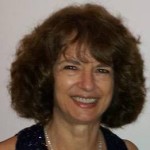 Suzy
Characterizations: moving, right on!, well written