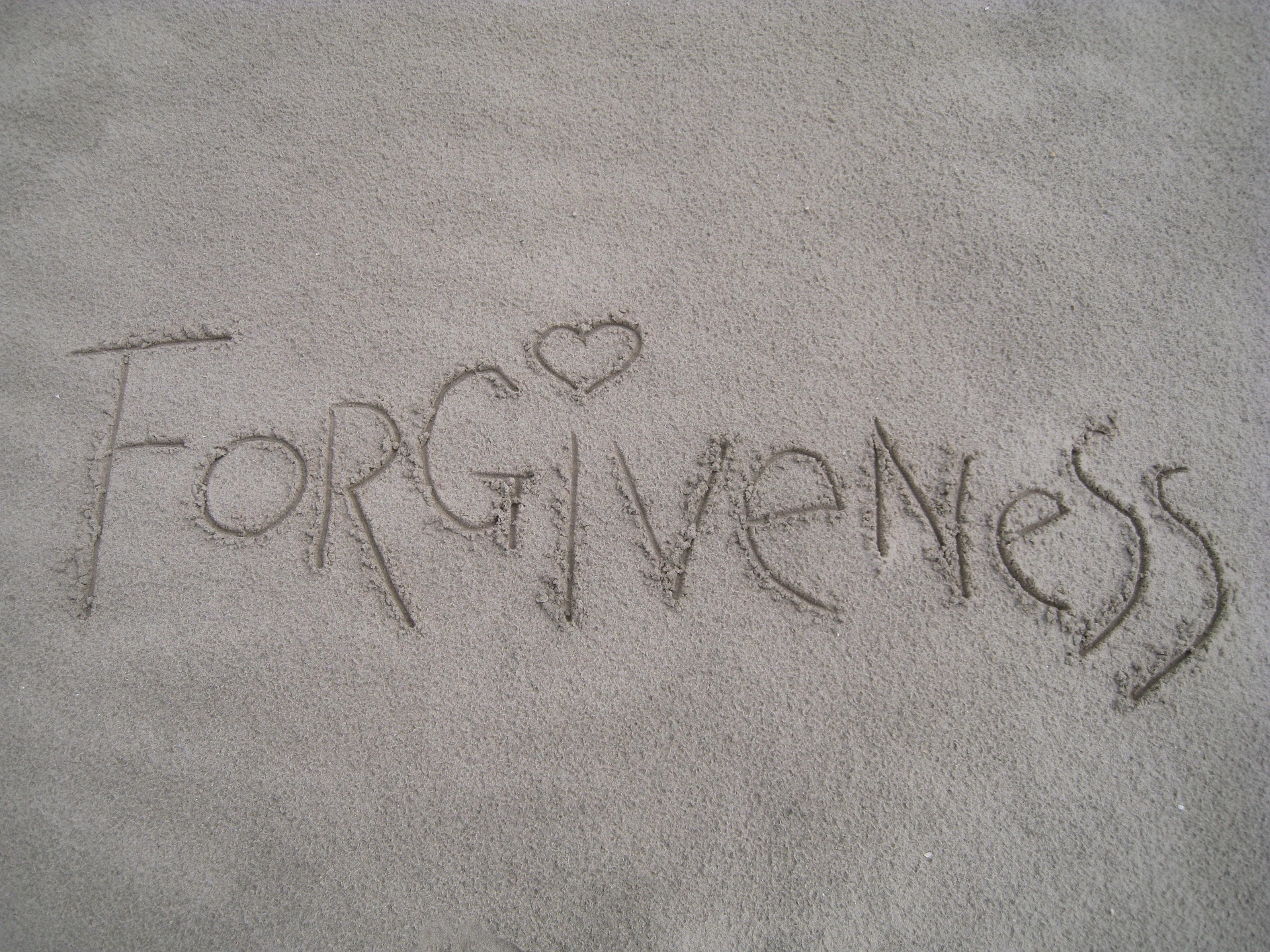 While both paths in my story have a man involved, the story isn't about men–it's about the dynamic between people. I'll start with the harder part to relate first, because I would like to be forgiven for my actions or more accurately, lack of them. As others have related in their stories, I want to forgive someone, but also don't have the opportunity to do it in person.
Her implication was clear. She was upset with me. While I was abashed and said I was sorry, our relationship was considerably cooler from then on.
Path One: Forgive Me
It was the spring of 1995, and I was fresh out of my marriage. I had a house in Menlo Park, California, with almost nothing in it, having bought out my former husband, which made me pretty much penniless. I was living freelance job to freelance job. Everything felt precarious, but it was the support of wonderful friends that was helping me through the tough times. I have a second cousin Jeanne, nine years younger than I, and although we spent a lot of time together growing up, we weren't really close because of the age difference. That spring Jeanne relocated to Redwood City near me, and we were getting a bit better acquainted as adults.
At about that time, one of my oldest friends Linda introduced me to one of her husband's friends, Alden. He had just separated from his wife. We enjoyed becoming friends and just hanging out, and it was useful for me to have the male point of view about socializing and dating. Alden was interested in meeting women and described what he was looking for; I immediately thought of Jeanne. A few days later some women friends suggested I hold a mixer-type party in my large back yard where a lot of my friends, both male and female, could meet each other. We organized the event, and both Alden and Jeanne came.
It appeared that there was chemistry between the two of them, and honestly I don't recall specifically mentioning to Jeanne at the time that Alden was still legally married, although I wasn't trying to conceal the fact. I regret terribly that I didn't communicate more clearly about it. A couple of weeks later, Jeanne and I got together, but something had changed. "I can't believe I ended up in bed with a married man!" Jeanne exclaimed to me, with heat, "and that I didn't know before." Her implication was clear. She had broken off communication with Alden. She was upset with me. While I was abashed and said I was sorry, our relationship was considerably cooler from then on.
Over the years I've seen Jeanne at family events, and she is more formal with me than with my brother and other relatives. When her dad passed away earlier this year and I sent my very sincere condolences, there were signs of a thaw, and I look forward to more interaction. I hope to be able to say that what I did or didn't do was silly and immature, and a long time has passed and we are ready to move on.
Path Two: I Forgive You
An even longer time has passed since I encountered Rebecca, the person I have forgiven, although she never knew it. This is one of the few times in my life I can recall disliking someone even before I met her in person. In 1978 I started a job at a company in Palo Alto, and a few months later broke up with the man I'd been dating. That's when I met Hugh, whom I've written about in other stories. Turned out he had just broken up with his girlfriend Rebecca. While we both were aware that we could be on the rebound, Hugh's and my relationship turned into something a lot more passionate than either of us expected.
Apparently Rebecca started having second thoughts about the breakup. I began receiving phone calls, first just silent hangups, then with threats to stay away from Hugh. I did my best to ignore her, but couldn't help thinking what a low-class person she was. The more I found out about her, the more there was to dislike. She taught kindergarten but hated kids. She was from the Midwest, which she considered a better place than California because everyone was white. She ate junk food and refused to touch vegetables. Over the next year, the calls decreased in frequency, until finally I found out that Rebecca had met someone else. This was such a relief, even more so when she became engaged. Then, before the wedding, Rebecca's fiance was killed in a plane crash.
At this point I felt sorry for what happened to her but concerned about her inevitable interference in my relationship with Hugh, which was beginning to fray. In 1982, when I decided to break off the relationship, I was aware of Rebecca's presence in the background. Hugh and I had a discussion about the future, and the question came up if we could ever get back together. I said I would remain open to it, with one exception: if he went back to Rebecca, I could never go back to him. A few months later, I heard that he'd moved into Rebecca's house, and although my heart broke a little more, I wasn't surprised. We rarely communicated, but Hugh and I always knew where the other was.
About 15 years later, out of the blue, I got a call from a mutual friend telling me that Hugh was in the hospital and had bypass surgery and wanted to see me. A few hours later I went to the hospital and had a good visit with him. Shortly before I was going to leave, in walked a woman who had to be Rebecca, whom I'd never met in the flesh. Chunky, with a scowling face, she couldn't be called attractive. "You must be Rebecca," I said. "I'm Marian."
She stared at me, eyes narrowed, then surprised. "Oh, wow, you look like a normal woman." I had no idea what she was talking about. "Hugh talks about you a lot to this day, and how beautiful you are, like a goddess." Then she sat down hard on a chair and refused to speak. Now, at the time I probably was reasonably attractive, but no goddess, model, or movie star, however flattering to know that Hugh thought so. Rebecca must have felt awfully terrible and insecure all along. Thus began my path to forgiving her.
Maybe it worked out the best for all of us that Rebecca ended up with Hugh, because by the year 2000 she had Parkinson's and began to decline slowly. Perfectly in character, Hugh loyally stood by her and was her caregiver until she passed away in 2019. While I never approved of your behavior, Rebecca, and we held different points of view on many issues, once I met you I understood what was behind some of your actions, and I forgive you. Also, I am grateful for the opportunity, however painful, to become a more compassionate person as a result of what happened between us.
Marian
I have recently retired from a marketing and technical writing and editing career and am thoroughly enjoying writing for myself and others.
Characterizations: moving, well written