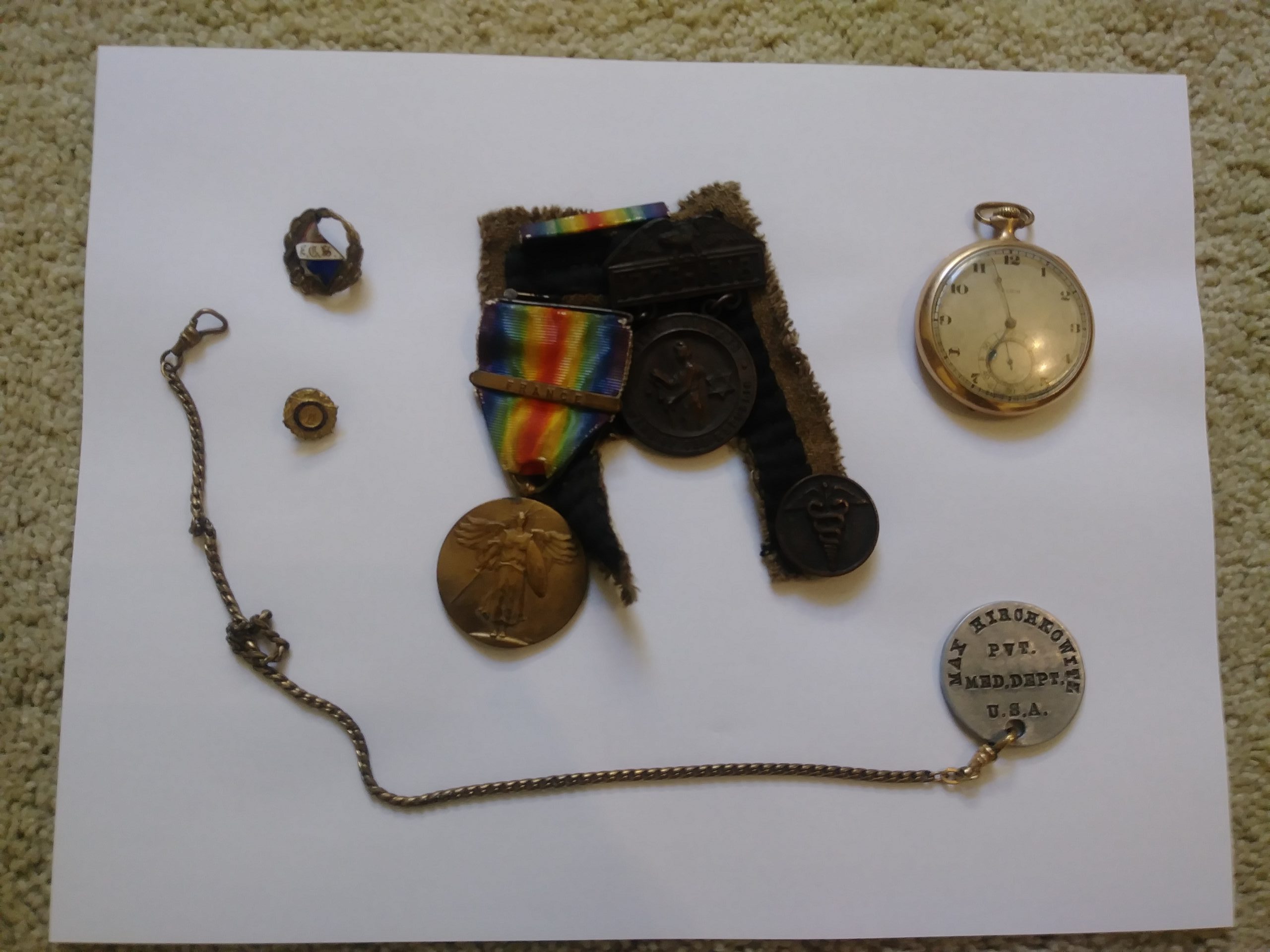 Why the small beige box was in my mother's dresser I'll never know. Most of the items pictured belonged to my father's father, Max Hirschkowitz as he was known in 1918. My father must have kept them, and the box was just swept up and stayed in the dresser through many moves. Even when we took the dresser to my mother's apartment in a senior residence, I didn't know the box was in it. One day about six months ago (pre-pandemic), I was visiting my mother and she was looking for something else in the top drawer of the dresser when her hand came upon the box. "What's that?" she wondered.
Why the small beige box was in my mother's dresser I'll never know. The items pictured belonged to my father's father ...
When we opened the box, out came a bevy of small items, some pictured here. They document my grandfather's World War I experience, and my mother gladly gave the box to me. The prompt for this story reminded me that the items were sitting, in the same box, on my office closet shelf, and I hadn't looked at them closely. It's been a wonderful afternoon visiting with them. That's what memorabilia are all about.
I know only the basic outline of my grandfather's war activities. He was drafted, I believe, and being a conscientious objector, said he would go to Europe but not carry a gun. He ended up as a private in the medical corps in France, a very dirty and dangerous job by all accounts. The dog tag information in the photo confirms his rank and assignment. I'm not sure what the medals on the ribbon mean, exactly, nor do I know what the little pins are about (they could be masonic, although I doubt he became a mason until later), or when he got the pocket watch. A note indicates that the watch might have originally belonged to my great grandfather Abraham Levine, my grandmother's father. Max died when I was 10, so I never got an adult perspective on the war, just some crazy songs he'd sing to me (ta rah rah boom-dee-ay). I do remember than when my grandmother became ill, my grandfather figured out that she had a tapeworm, which he had become familiar with in the trenches in France.
During the same visit with my mother, we found my grandmother Leah's (Levine) medical and school records from the early 1900s. Somewhere in the house I have some military records from my father's time at the end of World War II. There are old photos in boxes that I have which need to be sorted and labeled, and digitized. And speaking of digitizing, will anyone have physical memorabilia from the last 10 years or so?
I have moved many, many times during my adult life, so I became much more of a tosser than a keeper. If you asked me, I'd say I didn't have much in the way of my own memorabilia, but that could be wrong. When I took out the little box to write this story, I saw that at the bottom of my office closet is sitting a larger beige box labeled MEMORABILIA. I don't recall what's in it, but this summer when I plan a pandemic staycation, it will be time to find out.
Marian
I have recently retired from a marketing and technical writing and editing career and am thoroughly enjoying writing for myself and others.
Characterizations: moving, well written