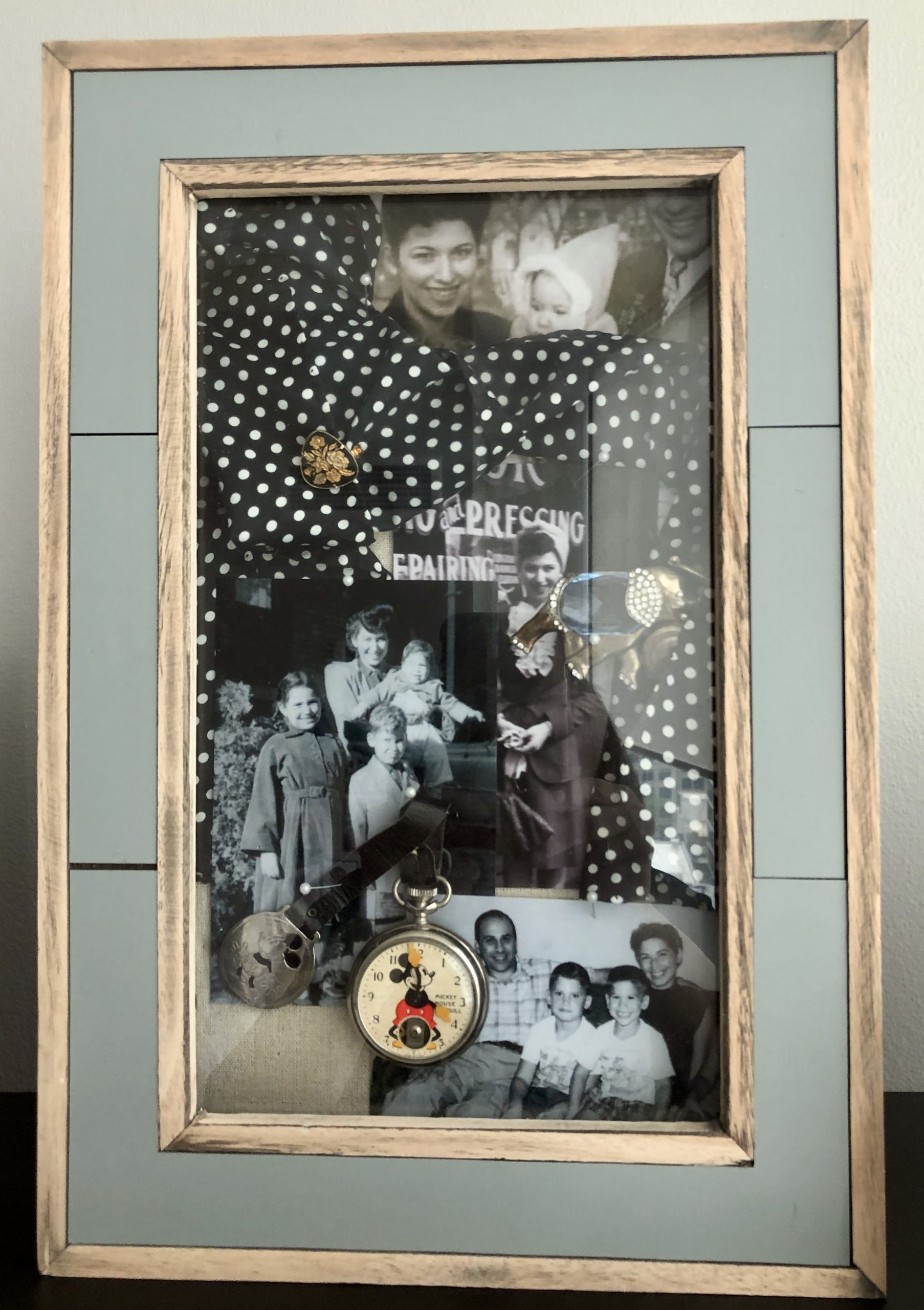 After both of my parents had died, I was left with some special memorabilia and a powerful need to remember them. Thus, the shadow box. For me, it captured some aspects of their lives and gave me comfort to look at it on the shelf above my computer.
After both of my parents had died, I was left with some special memorabilia and a powerful need to remember them.
The background photos include (from top) my parents with me as a baby; my mother in front of her father's tailor shop, wearing a suit he made for her; my mother with my brothers and me in front of our newly built suburban home; and my parents and younger brothers (I'm hidden behind the watch).
The scarf draped across the box was Mom's. She wore scarves most days and was a wizard at creating all kinds of arrangements with them, a talent I did not inherit. She often wore the small pin on the scarf to hold it in place.
The elephant pin came with its own special story. It was the first gift my father gave my mother. She called it her pre-engagement gift. I'll give Dad credit for choosing something unique, but holy cow, no way was I going to wear that. Apparently, Mom lost the pin on a bus and was heartbroken. So, she put an ad in the newspaper describing it and offering a modest reward for its return. And amazingly, someone did return it to her (or maybe not so amazing given its beauty).
The Mickey Mouse watch was a gift to my father for his Bar Mitzvah. My father wrote this to my son, to whom he gave the watch on the occasion of his first grandson's Bar Mitzvah:
A procession of gifts – the inevitable pen and pencil set, a siddur [Jewish prayer book], a tie clasp, envelopes with $2.00 and $3.00 in cash, a rare $5.00 bill, and a Mickey Mouse watch… By 10:00 pm, the "man of the day" and the older sister are dispatched to the babysitter who has been minding the younger brother and sister at the house about a block away. Their big day is ended. The adult revelers go on and on. The only memento of all of this — the [Mickey Mouse] watch — is now in Jonathan's proud possession.
Sadly, we could never get the watch working. Even if we had, a thirteen-year-old boy in 1984 had little interest in it. I kept it in a drawer thinking I would give it to my son when he was older, but in my heart, I knew I would keep it. My father had told me the story of the watch so many times that just looking at it reminds me of him.
I loved creating the shadow box as a way of dealing with my feelings of loss and being an orphan, even though I was lucky to have become one as I approached age 70. The objects left behind by our loved ones can trigger powerful memories. Finding a way to display some of my parents' things keeps them alive in my heart.
I invite you to read my book Terribly Strange and Wonderfully Real and join my Facebook community.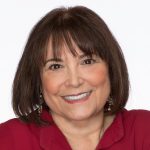 Laurie Levy
Boomer. Educator. Advocate. Eclectic topics: grandkids, special needs, values, aging, loss, & whatever. Author: Terribly Strange and Wonderfully Real.
Characterizations: moving, well written