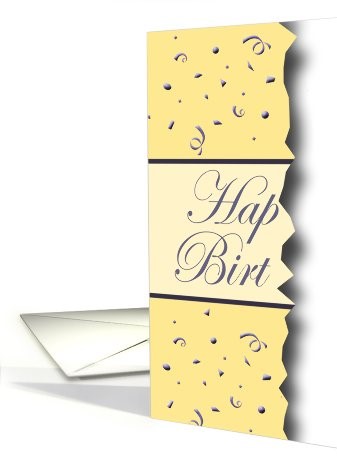 When I was young, my family was very big on celebrating birthdays. We were also very big on celebrating half-birthdays. Why be limited to one celebration a year? My sisters and I would make each other half-cards, and we would have a half-cake, to celebrate that the person was half a year older. But here's the twist. Since my birthday is on August 30th, my half-birthday should be on February 30th. But wait . . . there's no such day! So we celebrated on March 2nd, which was where it should have fallen, two days after February 28th. That was annoying, because it meant that people who were born on September 1st, two days after me, would have their half-birthdays a day before I would. When you are a small child, that seems like a grave injustice.
Half-birthdays and pirates make Leap Day more than just another day.
On leap years, however, February got an extra day. Still didn't make it to February 30th, but at least it meant my half-birthday was on March 1st, the same day as people who were born on September 1st. So there!
What I never realized until I was much older was that most people don't even celebrate half-birthdays.
When I was old enough to appreciate Gilbert and Sullivan operettas – still not very old, maybe twelve or so – I was greatly amused by The Pirates of Penzance, where Leap Day was a major plot point.* Our hero, Frederic, had been apprenticed to the pirates until his twenty-first birthday. As he is about to turn twenty-one, he thinks his duty will be over and he can stop being a pirate. But no! Because he was born on February 29th, even though he has lived for twenty-one years, he has only had five birthdays. Thus he will not be free until he is eighty-four. Of course, after much singing, everything works out and everyone lives happily ever after in Penzance,** because they always do in G&S operettas.
Tonight in Sacramento there is going to be a "Happy Birthday, Frederic" party which will consist of a sing-along of the entire operetta. I am thinking about going, if I can figure out an appropriate Victorian costume to wear. (Victorian, because the pirates end up swearing allegiance to Queen Victoria. I initially thought we didn't know the precise year of Victoria's reign that the story takes place, but then I remembered that they say his 21st birthday will be in 1940. That means it was 1877. I can explain the math if anyone is interested.)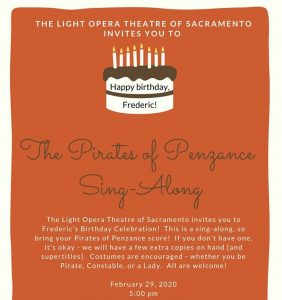 So tonight I plan to sing, and eat cake, and wish a happy birthday to Frederic the ex-pirate, as well as to Dinah Shore and Gioachino Rossini (of William Tell Overture fame), who seem to be the only famous people born on Leap Day.
---
* I know that Betsy also wrote about Pirates this week, and I am not surprised, since she and I share a lot of the same musical background. However, I had it in mind from the time we first talked about having a Leap Day prompt. My first draft of the blurb for this prompt began "February 29th only comes around once every four years, which was a plot point in Gilbert & Sullivan's The Pirates of Penzance…." My co-administrators convinced me to replace it with a more generalized blurb about women taking the initiative in relationships, in the hope that it might inspire more stories.
** I am now regretting that I never went to Penzance on one of my numerous trips to England when I was young and had a BritRail Pass, so that I could hop on a train to anywhere in the country according to my whims. I don't think it occurred to me back then that Penzance was a real place.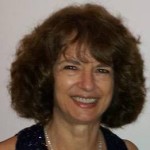 Suzy
Characterizations: funny, moving, well written