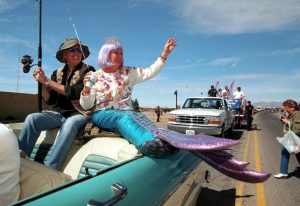 Since I can't remember ever having asked a man out — probably out of fear of being turned down…I don't know how men do it again and again! — I thought I'd share instead this little story about a dear lifelong friend whose birthday falls on February 29 and who, despite her now diminished stature, both physically and mentally, is still bigger than life in my regard. I'm not going to mention Susan's last name, not to be coy but out of respect for her privacy. I would ask her permission and she would give it to me in a heartbeat were she still able to recognize me, remember me, or anyone. She has advanced dementia. I am including the photo because she's wearing a wig and is unrecognizable, as is her husband, a well-known someone who is no longer her husband because he left her.*
From the local newspaper…the BLEEPS are mine:
Bette Midler loaned one of her legendary mermaid outfits to Susan for the festival parade.
"Among those who struck up a friendship with Brown [the festival founder] was BLEEP BLEEP, of BLEEP BLEEP & BLEEP fame, who decided to honor his 29er wife, Susan, with a one-of-a-kind birthday celebration to usher in the new millennium.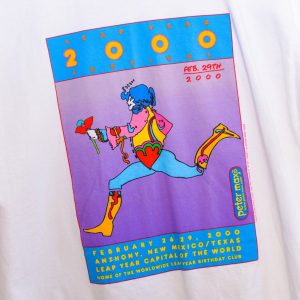 'We love small town festivals,' Susan BLEEP said in 2000. The couple proved it by bringing a large entourage of family and friends to Anthony. He presented a free concert and persuaded his friend, world-renowned artist Peter Max, known for his psychedelic paintings and posters, to create a T-shirt for the millennium leap year event. Bette Midler loaned one of her legendary mermaid outfits to Susan for the festival parade."
Here in the small town in Anthony, Texas, the Leap Year Capital of the World, for their Worldwide Leap Year Festival and Birthday Party, attended by at least 36 29ers (persons born on February 29) "throughout the planet" including New Jersey and as far away as Sweden, the quadrennial bash featured a parade with BLEEP BLEEP himself as Grand Marshall, a pizza party picnic, a karaoke mixer, golf tournament, and hike. My friend Susan rallied a coterie of friends to make the event truly special yet still flew under the radar in regard to the general public.
Not just Leap Day but every day was a special occasion to my unique friend, and she made the most of each and every one of them, always finding some way to celebrate not only major life events like birthdays and weddings but even the most banal events like driving the kids to school or the full moon. This was just one of her gifts, to family and friends and strangers. I could write a book about her, but I probably won't. I guess this could be my tiny almost-secret tribute to her.
(*Obviously you could Google the event and find out who I'm talking about. I mean, I couldn't stop you. Not that you'd want to. But you could.)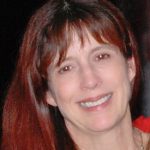 Barbara Buckles
Artist, writer, storyteller, spy. Okay, not a spy…I was just going for the rhythm.
I call myself "an inveterate dabbler." (And my husband calls me "an invertebrate babbler.") I just love to create one way or another. My latest passion is telling true stories live, on stage. Because it scares the hell out of me.
As a memoirist, I focus on the undercurrents. Drawing from memory, diaries, notes, letters and photographs, I never ever lie, but I do claim creative license when fleshing out actual events in order to enhance the literary quality, i.e., what I might have been wearing, what might have been on the table, what season it might have been. By virtue of its genre, memoir also adds a patina of introspection and insight that most probably did not exist in real time.
Characterizations: moving, right on!, well written