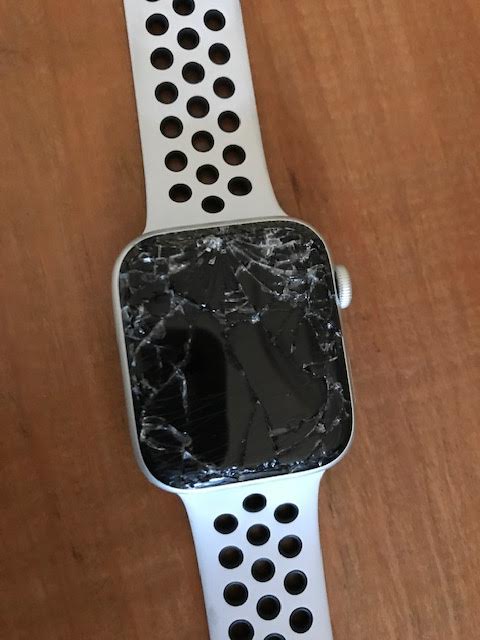 I am a punctual person. I insist on being on time. It is part of my makeup and it bothers me if I am late or others I deal with (including family members) are not as punctual.
I have always had nice time pieces, dating back to my youth, when my grandfather (who owned a jewelry store in Toledo), gave me my first, with my name engraved on the back. After that one, it was usually a Timex, though I bought myself a Cartier Tank Watch as I became a successful tech sales representative.
Once I had my first baby, I stopped wearing the Tank Watch in favor of a plastic Swatch, which was water proof (my hands were always in water with the baby) and he liked to teeth on it. Voila; instant chew toy! But about 24 years ago, with children more or less grown and a house on Martha's Vineyard, so lots of time at the beach, I wanted a nice, waterproof watch. I looked for something else, but my husband insisted on a specific type of Cartier (the last on the right below), which I wear every day. He had just bought himself a more expensive one.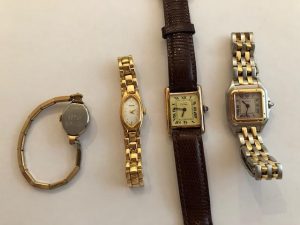 During these two years of the pandemic, I kept my sense of days of the week by knowing what exercise class I would take on any given day. I had to sign up for each one. Even during the worst of the lockdown, I took classes via Zoom with two great teachers who taught through their gym about an hour's distance from me (one had taught at my local gym and quickly established herself online). So I kept a sense of schedule.
That is until I injured my ankle on June 26, 2021. Then most forms of exercise ceased for me. Now I do lose track of days. It is frustrating and I feel unmoored.
But that was nothing compared to what happened on July 1, when my husband suffered much more severe injuries than mine. He collapsed twice on his way to the bathroom one morning on the second floor of our Martha's Vineyard home. In a different story, I have already detailed the severity of his injuries (he has recovered nicely). But that morning, I sat in our kitchen, reading and typing at the computer, oblivious to what transpired a floor above me. I heard a thud, but thought he dropped something. About 20 minutes later, I got a text on my phone saying, "Betty, please come upstairs. I need your help". I knew the text came from his Apple Watch because Dan knows my name isn't "Betty".
I came up and found what looked like a crime scene in the bathroom. I called 911, he was taken to the local hospital, examined, stitched up, then MedFlighted to Mass General. The quick reaction might have saved his life; at the very least, he wasn't paralyzed. Among his many injuries, he had broken his C-1 vertebra, which supports his head.
This was the second time his Apple Watch saved him. The first time was on August 7, 2019. He had just finished a long bike ride with a friend and was returning to our home. He wanted to avoid traffic, so came through a residential, winding subdivision, full of speed bumps. He isn't sure, but he thinks he reached down to grab his water bottle at precisely the moment when his front wheel hit one of those bumps and he went flying.
He doesn't know how long he lay in the road unconscious. The Apple Watch can sense a fall, will send an alert, asking if you've fallen and need help. If you don't answer within a few seconds, it will call 911. The ambulance knows where you are because there is a GPS tracker on the Apple Watch. Dan started to regain consciousness as he was loaded onto the ambulance. He had lots of road rash, bumps, bruises, a broken rib, and a small cerebral hemorrhage. This was his first helicopter trip to Mass General, to check on the brain bleed. If is got worse and he needed surgery, the small Martha's Vineyard hospital could not handle it. He did not get worse and he was released the next day. The Featured photo shows his smashed Apple Watch from that accident. He is now forbidden to ride his bike outside (it was his third accident in two years).
The watch saved his life – twice!
He thought about this during his three months of healing last summer. He sent an email to Tim Cook, CEO of Apple (who makes his email address public). Dan thought this was news worthy. He got a polite response, but heard from an Apple marketing guy the next day. They chatted at length. Would Dan be willing to do media about his experience? Yes, he would. A short while later, he heard from Hiawatha Bray, the technology writer for the Boston Globe, who interviewed Dan at length, checked the veracity of the story with his doctor, and a lengthy story appeared in the Globe last August. I fear it is behind a paywall, but here is a sample of it.
More than a timepiece, the Apple Watch truly was a life saver! We have several friends who have purchased one based on Dan's experience.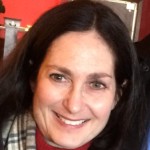 Betsy Pfau
Retired from software sales long ago, two grown children. Theater major in college. Singer still, arts lover, involved in art museums locally (Greater Boston area). Originally from Detroit area.
Characterizations: moving, right on!, well written