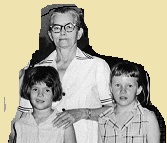 In a few days, I will become my grandmother.  That's Grandmother January (Annie Naomi Andrews January), who was sixty-four years old from the time I first knew her 'til the day she died many years later.   The frames selected for me by Eye Gallery's owner a few months ago when my eyes needed a break from fifty years of continuous contact lenses have helped make this moment a little easier.  Their shape resembles Grandmother's; and when I put them on for the first time and looked in shock at the mirror, our likeness was complete.  But they were glasses Grandmother could have only dreamed of.  Red — and way cooler – but no cooler than she was.
In a few days, I will become my grandmother.  That's Grandmother January (Annie Naomi Andrews January), who was sixty-four years old from the time I first knew her 'til the day she died many years later. 
Her neat two bedroom cottage on Amherst was a haven for me and my cousin Sue as six to twelve year olds.  Sue would come up to Dallas from Houston on Continental Trailways and we'd get ferried over to Grandmother and her neighborhood full of kids, her precious porcelain-headed cloth dolls in fancy nightgowns, and the rolling Canasta games played around her dining room table with four or five partial decks.
Some in our family would maintain that Grandmother herself had been playing with a partial deck for several years.  And, yes, there was some evidence for that later on in the plates of food lovingly set out on TV trays in front of large framed photographs of each of her three grown children.  And one could argue that being able to tell her the same tired joke over and over again and hear her unforced, bell-like laughter each time was further evidence.  Just as there might be something in the note on the flip side of her car's sun visor saying, "Put me up!  You got a ticket for running a red light you couldn't see when I was down!"
But here's the thing: she was one of us – absolutely at our level.  Happy participant in our games and permissive of our secrets.  Willing to cook up some fun at the drop of a hat and teach us the mysteries of the bobbin on her Singer sewing machine, the way to iron without getting burned too much, and how to make fudge that didn't always turn out as hard as Gorilla Glass.  Her contribution to our political education was enormous when, upon the occasion of the 1960 presidential convention we watched at her side, her concern that the Pope would be running the country was counterbalanced by her delight that LBJ was on the ticket.  Her contribution to our understanding of our extended family was also huge, as you could count on her telling us the stories that no one else would.  Most importantly, though, we could do no wrong; and our very existence was joy to her.  The "Sentimental Journey" song and dance number Sue and I put together was perfect in her eyes for performing at her Lovers Lane Methodist Sunday School class: the Sweet Potatoes.
Many years after Grandmother had departed this earthly skein, my Aunt Kay was de-accessioning and let me know I would be receiving Grandmother's silver flatware and serving pieces.  Of course, a story came with it.
Granddaddy's dream to live on a ranch in goat county near Sabinal was not Grandmother's idea of Utopia.  (Thomas More's, that is, not the ironically-named little town of Utopia not far from Sabinal.)  Although my older sister Susan remembered the time she spent on the ranch as the best time in her life, Grandmother waited for the day when Granddaddy recognized that he couldn't manage it by himself and that it wouldn't support hired help and finally sold it.  When that day came, Grandmother insisted on being paid her half of the proceeds from the sale and put much of it into King Richard pattern Sterling silver flatware, serving utensils and a carving set.  Fifty years later, when the box of silver came to me, it still contained a tiny Oilfield Diary in which every piece of the service for eleven (?!) that she had cobbled together was carefully recorded in Grandmother's hand.  A December 20, 1950 receipt from a San Antonio jewelry store showed her first purchase.  Need I say that each time I set the table with this silver for a special occasion, Grandmother and all that she was is there?
And each time I go into my favorite Asian restaurant and see the food, flowers and coins laid out before the Buddha or the photograph of another loved and inspiring teacher, I think on this woman who shamelessly insisted on preserving and caring for her legacy; and I hope that I live to become more like her, full deck or no.  If I do, I guarantee it'll be when I'm sixty-four.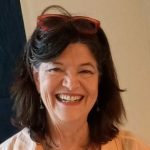 Jan Fox
In the 1950's, storytelling on the schoolbus was my entertainment. By the mid-1970's, storytelling in the courts had become my profession. Today and always, storytelling set to music and sung from the heart is my joy.
Characterizations: funny, moving, well written