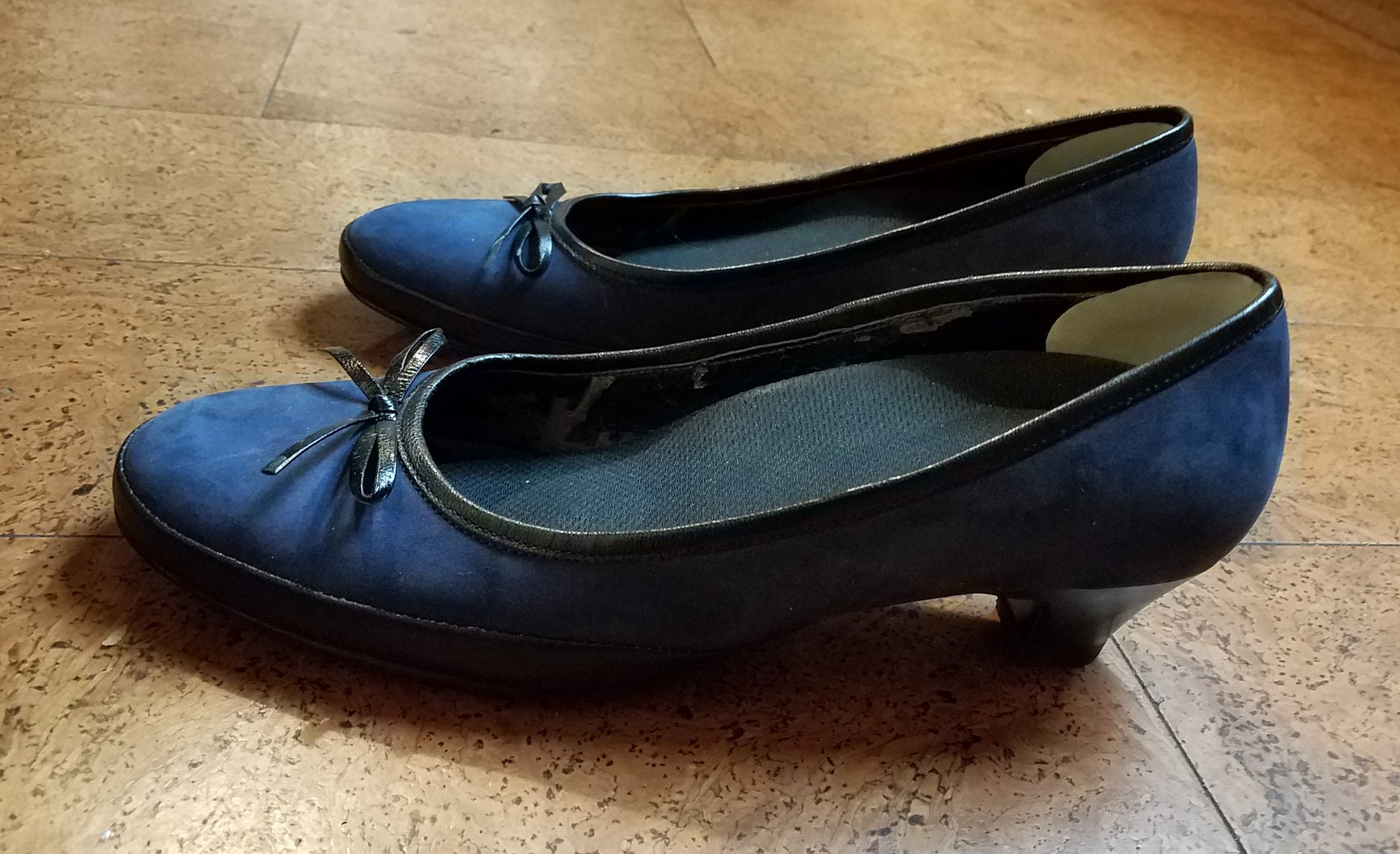 These may not be the type of blue suede shoes that Elvis was singing about, but they are currently my favorite dressy shoes. They go perfectly with my one evening gown, and also with my best street-length dress. And with their one inch heels, they are not uncomfortable to wear for long periods of time.
These may not be the type of blue suede shoes that Elvis was singing about, but they are currently my favorite dressy shoes.
When I was a child, I always wore sensible shoes with arch supports. We went to a small local shoe store called Jack and Jill that only sold children's shoes. They had two really high padded seats for children to sit on while they got their feet measured by the salesman. I don't have a specific memory of what my shoes looked like, but they were leather and probably had laces that I eventually learned how to tie. They always had to have arch supports to make sure my feet developed properly.
By the time I was in high school, everyone was wearing penny loafers, and I begged and pleaded until I was allowed to get them too. The two de rigueur brands were Weejuns and Old Maine Trotters. I'm sure I had one of them, probably whichever one they had at the store my mother was willing to take me to, or, if they had both, whichever one was less expensive. I don't think I ever put pennies in the slots though.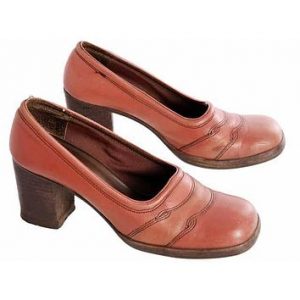 In college I remember wearing leather shoes with chunky heels, which were murder on the cobblestones of Cambridge. I twisted my ankles more times than I can remember, but it never caused me to think I should wear a different type of shoe. This picture is not an actual pair of shoes that I had, I'm not that much of a saver, but it was the best example I could find online of the type of shoes I wore all the way through college. (Shoes are probably the only items that I have been quick to get rid of when they were no longer useful.) In recent decades, going back to Cambridge for reunions, now that we are allowed to wear sneakers, I find that the cobblestones are so much more manageable. We didn't realize back then what an advantage the guys had in simply getting around.
As a young lawyer, I wore high heels with my power suits. Generally two-and-a-half or even three inch heels, and since I was already 5'8″, that often made me as tall as, or taller than, my opposing counsel. I found it to be an effective way to intimidate male attorneys who acted superior — until I stood up. Very satisfying. However, in the office I generally took my shoes off and walked around the carpeted hallways in my stocking feet. There is only so much time you can spend walking on tiptoes!
I have been known to succumb to shoe fads. In 2005, the new "in" shoes were Crocs. We were in Boulder, Colorado that summer, which is where they were invented. They hadn't hit California yet, and we were totally taken with them. Each member of our family got a pair in a different color. Mine were beige, Ed's were green, Sabrina's purple, Ben's brown, and Molly's royal blue. Their coolness didn't last very long though. In pictures from a high school reunion that I went to in spring 2006, I am chagrined to see that I am wearing my Crocs. The kids all ditched theirs fairly quickly, but Ed and I still have ours. They are useful for working in the yard or around the pool, but I certainly wouldn't wear them out in public any more.
The next fad I embraced was TOMS shoes in the summer of 2010. TOMS pioneered the "one for one" concept – the company promised to give a free pair of shoes to a child in need for every pair sold, so it made us feel virtuous for buying them. Molly, Sabrina, and I all got them. I bought mine at Nordstrom when they had an offer that they would paint them on request. I asked for paint splatters, but I didn't like the way it turned out,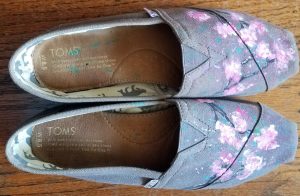 so I took them to a boutique in another shopping center that had a real artist doing the painting. She painted them for me even though I hadn't bought them at the store that was sponsoring her. Consequently, my shoes are unique, because even if that artist did the same kind of flowers on someone else's shoes, mine have the turquoise paint splatters underneath the flowers, as well as in the interior of the shoes (as you can see more clearly if you click to enlarge the picture).
Nowadays, most of the time I wear sneakers (or athletic shoes if you prefer) because they are so much more comfortable than anything else. But when did they become acceptable for everyday wear? It certainly wasn't the case in my childhood or young adulthood. My research tells me that the sale of sneakers took off in 1984, when Michael Jordan signed a contract to wear a Nike shoe called Air Jordans. That seems plausible to me. Other than whatever I was required to have for PE in high school (I'm thinking Keds), my very first athletic shoes were made by Adidas, and I bought them in 1974, when I was in law school, to wear playing basketball, but not the rest of the time. It was at a much later point, probably in the mid to late '80s, after I had kids, that I started wearing sneakers as casual footwear. Since that time, I have had Adidas, Nikes, Asics, New Balance, and most recently Skechers.
I'm told by my fashionista daughter that Skechers are what all the old ladies wear, so I guess that's me. Skechers also makes comfortable flats, with memory foam inside, so I have a couple of different pairs of those as well. When one of my college roommates and I got together for dinner a couple of years ago, we noticed that we were both wearing Skechers flats, and we went on and on about how much we loved them, until we cracked up because we sounded like such a commercial. We decided that it would actually make a great commercial – two sixty-something but still attractive and well-dressed women having an earnest conversation about all the reasons we love Skechers. Are you listening, Madison Avenue?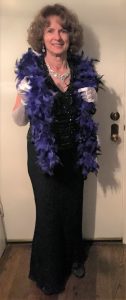 Just for fun, and to bring the story full circle, here is a picture of me taken last year in my blue evening gown and my blue suede shoes. I know you can't see the shoes very well, but it was the best I could do. (You can at least see one shoe more clearly if you click to enlarge the picture.) The feather boa and the white gloves are because I was performing in a Gershwin cabaret. The shoes were amazingly comfortable that evening, although I was standing up singing for a long time, and even walked both ways between my house and the concert venue. I was very grateful for that.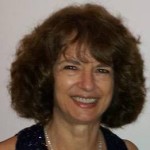 Suzy
Characterizations: been there, well written