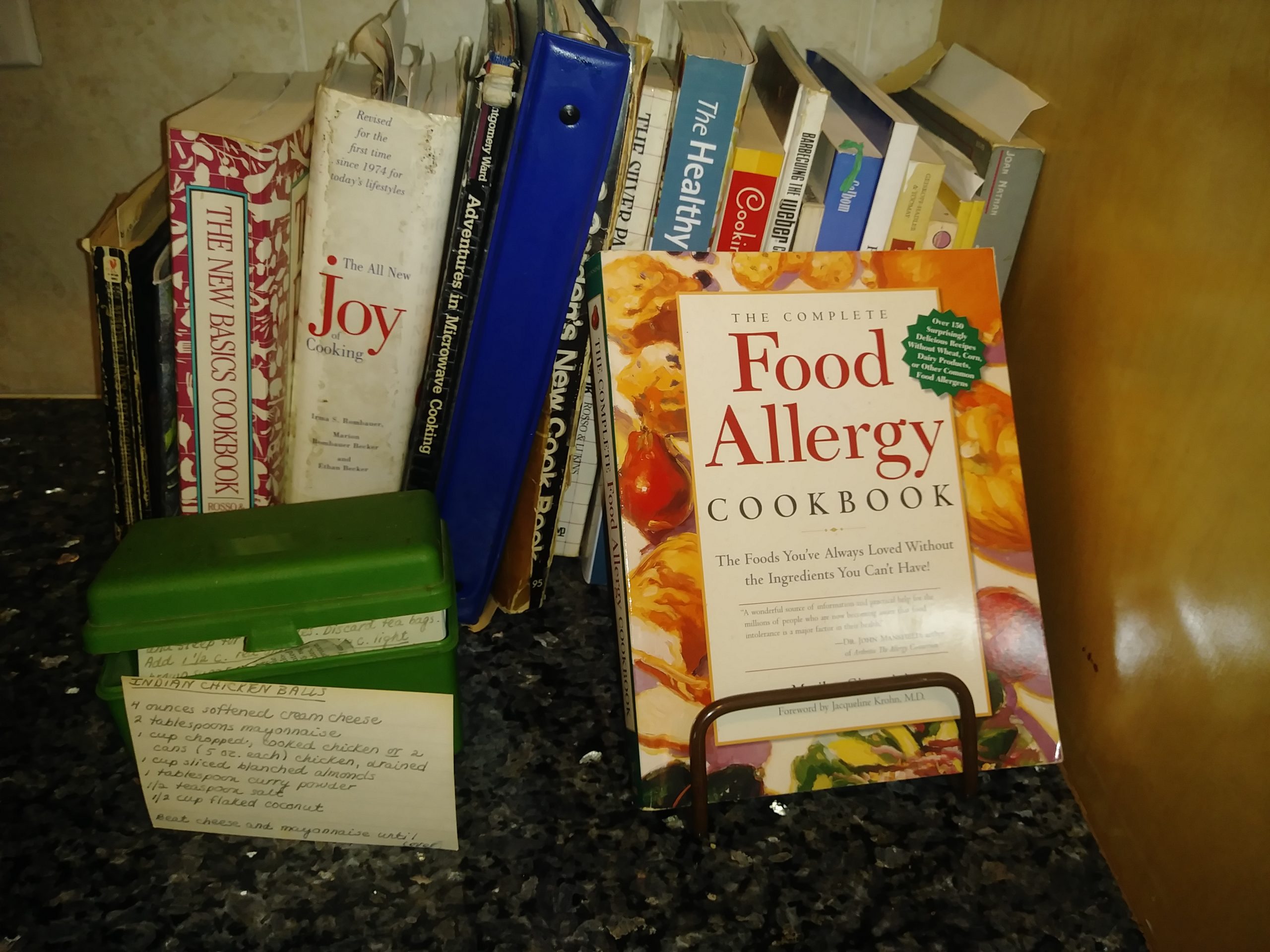 I have a lot of cookbooks and recipes for not being much of a cook. Perhaps that's because I love to read cookbooks and recipes. The only talent I seemed to have was baking. Pound cake was my favorite, and during Passover, I made my mother's recipe, the only one that she ever wrote down, an orange-lemon flavored angel food cake with matzo meal. One time I whipped all those egg whites and put the cake in the oven, forgetting to add the matzo meal. A few minutes later I realized my mistake, took the pan out of the oven, and stirred in the matzo meal. The cake came out fine.
It didn't help that mom and grandma didn't write anything down. "You'll know when it's done ... just add a shake of that ..." was their response to my questions.
My grandmother and mother were terrific cooks, and with all the other busy aspects of my life, I never devoted the time to exploring any cooking talent I might have, although I can follow recipes reasonably. It didn't help that mom and grandma didn't write anything down. "You'll know when it's done … just add a shake of that …" was their response to my questions. My grandmother made wonderful coleslaw that no one could duplicate, and halushkas, cabbage rolls stuffed with beef and covered in tomato sauce. My mom was the casserole expert. They always turned out great. No recipes. Over the years, I did collect some recipes that I'd make now and then, along with some general cookbooks that I could refer to in a pinch.
About 10 years ago, when I was tested for food sensitivities, a lot changed. Suddenly I was on a restricted regimen with no wheat, corn, soy, or cow dairy products, and recipes didn't work. At that time there were fewer prepared foods available, and what wheat-free bread there was tasted like a dish sponge. With the help of cookbooks and trial and error, I learned the art of substitution. I made a pumpkin pie using coconut milk and a gluten-free crust, and no one knew the difference from the real thing. There were plenty of failures as well. Rice powder simply won't thicken a sauce in the same way as cornstarch. As for approximating pizza, don't even try.
Now that we are cooking at home exclusively during the lockdown, I've been forced to be more creative out of sheer boredom. That umami-bomb mushroom salad dressing I bought, too salty for a salad, makes a great marinade for steamed fish. I've starting watching more cooking shows and picked up a lot of tips. You can grate broccoli or cauliflower into sauces for thickening, flavor, and texture. I've learned how to soak brown rice for an hour, combine it with white rice in the rice cooker, and make a "house rice" that Dick will eat, even though he insists he hates brown rice. New combinations of seasonings make entrees more interesting.
I think that the creativity will continue even after the lockdown. And, guess what, I haven't written down any of the recipes I've come up with. Maybe I'll know "just to add a shake of that."
Marian
I have recently retired from a marketing and technical writing and editing career and am thoroughly enjoying writing for myself and others.
Characterizations: right on!, well written