My ex-wife, from Brockton, MA, learned how to make New England Clam Chowder in Home Ec class in junior high school. She brought the recipe along when we got married, and I, and later our daughters, loved it. It's made without any "fillers," relying instead on lots of clams and potatoes for thickness. The "secret" ingredient is bacon, which is fried in the soup pot to provide the fat to sauté the onions.
The world's best clam chowder
When we were divorced, I found the recipe, which was actually an article cut-out of the Boston Globe from the 1940's, entitled "Boston Clam Chowder." I made a copy, so was able to make it ever since.
Fast forward to 2008, and I'm now married again. My new wife and I had started a new tradition to have Christmas dinner with just us and our kids, as a family bonding exercise. That year, a "gut" kitchen remodeling had gone over schedule – surprise! We had placed a couple of the old cabinets in the garage with plywood "countertops,' and cooked for months with a microwave oven and a two-burner camp stove, lasting into the holidays. We were faced with the quandary of what to cook for Christmas dinner. We figured that we could boil water in a very large pot on the two burners, and thus came to the idea of making steamed lobster. The natural accompaniment was my clam chowder. It actually worked out amazingly well, and my wife's kids loved the chowder. In fact, when soliciting inputs for the next Christmas dinner, there was a universal chorus of 'got to have the chowder'! As a side benefit, my wife adored the menu, as it eliminated the 'all day in the kitchen' turkey and fixings labor, so she could relax and join in the fun. (Especially as guess who was now cooking?!) Now we have seven grandchildren getting hooked on the chowder, as well. Last year, our 8-year-old granddaughter had three bowls, and was too stuffed to eat anything else but her lobster. I think she was sly like a fox!
The absolute best version of the chowder was prepared aboard our sailboat moored in Great Harbor, Block Island, a few years ago. A couple of the sailors we were cruising with went clamming and brought back a bucket of extremely fresh quahogs. We added them to the standard chowder recipe; the raving as we ate in the cockpit at sunset was non-stop. I was inundated with recipe requests!
Here's the recipe, as it was published in the paper and any copyright must be long-expired. Besides, I did make a few modifications for clarity, based on experience.
Enjoy!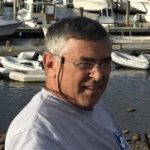 Joe Worth
Characterizations: right on!, well written