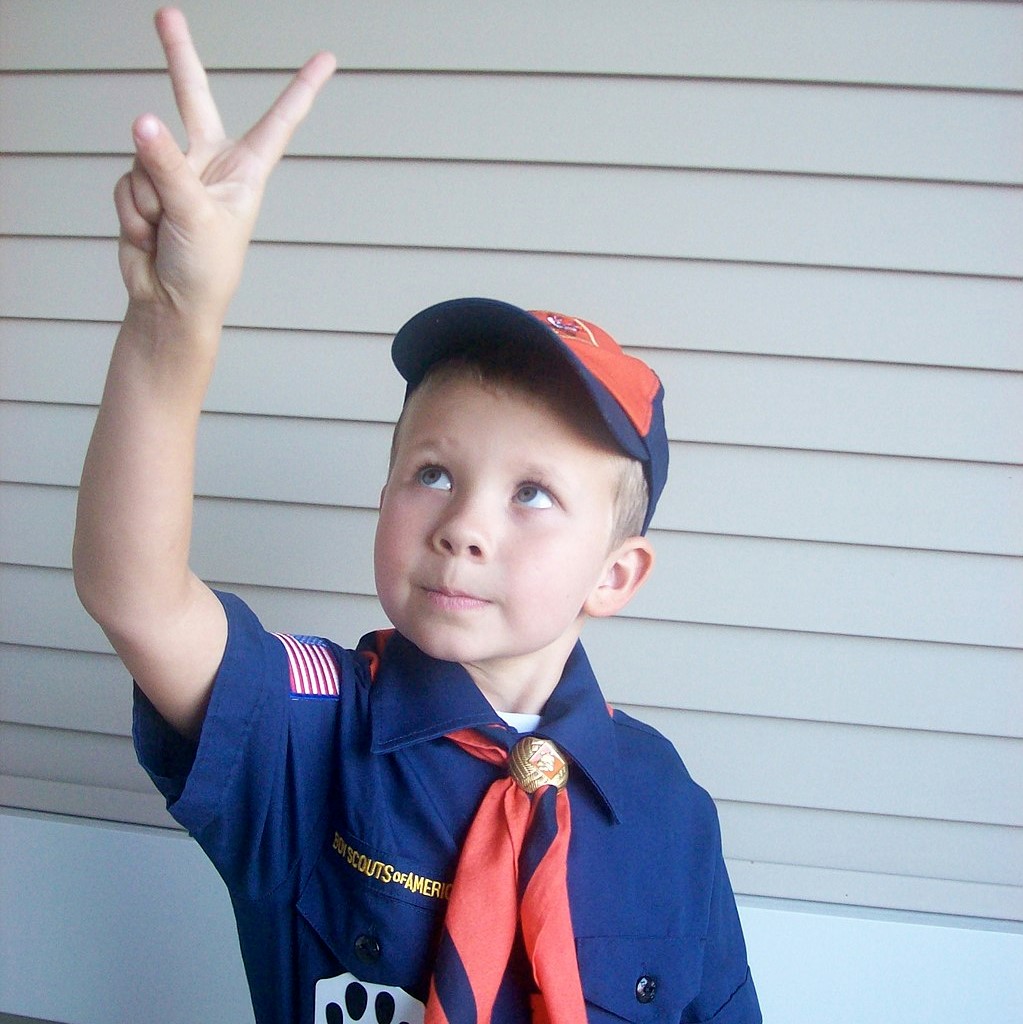 This week I bought Girl Scout cookies from Imogen, age 11, my neighbor's oldest daughter. The cookies were gluten free, and I admired Imogen's initiative pushing a large wagon of boxes (accompanied by her mom, of course, these days). This brought back one of my only memories of scouting, perfect timing for this prompt.
My mother volunteered, or was more likely pressured, into becoming the assistant den mother--a less likely role for her I can't imagine.
While I had nothing against scouting in particular, I'd never been a brownie or girl scout and had never wanted to join, being averse to anything requiring a uniform and crafting skills. To her credit, my mother never even brought up the idea, seeing that I would not have been a good fit. With her immigrant family background, she probably wasn't that familiar with scouting anyway.
When I was 12, my family was in its second year of living in our "new" town of North Caldwell, New Jersey, and I had started seventh grade in the regional middle and high school. My brother Allan was eight and in the third grade. My mother got to know some of the other moms in Allan's class, which somehow led to him being a cub scout for that year. My mother volunteered, or was more likely pressured, into becoming the assistant den mother–a less likely role for her I can't imagine.
My mother was an artist and has a rather "unstructured" personality, so I'm sure she hesitated about the whole scouting idea. But Mrs. Unger, wife of the high school's football coach and the troupe's den mother, assured mom that it would be an easy task. Unfortunately, a couple of months later, Mrs. Unger ended up in the hospital needing surgery, and my mom had to take over. Afternoons when there were cub scout activities, which often occurred at our house, were pretty chaotic. According to Allan, there were a lot of boys in the den who were known troublemakers. I tried to avoid the mess once I got home from school by going to my room and doing my homework.
One afternoon I came home from school to hear odd music, likely from a record player, coming from the dining room. Rounding the corner I saw a number of cub scouts attempting (and failing at) an orderly march around the dining room table, with my mother shouting at them to be quiet and behave. My mom could be a lot scarier than most mothers, and for a while the boys actually listened, quieted down, and tried to march. At that point I made myself scarce. Later I learned that the marching was practice for the scouts marching into a larger school assembly.
So the next few months went until, mercifully for all, Allan's tenure in cub scouts ended for good. Years later, my mother explained that, in addition to the stress of managing a bunch of unruly boys, she was uncomfortable with kids in uniform marching–it reminded her too much of Hitler Youth. Just this week Allan remarked to me about this incident, "This was the first time I realized I had a mother who was a little bit different." Even before the cub scout year, I'd already had that realization, and known that I was a little bit different, too.
Many thanks to Allan for confirming my recollection of this incident.
Marian
I have recently retired from a marketing and technical writing and editing career and am thoroughly enjoying writing for myself and others.
Characterizations: been there, moving, well written